Watch Vandana Shiva: 'We Are All Seeds'
Jan. 09, 2015 02:31PM EST
Food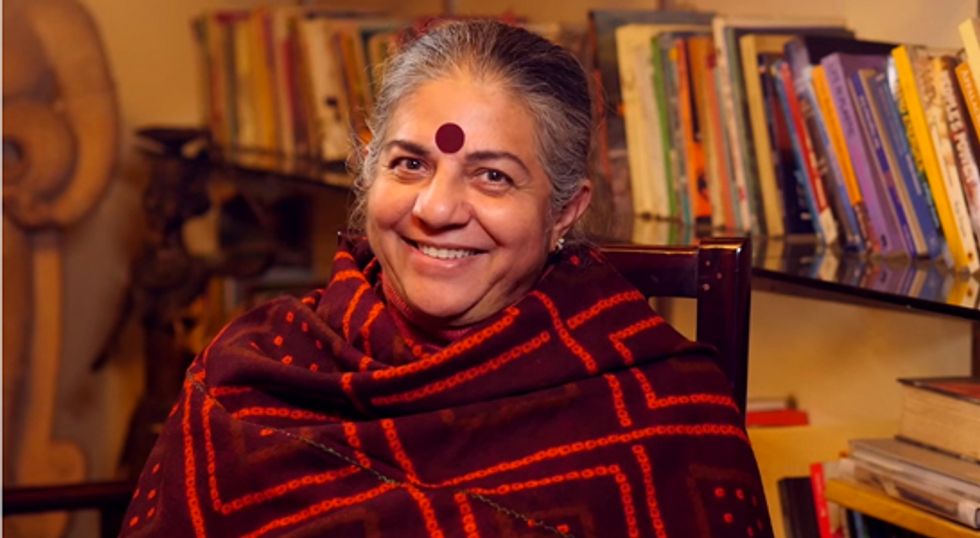 2015 has been declared the International Year of Soils by the UN Food and Agriculture Organization. Dr. Vandana Shiva, who has been at the forefront of the food democracy movement, wants to take the momentum from the victories for food sovereignty in 2014 and make 2015 an even bigger year.
Shiva recaps how food activists reclaimed seed freedom by rolling back seed laws that made it illegal to save seeds in Europe and Colombia, and how a judge overruled the arrest of farmers in Indonesia who saved their seeds. Proponents of GMO got desperate, suing Vermont, Maui, Kauai and the Big Island in Hawaii for wanting to know what's in their food.
A longtime crusader against multinational corporations' push for industrial, chemical farming, Shiva offers regenerative agriculture as the solution. "Organic farming and ecological agriculture is the answer to the havoc that has been created by fossil fuels."
Shiva compares us all to seeds, saying "for a while we might lie underground, but at the right moment we germinate and burst out with all of our potential." She said, "In the year of soil, let us celebrate the connections between Mother Earth and ourselves. We are, after all, of the Earth. We are all made of soil ... Let us stay united, let us stay strong, let us stay joyful."
Watch Dr. Vandana Shiva's new year message:
EcoWatch Daily Newsletter