Watch This Zebra Escape From a Tokyo Zoo
Feb. 04, 2016 02:18PM EST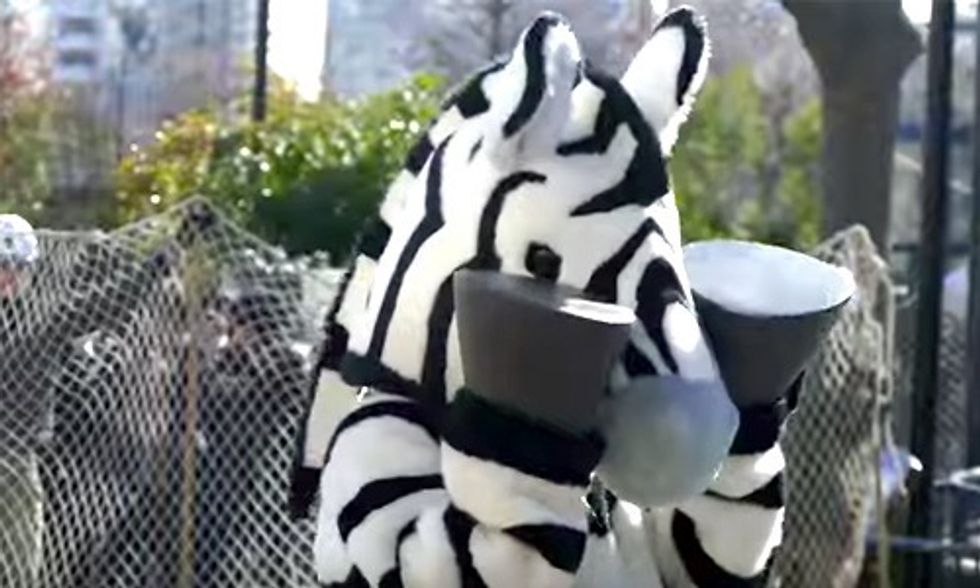 In news that you couldn't make up if you tried, Tokyo's Ueno Zoo held an emergency zebra escape drill Tuesday to practice how to recapture the animal should it ever escape from its confines.
A staff member dressed in a zebra costume pretended to be rattled after bolting from a cage following a hypothetical earthquake, the AFP reported. The panicked zebra gave one worker a heart attack and injured another in this fake scenario. Ultimately, it was captured after being stunned with a fake gun and netted by crew members.
"The zebra is an animal that easily panics," Yumi Tamura, the staff member who assumed the role of the zebra, told AFP. "I myself felt panicky when acting it out."
Tokyo's zoos regularly run drills to practice what to do should an animal escape, the AFP said. Past simulations have featured faux gorillas, rhinos, lions and orangutans on the loose.
"Every year, a keeper plays the role of an escaping animal," an Ueno zoo spokesman said. "They know how the animals would act in the event of disaster and their escape."
Here's footage of the drill from the Associated Press:
YOU MIGHT ALSO LIKE
Why You Shouldn't Visit the Maldives
Want to Get Off the Grid and Live in Harmony With Nature? Build an Earthship
This Solar Road Will Provide Power to 5 Million People
Michael Moore: 10 Things They Won't Tell You About the Flint Water Tragedy, But I Will
EcoWatch Daily Newsletter
Recent Stories from EcoWatch