Watch the White House Finally Go Solar
May. 09, 2014 11:42AM EST
Business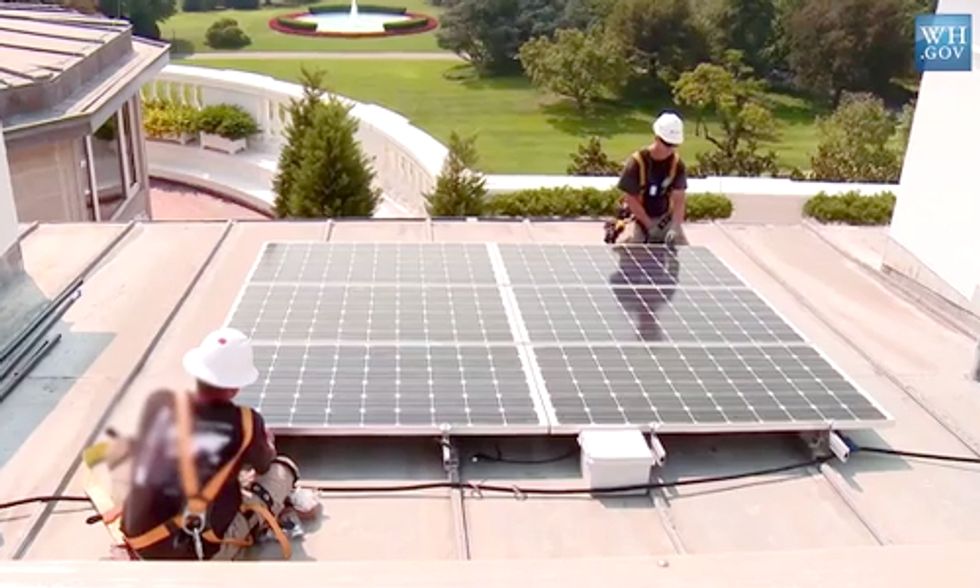 President Barack Obama can't extol the benefits of solar panels if he's not living under them, right?
The First Family is officially part of the solar revolution, four years after announcing that solar panels and a solar water heater would be installed at the White House.
White House spokesman Matt Lehrich said the installation shows the president's "commitment to lead by example to increase the use of clean energy in the U.S.," according to McClatchy DC. The White House has been without panels for the nearly three decades that have passed since Ronald Reagan removed Jimmy Carter's installation. George W. Bush later had some panels installed on a maintenance building and a cabana to heat water for the outdoor White House pool.
The White House has uploaded a behind-the-scenes look at the installation process for the clean-energy retrofit that includes 6.3 kilowatts of solar generation.
"I am very bullish on the future of solar energy as a key part of our clean energy future," U.S. Department of Energy (DOE) Secretary Ernest Moniz said in the video.
The installation announcement was scheduled as just one part of a solar-centric day. Obama had a Mountain View, CA Walmart visit scheduled to announce more than 300 private and public sector solar power and energy efficiency commitments he says will create jobs and cut carbon pollution. The store also has an installed solar system.
Obama will also announce that the DOE's Solar Instructor training program will support training programs at community colleges to help about 50,000 students enter the solar industry by 2020. The DOE is also unveiling a program to use more efficient outdoor lighting, replacing more than 500,000 outdoor lighting poles around the country, including Detroit, Greater Kansas City, Little Rock, AR and more.
In all, Obama will make efficiency announcements expected to save more than $26 billion in savings by government, consumers and businesses along with new jobs and carbon reduction of about 380 million metric tons, which excites organizations like the American Council for an Energy-Efficient Economy (ACEEE).
"The energy efficiency commitments made by the president today will not only benefit the environment by lowering carbon pollution, they are good news for our pocketbooks, too," said Neal Elliot, ACEEE associate director of research.
"Energy efficiency can save money in every nook and cranny of our economy-these actions will reduce energy waste in industrial plants, commercial buildings, low-income housing, restaurants and supermarkets, water treatment plants, federal buildings and more."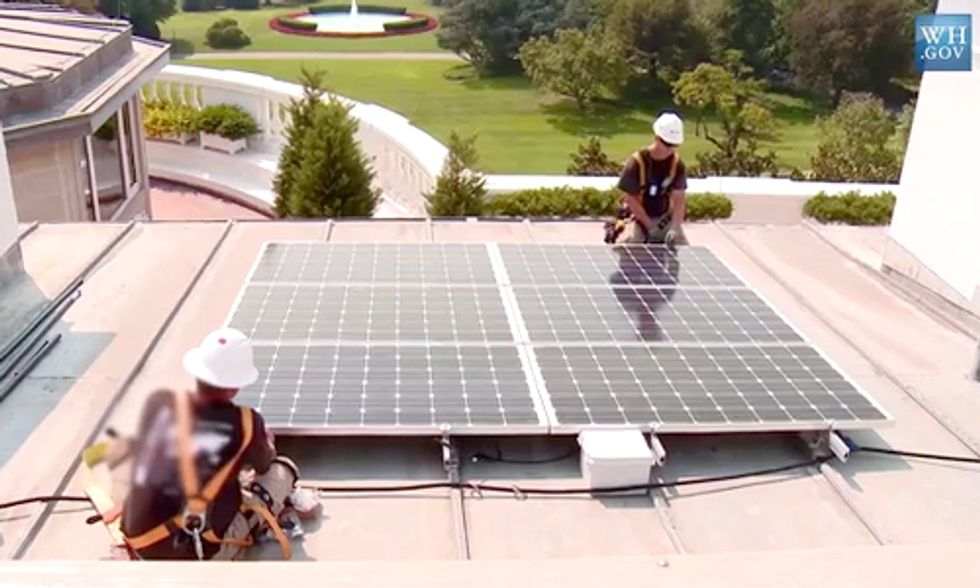 The White House/YouTube
EcoWatch Daily Newsletter