Watch the Documentary Donald Trump Has Prevented You From Seeing for 24 Years
Sep. 09, 2015 12:59PM EST
Politics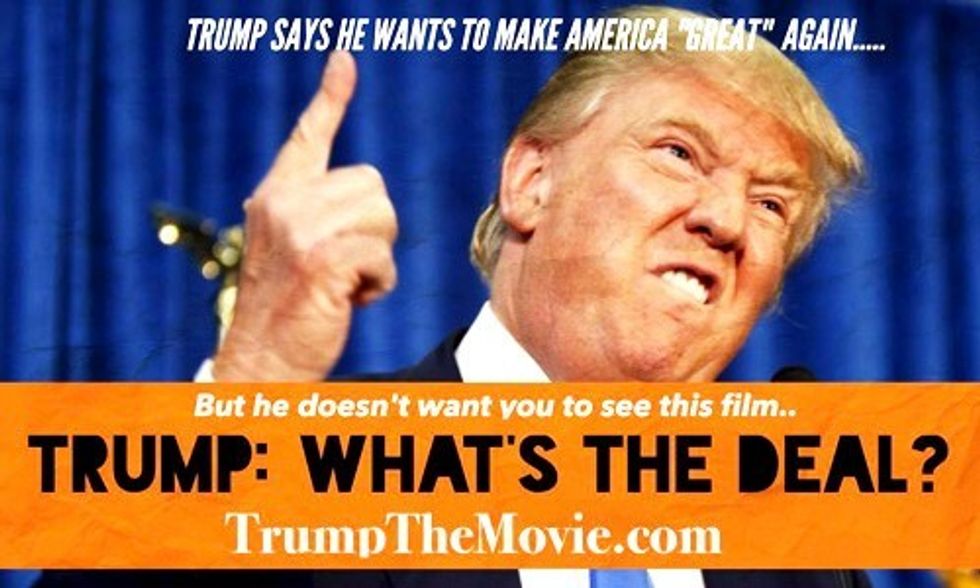 In 1988, business mogul Leonard Stern commissioned a television documentary to be made about Donald Trump, but the film was never aired because Trump managed to prevent its circulation.
http://t.co/g4igOVE4YZ pic.twitter.com/2sTIvxr6ES

— Trump the Movie (@trumpmovie) September 7, 2015
"He did everything he could to suppress this documentary," producer Libby Handros said. "And back in the day when we made the film, there were only a handful of networks. You had a few independent entities, but everything was controlled by big corporations, the three networks. And Donald was threatening lawsuits and stuff and they just didn't need to take that on, even if the lawsuit would have no merit in the end."
The documentary, Trump: What's the Deal? is now available to be streamed online here.
"Now that Trump is running for president, it is time for the American people to meet the real Donald and learn how he does business. The old Trump and the new Trump? They're the same Trump," notes the film's website.
Trump: What's the Deal? chronicles the real-estate developer and presidential hopeful's rise to power. His self-described "addiction" to acquiring cash and real estate drove him to build developments in Manhattan, Atlantic City, Palm Beach and Los Angeles. He skirted the law on multiple occasions throughout his career, underpaying his workers, associating with mob bosses, committing union fraud, harassing tenants and ignoring environmental regulations, yet managed to evade legal retribution.
"It's the American dream gone berserk," actor Christopher Reeves jokes in the film.
Often Trump's developments were unprofitable, but he kept acquiring new properties anyway, continuing his construction projects with a Sarah Winchester-like delusion. His perpetual publicity stunts and position as the "poster child for 1980s greed" kept his image as "the people's billionaire" afloat for a while, but he eventually began facing criticism for his antics from the media. The film delves into his tumultuous personal affairs, stubborn business behavior and descent into bankruptcy, ending with the introduction of his Monopoly-esque board game, Trump: The Game, which parodies his attitude toward life with the motto: "It's not whether you win or lose, but whether you win!"
YOU MIGHT ALSO LIKE
Bernie Sanders: The Environment Deserves a Debate
White House Fires Back at Charles Koch
Why Is the World Obsessed With Donald Trump?
EcoWatch Daily Newsletter