This website uses cookies to ensure you get the best experience while browsing it. By clicking 'Got It' you're accepting these terms.
Watch Susan Sarandon Share on Colbert Why She Broke Up With Hillary Clinton
Apr. 29, 2016 09:04AM EST
Energy
New voters may know Susan Sarandon as a surrogate of the Bernie Sanders campaign, but the actress actually used to be a strong Hillary Clinton supporter.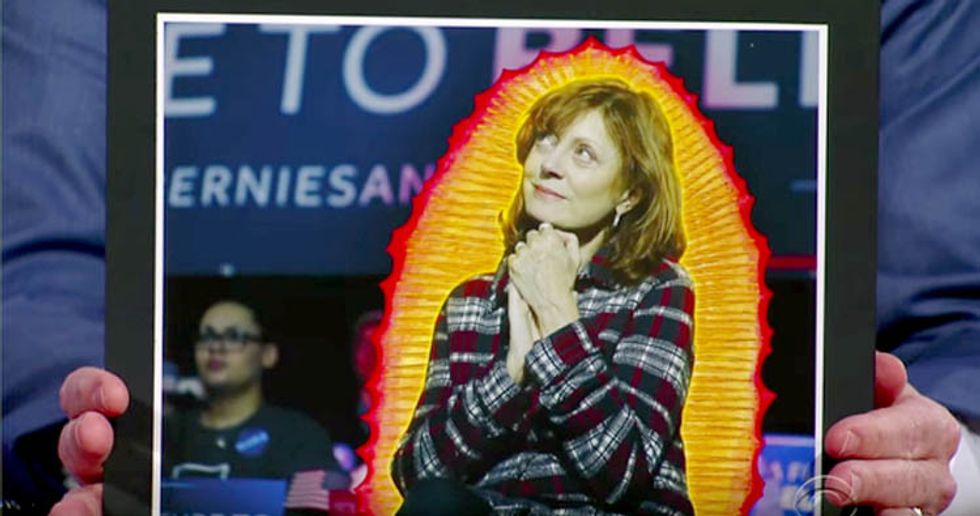 "I had to break up with her," Sarandon joked. "I told her, don't go in Iraq. I'm very upset about that."
"So this was before 2003?" asked Late Show host Stephen Colbert.
"Absolutely," Sarandon confirmed. "And she went in. So I was like, who is this person, I can't trust her. And then she became Secretary of State. I'm an environmentalist. Fracking is absolutely the worst thing you can do for the environment. ... She goes 'behind my back' and she's selling it all over the world. ... She's selling Monsanto. ... How can I trust her? And I'm a feminist. [Women] need a $15 minimum wage, right?"
The crowd erupted.
"No, [Clinton] says, Impossible, impossible, impossible," Sarandon rambled on.
"She's changed her mind on that, right?" Colbert asked.
"No, she's still saying that," Sarandon said. "We went ahead and did it in New York and she goes up next to [New York Gov. Andrew] Cuomo and signs it. How can I go back with her? I don't trust her."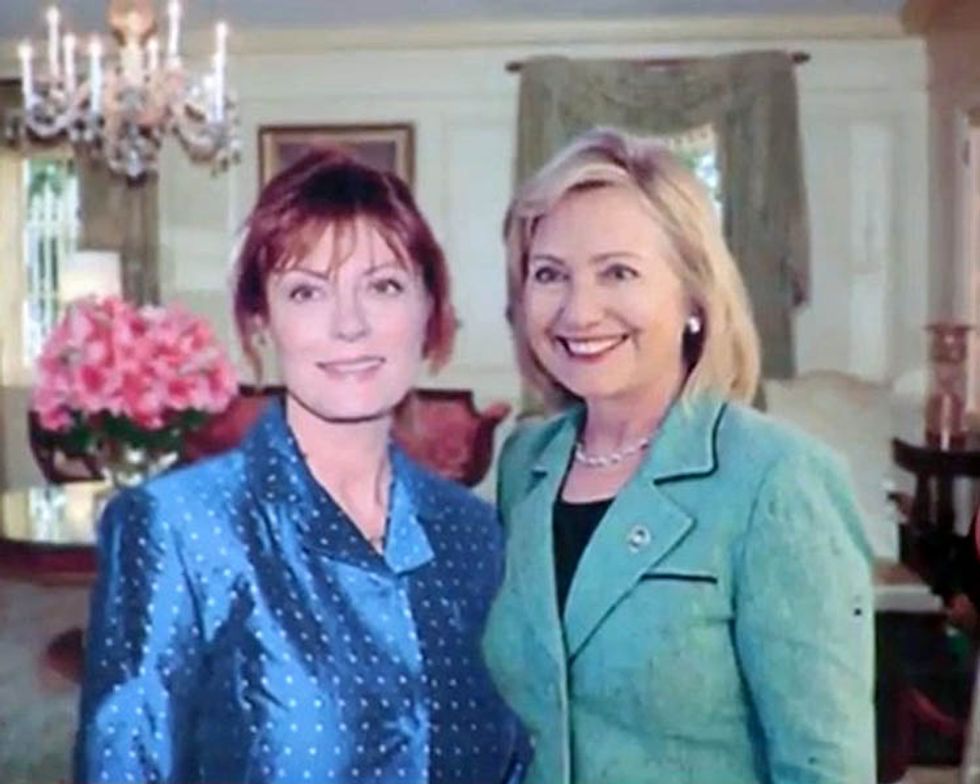 Colbert was curious. "What is it you see in Bernie? What makes you look so moon-eyed at him?"
"He's been consistently morally in the right place my entire life," Sarandon said. "He's always there before it becomes simple."
But Sanders supporters are becoming increasingly worried, especially after a rough Tuesday in the Acela primary.
"He's now 350 delegates behind," Colbert said. "Even to win he's got to get the superdelegates to come over to his side, which is an undemocratic thing according to him, so he would have to use the thing that he's criticizing [Hillary] in order to beat her. That would be like the good guys using the ring in The Lord of the Rings!" Colbert exclaimed.
"Yeah, we're going to have to have a contested one and people are going to have to discuss the whole process and the platform and really listen to people they're not normally listening to," Sarandon said.
Still, she's not ready to decide whether she''ll vote for Clinton in the general election if Sanders isn't the Democratic nominee.
"I said, some people say that Trump might [bring the revolution faster]. I'm more afraid of actually Hillary Clinton's war record and her hawkishness than I am of building a wall, but that doesn't mean that I would vote for Trump," Sarandon said. "And I'm not sure Trump's gonna get it. I think all kinds of crazy things could happen at those conventions."
Watch here:
YOU MIGHT ALSO LIKE
Billionaire Climate Activist to Spend $25 Million to Register Millennial Voters
Clinton Snubs Koch Endorsement
Democratic Debate Brings Fiercest Exchange Yet on Climate Change, Fracking
5 Reasons Why Bernie Sanders Would Be the Best Choice for the Future of the Planet
EcoWatch Daily Newsletter
chuchart duangdaw / Moment / Getty Images
By Tim Radford
The year is less than four weeks old, but scientists already know that carbon dioxide emissions will continue to head upwards — as they have every year since measurements began — leading to a continuation of the Earth's rising heat.
Lucy Lambriex / DigitalVision / Getty Images
By Katey Davidson
Each year, an estimated 600 million people worldwide experience a foodborne illness.
While there are many causes, a major and preventable one is cross-contamination.
picture alliance / dpa / F. Rumpenhorst
By Arthur Sullivan
When was the last time you traveled by plane? Various researchers say as little as between 5 and 10 percent of the global population fly in a given year.
A Starbucks barista prepares a drink at a Starbucks Coffee Shop location in New York. Ramin Talaie / Corbis via Getty Images
By Cathy Cassata
Are you getting your fill of Starbucks' new Almondmilk Honey Flat White, Oatmilk Honey Latte, and Coconutmilk Latte, but wondering just how healthy they are?
By Sharon Kelly
Back in April last year, the Trump administration's Environmental Protection Agency decided it was "not necessary" to update the rules for toxic waste from oil and gas wells. Torrents of wastewater flow daily from the nation's 1.5 million active oil and gas wells and the agency's own research has warned it may pose risks to the country's drinking water supplies.