This website uses cookies to ensure you get the best experience while browsing it. By clicking 'Got It' you're accepting these terms.
Watch Susan Sarandon Share on Colbert Why She Broke Up With Hillary Clinton
Apr. 29, 2016 09:04AM EST
New voters may know Susan Sarandon as a surrogate of the Bernie Sanders campaign, but the actress actually used to be a strong Hillary Clinton supporter.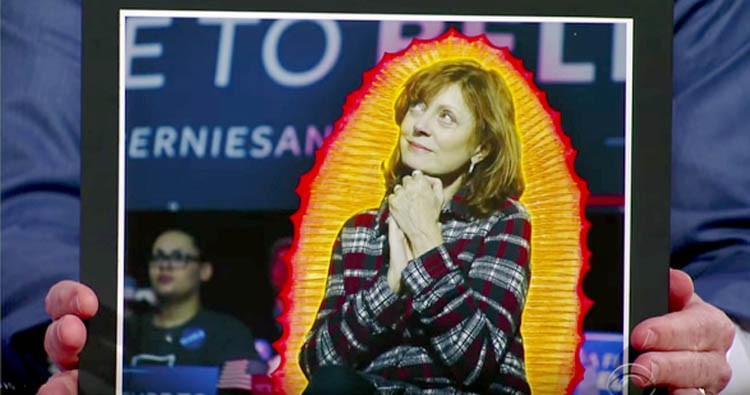 "I had to break up with her," Sarandon joked. "I told her, don't go in Iraq. I'm very upset about that."
"So this was before 2003?" asked Late Show host Stephen Colbert.
"Absolutely," Sarandon confirmed. "And she went in. So I was like, who is this person, I can't trust her. And then she became Secretary of State. I'm an environmentalist. Fracking is absolutely the worst thing you can do for the environment. ... She goes 'behind my back' and she's selling it all over the world. ... She's selling Monsanto. ... How can I trust her? And I'm a feminist. [Women] need a $15 minimum wage, right?"
The crowd erupted.
"No, [Clinton] says, Impossible, impossible, impossible," Sarandon rambled on.
"She's changed her mind on that, right?" Colbert asked.
"No, she's still saying that," Sarandon said. "We went ahead and did it in New York and she goes up next to [New York Gov. Andrew] Cuomo and signs it. How can I go back with her? I don't trust her."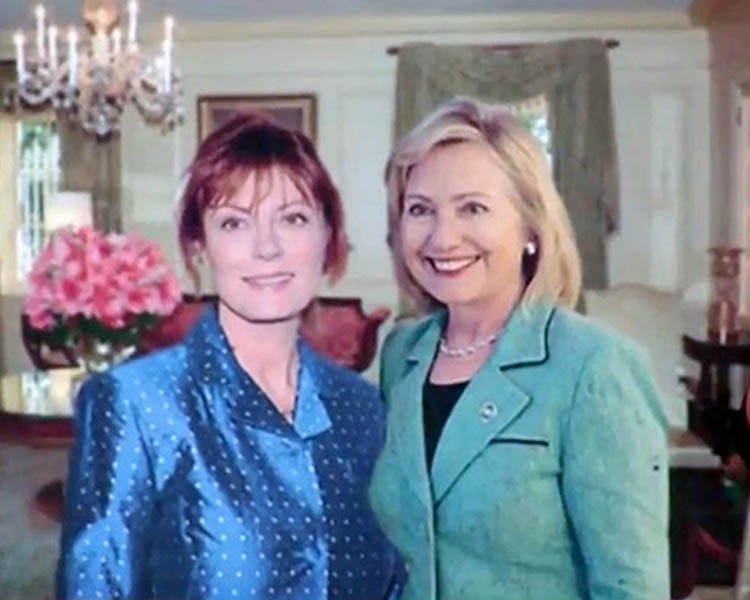 Colbert was curious. "What is it you see in Bernie? What makes you look so moon-eyed at him?"
"He's been consistently morally in the right place my entire life," Sarandon said. "He's always there before it becomes simple."
But Sanders supporters are becoming increasingly worried, especially after a rough Tuesday in the Acela primary.
"He's now 350 delegates behind," Colbert said. "Even to win he's got to get the superdelegates to come over to his side, which is an undemocratic thing according to him, so he would have to use the thing that he's criticizing [Hillary] in order to beat her. That would be like the good guys using the ring in The Lord of the Rings!" Colbert exclaimed.
"Yeah, we're going to have to have a contested one and people are going to have to discuss the whole process and the platform and really listen to people they're not normally listening to," Sarandon said.
Still, she's not ready to decide whether she''ll vote for Clinton in the general election if Sanders isn't the Democratic nominee.
"I said, some people say that Trump might [bring the revolution faster]. I'm more afraid of actually Hillary Clinton's war record and her hawkishness than I am of building a wall, but that doesn't mean that I would vote for Trump," Sarandon said. "And I'm not sure Trump's gonna get it. I think all kinds of crazy things could happen at those conventions."
Watch here:
YOU MIGHT ALSO LIKE
Billionaire Climate Activist to Spend $25 Million to Register Millennial Voters
Clinton Snubs Koch Endorsement
Democratic Debate Brings Fiercest Exchange Yet on Climate Change, Fracking
5 Reasons Why Bernie Sanders Would Be the Best Choice for the Future of the Planet
Plus, learn if there's one that's best for your health.
Catherine Falls Commercial / Moment / Getty Images
An invasive Amynthas worm, also known as a crazy snake worm, Asian jumping worm and Alabama jumper Tom Potterfield / Flickr
By Jason Bittel
My wife and I built a house two years ago on a few acres of woodland outside of Pittsburgh. The backyard is full of maples, poplars, briars and common spicebush. Two-lined salamanders and grumpy-looking crayfish wade among the rocks in the small stream that runs down the edge of the property. Deer, raccoon and opossum tracks appear regularly in the snow and mud. Sometimes, my trail-cam even catches a pair of gray foxes as they slink through the night.
AleksandarNakic / Getty Images
By Kate Murphy
No matter the time of year, there's always a point in each season when my skin decides to cause me issues. While these skin issues can vary, I find the most common issues to be dryness, acne and redness.

David Woodfall / The Image Bank / Getty Images
By Sam Nickerson
The U.S. Environmental Protection Agency (EPA) in April 2018 proposed relaxing standards related to how it assesses the effects of exposure to low levels of toxic chemicals on public health.
Now, correspondence obtained by the LA Times revealed just how deeply involved industry lobbyists and a controversial, industry-funded toxicologist were in drafting the federal agency's proposal to scrap its current, protective approach to regulating toxin exposure.
Steve Irwin poses with a three foot long alligator at the San Francisco Zoo on June 26, 2002. Justin Sullivan / Getty Images
February 22 is the birthday of conservationist and beloved TV personality "Crocodile Hunter" Steve Irwin, who would have been 57 years old today.
Irwin's life was tragically cut short when the barb from a stingray went through his chest while he was filming in 2006, but his legacy of loving and protecting wildlife lives on, most recently in a Google Doodle today honoring his birthday.