Watch Stephen Colbert Apologize To Donald Trump
Sep. 23, 2015 09:37AM EST
Climate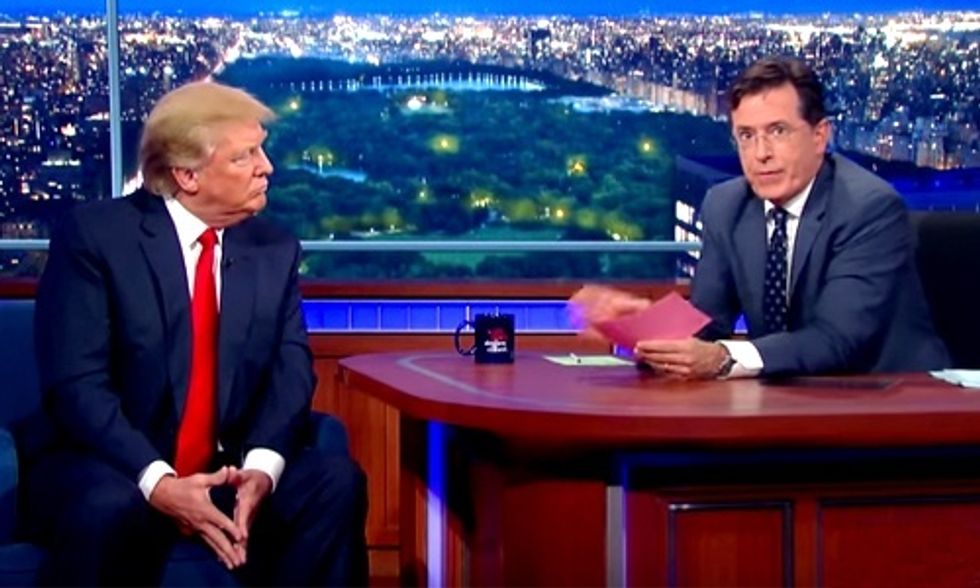 Donald Trump made an appearance (or as The Donald would say, graced us with his presence) on the Late Show with Stephen Colbert last night. The Donald, known for always being on the offensive was actually quite "subdued."
Colbert opened by saying, "I want to thank you not only for being here but I want to thank you for running for president, because I'm not going to say this stuff writes itself, but you certainly do deliver it on time every day."
Then, Colbert played a game with Trump called "Trump or Colbert?" in which Trump had to guess whether he or Colbert made a certain statement.
Check it out:
Then, Colbert took an opportunity to apologize to Trump for some of the things he's said about him. And then, Colbert asked The Donald if there's anything he would like to apologize for.
See what The Donald had to say:
On Monday, Trump spoke on the Hugh Hewitt Show, re-affirming just how adamantly he denies that climate change is happening.
YOU MIGHT ALSO LIKE
Leonardo DiCaprio Pledges to Divest From Fossil Fuels as Movement Grows 50-Fold in One Year
#BearSelfies Force Colorado Park to Close
Stephen Colbert Explains Why Bernie Sanders Is Rocking Rallies All Over the Country
EcoWatch Daily Newsletter
Recent Stories from EcoWatch