Watch Sen. Inhofe Throw a Snowball on Senate Floor to Prove Climate Change Is a 'Hoax'
Feb. 26, 2015 07:48PM EST
Climate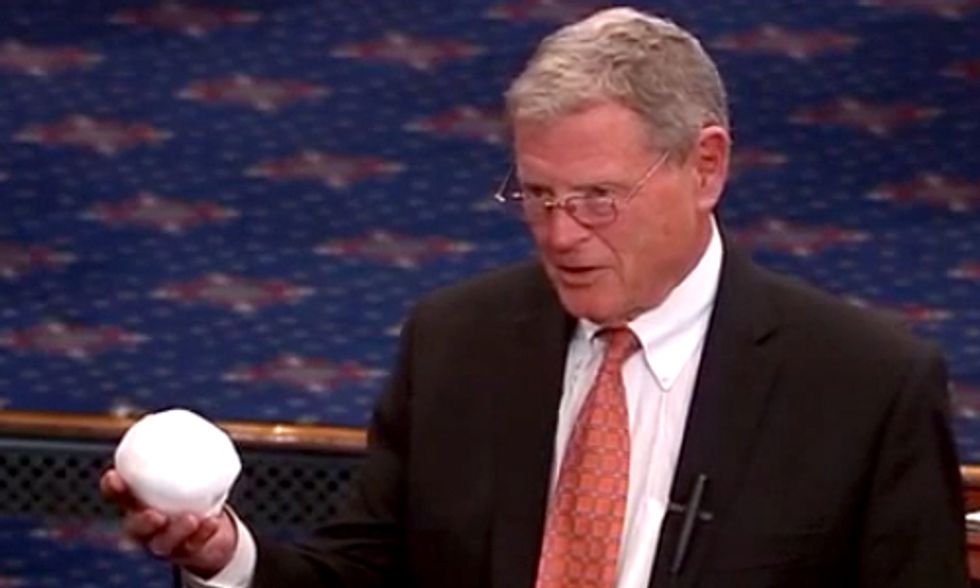 In case you were wondering if snow in Washington, DC dismisses the facts of climate change, watch infamous meteorologist Al Roker explain to Larry King this week that, "Here in the East you've got brutal cold. Yet globally January was the warmest month on record. So there's all these swings that are happening. Climate change makes that more possible."
But try and tell that to Sen. Jim Inhofe (R-OK) who thinks because it snowed in DC, climate science isn't real. He tries to get his point across today by throwing a snowball on the Senate floor saying, "Mr. President, catch this."
In response to Sen. Inhofe's stunt, Melinda Pierce, Sierra Club′s legislative director, said:
"With CPAC [Conservative Political Action Committee] in town, who could have guessed that the most ridiculous move on climate change today would come from the floor of the U.S. Senate? While an overwhelming majority of Americans are demanding Congress act to protect our communities and public health by curbing carbon pollution, Sen. Inhofe showed that there is a snowball's chance in hell that the Republican leadership will do anything but push the agenda of the fossil fuel industry."
Watch the video here:
YOU MIGHT ALSO LIKE
Must-See Video: Jon Stewart Tackles Climate Deniers in Congress
Watch Bill Nye Shred Climate Denying Congresswoman
EcoWatch Daily Newsletter