This website uses cookies to ensure you get the best experience while browsing it. By clicking 'Got It' you're accepting these terms.
Watch Racing Extinction: It Will Change the Way You View the World
Apr. 22, 2016 11:13AM EST
Insights + Opinion
On Dec. 2, 2015, Discovery Channel premiered Louis Psihoyos' new film, Racing Extinction, in 220 countries around the world. This riveting film covers the planet's sixth and currently ongoing mass extinction, named the Anthropocene Extinction, which is largely the result of mankind. Psihoyos details what many scientists and experts believe are the causes behind this vast dying off of the world's species—the international wildlife trade and the fossil fuel industry. His goal is to unveil the horrific events damaging our planet's health and wildlife, but boiled down to digestible bites to promote education and action.
---
Psihoyos won an Oscar for his 2009 film, The Cove, a feature-length documentary that goes undercover to expose the yearly killing of dolphins in Taiji, Japan. In order to document the dolphin hunt, they had to employ tactics and technology never before used in a documentary. The film sparked worldwide reaction, but most importantly, Taiji's annual cull of 23,000 dolphins is believed to have dropped to 6,000. This was the first film for Psihoyos' Oceanic Preservation Society, which he cofounded in 2005.
In their second film, Racing Extinction, special focus is brought to marine life again but on a wider scale, exposing China's shark fin and manta ray gill trade as well as the greater threat of oceanic acidification, the evil twin of climate change, contributed to by the burning of fossil fuels. In order to uncover the truth behind the wildlife trade, he and his team go undercover in life-threatening situations, using covert-operations and false identities to infiltrate an enormous Chinese seafood wholesaler and to bust a Los Angeles restaurant for illegally selling whale meat. In a more hopeful scene, we are shown how change can happen, when a small Indonesian village is taught how to capitalize on a more lucrative tourism-driven economy, as opposed to the devastating hunting of manta ray to supply China's appetite for animal parts that are falsely believed to have medicinal benefits.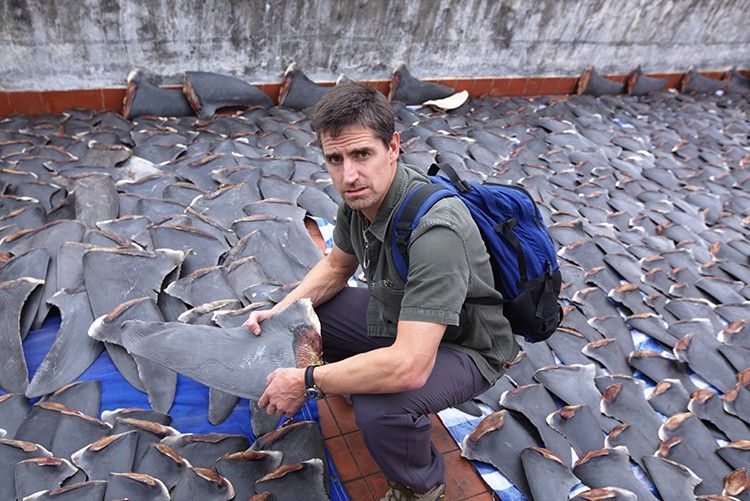 In addition to the wildlife trade, manmade global warming from greenhouse gas emissions is contributing to a breakdown in the natural systems that support all life. Racing Extinction features interviews with prominent scientists like Dr. Stuart Pimm, a conservation ecologist at Duke University, warning us that half of all species will be extinct within 100 years if humanity does not change its ways. Wildlife simply cannot adapt to unprecedented changes in not only temperature, but weather, ocean chemistry and atmospheric composition. To illustrate the enormity of this problem, the team drives through Los Angeles with a specially-designed high-definition FLIR camera making carbon dioxide and methane emissions visible to the general public for the first time.
Racing Extinction is full of cloak-and-dagger eco-activist operations, stunning visuals from iconic photographer Joel Sartore and features a one-of-its-kind Tesla driven by race-car driver Leilani Munter. Sartore, a National Geographic photographer, has captured on film 5,500 of the world's most endangered species in captivity for his Photo Ark. Combining this incredible group of highly-skilled people with an action-packed approach, Psihoyos seeks to break barriers in the documentary genre and reach new audiences.
Interviewed by EcoWatch's Stefanie Spear, Psihoyos describes that "with a film you can have a chance to change somebody's heart and that's what we want to do. The science shows that you don't change behavior by getting people to think differently, you change people's behavior by getting them to feel differently. That's what we're doing with this film, first we break people down, get people to have a little bit more compassion for other species and then build it up from there so they internalize that hey I'm responsible for this."
Louie Psihoyos' passion is palpable and it's impossible to not be infected with it in his presence. He photographed for National Geographic for 17 years, sending him around the world dozens of times. During his tenure there, he produced four stories for National Geographic Magazine on extinction, most notably about dinosaurs. He went on to write and photograph the book Hunting Dinosaurs with John Knoebber.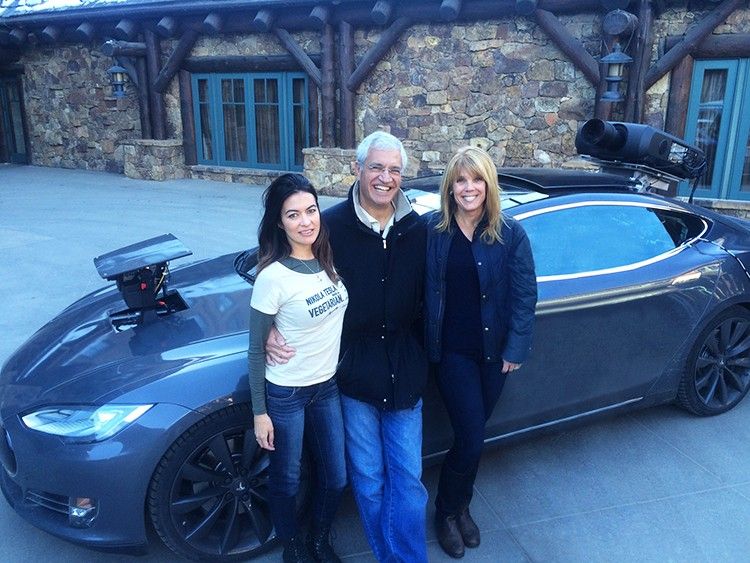 Leading up to the premiere, Psihoyos and his team engaged in an educational campaign to bring awareness by projecting images of critically endangered species onto public buildings including the Empire State Building, UN Headquarters and the Vatican. Featured in this campaign, is Toughie, a Rabbs fringe-limbed tree frog, who is sadly believed to be the last of his kind. Toughie actually lives at the Atlanta Botanical Garden in a special containment area called the "frogPOD." By sharing pictures of Toughie and other endangered animals he hopes to lift the curtain and show people how dire the situation has become for many of the Earth's creatures.
Combined with this educational effort is his #StartWith1Thing social media campaign. I love this approach because I'm often asked the very question which #StartWith1Thing is trying to answer—"The problem is so big, what can I possibly do?" Change starts with each one of us where we live and big change happens with the accumulation of many small actions.
Many people who grew up with the Captain Planet cartoons have told me that's where they learned to take responsible actions to make our communities better like recycling, conserving energy and water, restoring endangered species habitats and using less harmful chemicals. Instilling intentional mindfulness is key to becoming a steward of the environment, because it's not enough to just be concerned, you have to do something. RacingExtinction.com offers clear and easy resources on where to start with your one thing and there's something for everyone. You can learn how to find green power in your state, download the Seafood Watch app to make smarter choices or learn how to protect endangered species. I often tell people reducing resource consumption especially disposable items like straws, is a great place to start with your one thing.
Don't worry if you missed Racing Extinction in theaters or the world premiere on Discovery, there are still plenty of ways to watch this must-see film. It's available on DVD, iTunes, Amazon, Google Play, local Screenings, or you can sign up to host a House Viewing Party. Just go to RacingExtinction.com for links and information on how to watch.
EcoWatch Daily Newsletter
Pick one of these nine activism styles, and you can start making change. YES! Illustrations by Delphine Lee
By Cathy Brown
Most of us have heard about UN researchers warning that we need to make dramatic changes in the next 12 years to limit our risk of extreme heat, drought, floods and poverty caused by climate change. Report after report about a bleak climate future can leave people in despair.
Jamie Grill Photography / Getty Images
Losing weight, improving heart health and decreasing your chances for metabolic diseases like diabetes may be as simple as cutting back on a handful of Oreos or saying no to a side of fries, according to a new study published in the journal The Lancet Diabetes & Endocrinology.
Golde Wallingford submitted this photo of "Pure Joy" to EcoWatch's first photo contest. Golde Wallingford
EcoWatch is pleased to announce our third photo contest!

A boy gives an impromptu speech about him not wanting to die in the next 10 years during the protest on July 15. The Scottish wing of the Extinction Rebellion environmental group of Scotland locked down Glasgow's Trongate for 12 hours in protest of climate change. Stewart Kirby / SOPA Images / LightRocket / Getty Images
It's important to remember that one person can make a difference. From teenagers to world-renowned scientists, individuals are inspiring positive shifts around the world. Maybe you won't become a hard-core activist, but this list of people below can inspire simple ways to kickstart better habits. Here are seven people advocating for a better planet.
A group of wind turbines in a field in Banffshire, Northeast Scotland. Universal Images Group / Getty Images
Scotland produced enough power from wind turbines in the first half of 2019, that it could power Scotland twice over. Put another way, it's enough energy to power all of Scotland and most of Northern England, according to the BBC — an impressive step for the United Kingdom, which pledged to be carbon neutral in 30 years.
Beekeeper Jeff Anderson works with members of his family in this photo from 2014. He once employed all of his adult children but can no longer afford to do so. CHRIS JORDAN-BLOCH / EARTHJUSTICE

tommaso79 / iStock / Getty Images Plus
By Rachel Licker
As a new mom, I've had to think about heat safety in many new ways since pregnant women and young children are among the most vulnerable to extreme heat.
Pexels
It's easy to get confused about which foods are healthy and which aren't.