Watch Michael Moore Announce His New Documentary 'Where to Invade Next'
Aug. 05, 2015 10:31AM EST
Politics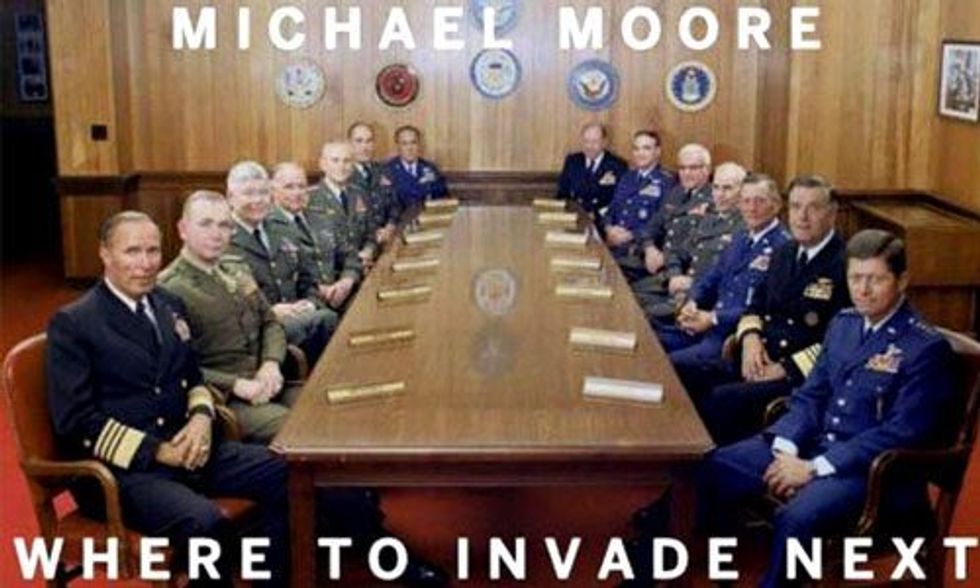 It's been six years since documentary filmmaker Michael Moore's last film, "Capitalism: A Love Story." Many wonder what Moore has been up to and last week we finally found out.
Moore is premiering his new film, "Where To Invade Next," at the Toronto Film Festival next month. So far, the only visual that has been released from the film is the following still: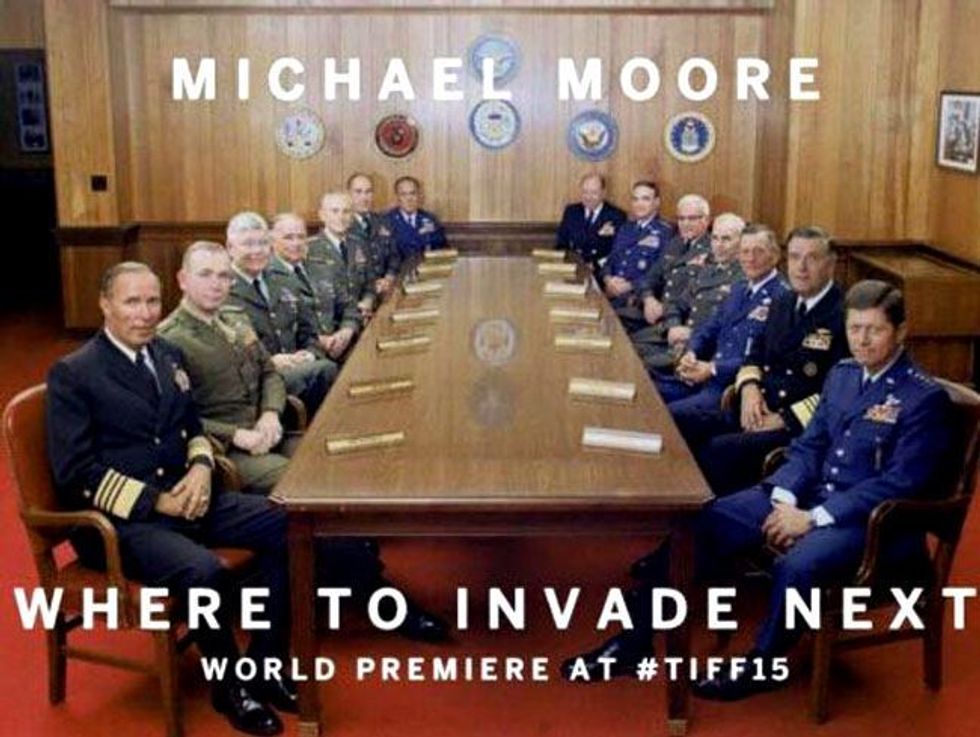 Photo credit: Where To Invade Next
Moore did a Periscope broadcast to shed a few more details. He noted that he has been shooting the project since 2009 and has filmed on three different continents.
"The issue of the U.S. at infinite war is something that has concerned me for quite some time and provides the necessary satire for this film," he said. ["There's] this constant need it seems to always have an enemy—where's the next enemy so we can keep this whole military industrial complex alive and keep the companies that make a lot of money from this in business. I've always been a little bothered by that, so that's where the comedy comes from."
In the film's blurb on the film festival website, Moore says he will ask the Pentagon to "stand down," because "he will do the invading for America from now on."
"I was hugely impressed," Toronto Film Festival docs programmer Thom Powers told the Hollywood Reporter. "It's very funny. It's very timely. It's going to be a big conversation-starter this fall. It will attract a lot of attention around the globe. It's up there with Michael's best work." Powers watched an early screening two weeks ago.
Watch Moore's short video describing the project below
Here's the 6-min video from the Periscope I just did regarding my new film, WHERE TO INVADE NEXT. #W2IN #TIFF15 https://t.co/lKhLhTPUpn

— Michael Moore (@MMFlint) July 28, 2015
YOU MIGHT ALSO LIKE
Internal Documents Expose Fossil Fuel Industry's Decades of Deception on Climate Change
$51 Million: That's How Much Big Food Spent So Far This Year to Defeat GMO Labeling
Jimmy Carter: The U.S. Is an 'Oligarchy With Unlimited Political Bribery'
EcoWatch Daily Newsletter
Recent Stories from EcoWatch