WATCH LIVE: Pope Francis Addresses Congress
Sep. 24, 2015 10:13AM EST
Climate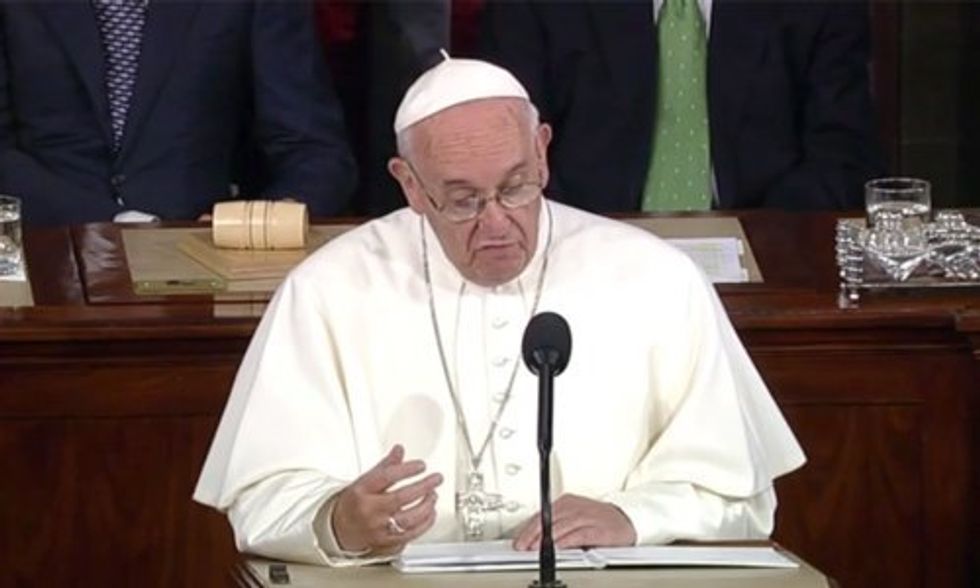 Pope Francis' visit to the U.S. has taken the nation by storm. Bill McKibben credits the Pope for "minor miracles on the climate front," galvanizing the public into taking action on climate change. McKibben notes a 50-fold increase over last year in fossil fuel divestments, and even Leonardo DiCaprio announced that he was divesting. In his first public address yesterday, the Pope already honed in on his climate message and endorsed President Obama's Clean Power Plan.
Sen. Bernie Sanders took to the Senate floor as the Pope touched down in Washington, DC to praise the Pope's advocacy work. Robert F. Kennedy, Jr. hailed the Pope's call to tackle climate change as a "moral imperative." Bill McKibben pointed out that it's probably no coincidence that Hillary Clinton chose the day of the Pope's arrival to announce her opposition to the Keystone XL pipeline. And both Senate Democrats and House Republicans submitted climate bills ahead of the Pope's visit. Though, certainly the Pope has his critics. At least one Republican Congressman is boycotting the speech.
Today, marking the first time ever a Pope has addressed Congress, Pope Francis is speaking to a joint session in which he is expected to ruffle some feathers on both sides of the aisle.
Watch here:
YOU MIGHT ALSO LIKE
Obama, Sanders, Kennedy Praise Pope's Call to Action on Climate Change
Watch Colbert Rip Into Republican Congressman for Boycotting Pope's Speech
Leonardo DiCaprio Pledges to Divest From Fossil Fuels as Movement Grows 50-Fold in One Year
96 Cities That Are Quitting Fossil Fuels and Moving Toward 100% Renewable Energy
EcoWatch Daily Newsletter
Recent Stories from EcoWatch