Watch Late Farmer Terry Greenwood Tell Josh Fox About the Fracking Site That Killed His Cattle
Jun. 15, 2014 09:00AM EST
Energy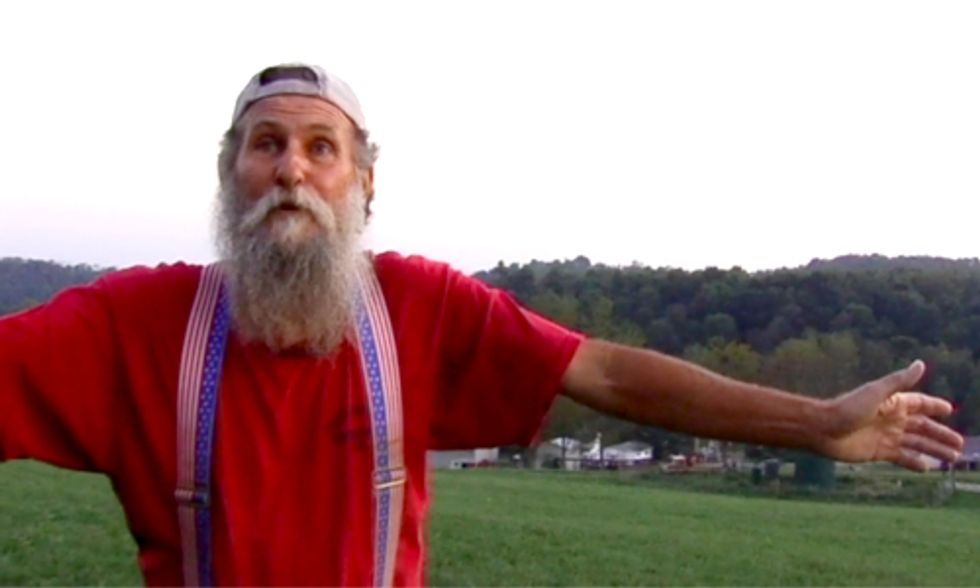 When filmmaker Josh Fox visited Pennsylvania farmer Terry Greenwood during what would be his last days on Earth, Greenwood's only request was for the Gasland director to "tell my story."
"So what does that mean? Does it mean tell the story of how gas companies barged onto his land," Fox asked in his a tribute to Greenwood for the Gasland blog. "Does it mean speak about the water contamination they suffered, the insult added to injury when [the Pennsylvania Department of Environmental Protection] ignored his complaints, the death of the cattle, his own death to cancer?"
Fox decided that was a big part of the story, along with exposing the generosity, smile and knack for truth-telling that Greenwood possessed. That's why Fox decided to upload a previously unreleased video interview on Greenwood's property from four or five years ago. In it, Greenwood describes the lies and bullying he received from the owners of a nearby fracking site and the contamination his animals received as a result.
"I said, 'Would you please go elsewhere? I'm farming,'" Greenwood recalls telling an energy company representative. "They says, 'No, we're drilling. And if you don't let us, we'll go eminent domain,' and they said, 'we'll take your property.'"
Greenwood was featured in a video and campaign from New Yorkers Against Fracking last year in which people from Pennsylvania warned New York Gov. Andrew Cuomo about their experiences.
Fox said he admired Greenwood's willingness to not only speak out, but smile despite what he had been through.
"This was a man who was truly brave, truly courageous in walking out into the public eye to tell his own story," Fox wrote. "And this was a man who did it without anger, although his anger would have been justified, who did it without self pity or depression, although no one would have blamed him for either. This was a man who could never prove all of what was done to him, but could only prove himself to be a good man, and he proved it with each sentence and in every gesture and smile.
"For us to tell it now is to try to be as brave, kind, straightforward and loving ... We owe you Terry. We'll miss you brother."
EcoWatch Daily Newsletter
Related Articles from EcoWatch
Recent Stories from EcoWatch