Watch Larry David and Bernie Sanders 'Bern It Up' on Saturday Night Live
Feb. 07, 2016 11:50AM EST
Politics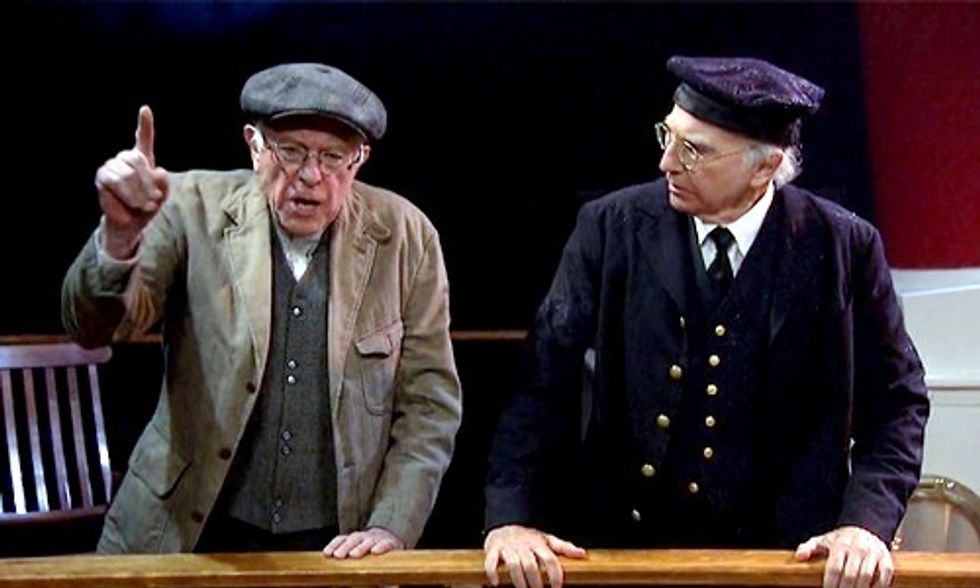 Last night Sen. Bernie Sanders made his much anticipated, first appearance on Saturday Night Live. He played a Jewish Democratic socialist immigrant coming to America on a sinking Titanic-like ship.
Sanders appeared in the skit with the show's host, comedian Larry David, where David was seeking special help over women and children because he is wealthy and felt his life was more valuable to save.
"Hold on, hold on, wait a second," Democratic presidential candidate Sanders said to applause from the crowd as he first appeared on stage to counter David's plea. "I'm so sick of the one percent getting this preferential treatment," he said. "Enough is enough."
Watch here:
In another hilarious skit in last night's show, Bern Your Enthusiasm, David, playing Sanders, kept finding ways to upset voters during the Iowa caucus.
Watch here:
Sanders is not the first presidential candidate to appear on Saturday Night Live this season. Hillary Clinton played a sympathetic bartender named "Val" who served SNL's Kate McKinnon vodka as she did her much celebrated impression of Clinton. And, Donald Trump was the first presidential front-runner to ever host Saturday Night Live.
YOU MIGHT ALSO LIKE
Sparks Fly in Most Explosive Democratic Debate Yet
Noam Chomsky's New Doc Gets Huge Praise
Pharma Executives Worried Over Presidential Candidates Demand for Drug Price Reform
Jimmy Carter: Citizens United 'Gives Legal Bribery a Chance to Prevail'
EcoWatch Daily Newsletter
Related Articles from EcoWatch