Watch Jon Stewart Welcome His Newest Advertiser: The Koch Brothers
Oct. 31, 2014 02:24PM EST
Climate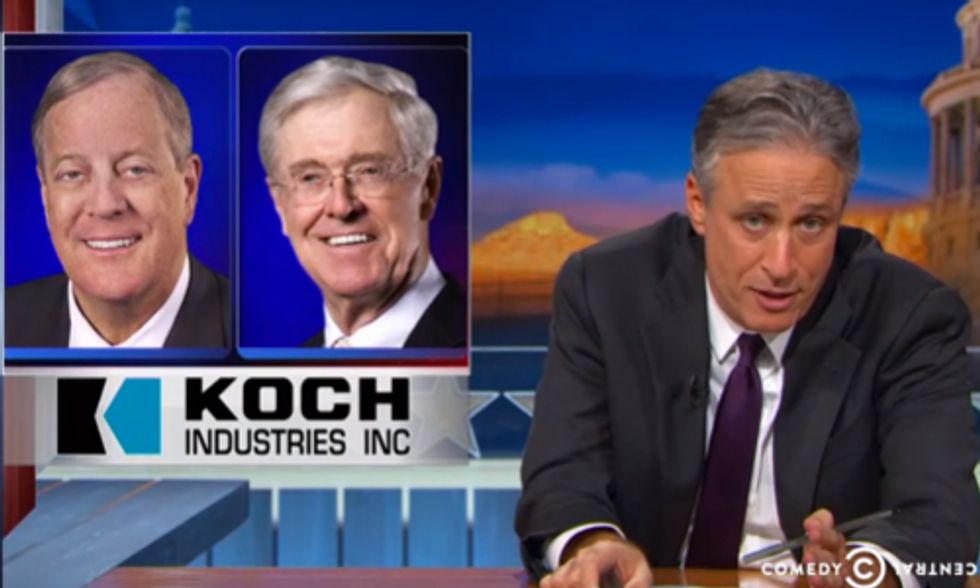 The Daily Show with Jon Stewart traveled to Texas this week to broadcast from Austin, offering Texas-based guests and commentary. But one advertiser that cropped up on the show this week may be having second thoughts.
"The past couple of nights we've noticed there's a new advertiser on the Daily Show program," said host Stewart. "Let's meet our new sponsor."
Cue: an upbeat ad about the wonders of modern fossil fuel-based industry from—the Koch Brothers.
"Who are these lovable scamp Koch Brothers?" asked Stewart, before he rolled news footage revealing among other things that "The billionaire brothers are expected to spend some $290 million these midterms, mostly through their complicated web of dark money organizations."
Saying that somehow made the ad less inspiring, Stewart said, "To welcome them to the Daily Show advertising family we did make some minor adjustments." Those "minor adjustments" undoubtedly caused some gnashing of teeth at Koch Industries corporate headquarters in nearby Kansas.
The revised ad used some of the original's cheerful graphics and a similarly honey-voiced female narrator cooing, "You won't always see our names on our campaign ads because the politicians we own say that's OK. With our heartfelt devotion to fossil fuels, we make your planet warmer and your water more flammable while lubricating your birds and rearranging your polar bears."
 YOU MIGHT ALSO LIKE
Must-See Video: Jon Stewart Tackles Climate Deniers in Congress
Dark Money Documentary Exposes Koch Brothers' Spending Secrets
Koch Brothers Are Largest Lease Holders in Alberta Tar Sands
EcoWatch Daily Newsletter