Watch Jon Stewart Actually Agree With Donald Trump
Aug. 04, 2015 10:28AM EST
Politics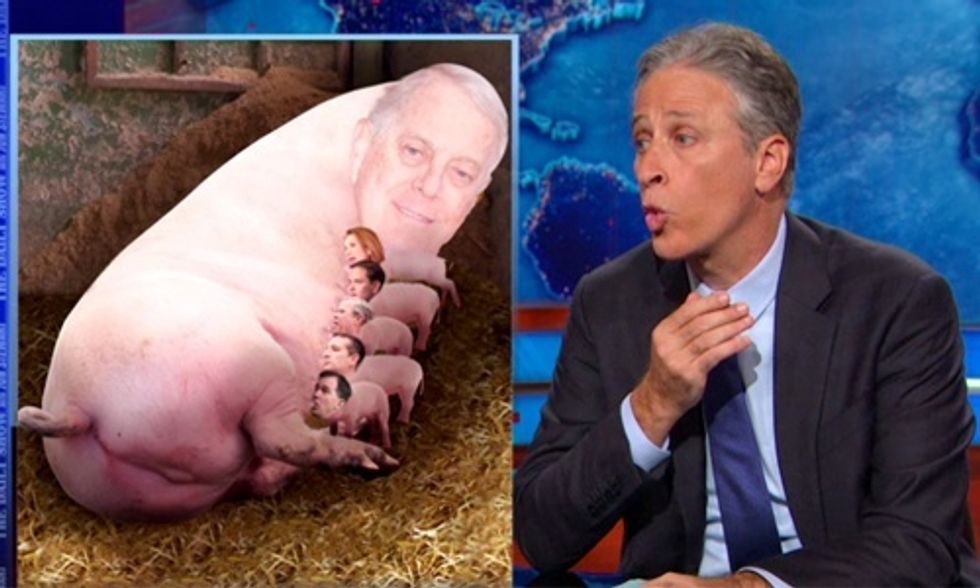 It's Jon Stewart's final week on The Daily Show, so naturally his opening segment is about the Koch brothers and his follow up segment is on Fox News.
Stewart opens with: "We've got good news. The California drought is over because last weekend a special group in California made it rain."
Stewart is referring to the Koch brother's donor conference in Dana Point, California. The event gathered 450 top Republican party donors and included five GOP presidential candidates—former Florida Gov. Jeb Bush, Texas Sen. Ted Cruz, Florida Sen. Marco Rubio, Wisconsin Gov. Scott Walker and former Hewlett-Packard CEO Carly Fiorina.
The event was being called "the Koch primary" because the billionaire brothers and their vast network of wealthy conservative donors have pledged to donate nearly $1 billion to, as Stewart says, "buy the next election." And the "five Republican candidates were more than happy to come on down and gobble some Koch," Stewart says wryly.
"You see these candidates go out to a billionaire conference begging for money," explains Stewart. "And they wind up looking like a bunch of puppets. Try finding a Republican candidate that will tell you that."
But, Stewart has indeed found a candidate who is calling it like he sees it. Can you guess who it is?
YOU MIGHT ALSO LIKE
Donald Trump Blasts GOP Rivals at Koch Summit as 'Puppets'
Koch Brothers Trump the Donald
Jimmy Carter: The U.S. Is an 'Oligarchy With Unlimited Political Bribery'
EcoWatch Daily Newsletter