This website uses cookies to ensure you get the best experience while browsing it. By clicking 'Got It' you're accepting these terms.


The best of EcoWatch, right in your inbox. Sign up for our email newsletter!
Watch Jimmy Kimmel Slam Sarah Palin for Her Part in Climate Hustle
May. 03, 2016 11:15AM EST
Politics
Jimmy Kimmel generally keeps things relatively light, comedy wise, on his late night show. But apparently, Sarah Palin's appearance in a new climate change denial film called Climate Hustle got the host fired up enough to take up the dumb-dumbness that is both Palin and the entire climate change denial brigade, aka, the GOP.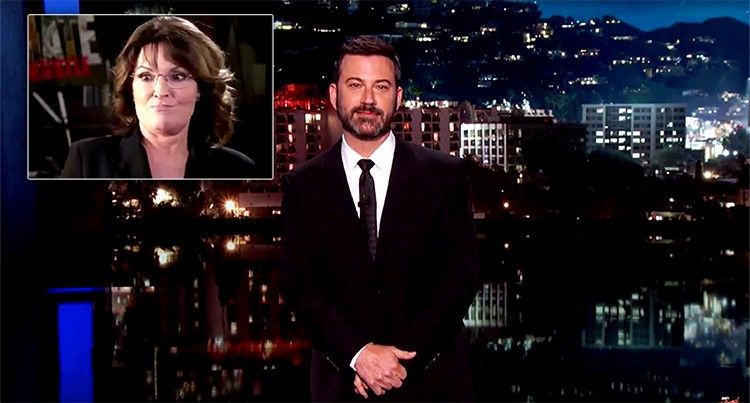 Kimmel shows two clips from the film of Palin who, in typical word-salad fashion, basically states that climate change is a big conspiracy that's harming our kids most of all. She suggests that people are being deluded into not seeing through the whole sham just because 97 percent of scientists agree that it's a real thing.
Again, this is brainiac Sarah Palin talking, telling you that you should took her word for it over pretty much every scientist on the planet.
"[T]he idea that she knows more than 97 percent of scientists is offensive. It's dangerous," Kimmel said. "No matter what Sarah Palin and these geniuses she surrounds herself with try to tell you, climate change is not a liberal-versus-conservative thing. But the people who profit from ignoring it want you to believe it is."
The host kept going from there, weaving comedy with a pretty on-the-nail takedown of the entire climate-change-denial industry:
"2014 was the warmest year ever until 2015 became the warmest year ever. Now 2016 might turn out to be even warmer than either of those. You know how you know climate change is real? When the hottest year on record is whatever year it currently is.
"A huge majority of climate scientists say climate change is happening. They say we're causing it and we need to do something about it before it has a terrible effect on all of us. There's no debate about the greenhouse effect, just like there's no debate about gravity. It someone throws a piano off the roof, I don't care what Sarah Palin tells you. Get out of the way, because it's coming down on your head.
"Ninety-seven percent of climate scientists agree on this. And 97 percent of scientists don't agree on much. Even one out of five dentists don't believe in sugarless gum for their patients that chew gum. But almost half our representatives in Washington, apparently, know more about science than our scientists. Or they pretend to, because big corporations give them a lot of money to make sure they can keep doing the destructive things that they do."
Kimmel offered a few more moments of levity ("What if I decided to deny the existence of yogurt? Think about it! I've seen the containers, I just don't believe there's anything in them.") before turning the floor over to a bunch of actual scientists—people with actual degrees who can speak from a place of authority perhaps millions of miles beyond Palin—who reassure us, one by one, that they're "not fucking with you."
Good job, Jimmy Kimmel. It's sad we have to keep saying this, but there you have it.
Check out the clip in its entirety here:
YOU MIGHT ALSO LIKE
Largest Civil Disobedience in History of the Environmental Movement Begins Today
Climate Change Could Make Parts of Middle East and North Africa 'Uninhabitable'
Leaked Documents Confirm TTIP 'Amounts to a Huge Transfer of Power from People to Big Business'
Mark Ruffalo: New York State Leading the Way on the Clean Energy Revolution
EcoWatch Daily Newsletter
arinahabich / Stock / Getty Images
By Sydney Swanson
With April hopping along and Easter just around the corner, it's time for dyeing eggs (and inadvertently, dyeing hands.) It's easy to grab an egg-dyeing kit at the local supermarket or drug store, but those dye ingredients are not pretty.
Aerial of farmland and mountains near Seaward Kaikoura Range in New Zealand. David Wall Photo / Lonely Planet Images / Getty Images Plus
By Jordan Davidson
New Zealand's pristine image as a haven of untouched forests and landscapes was tarnished this week by a brand new government report. The Environment Aotearoa 2019 painted a bleak image of the island nation's environment and its future prospects.
heshphoto / Image Source / Getty Images
Mike Taube / Getty Images
A new EPA rule on asbestos does not say anything about the asbestos currently in the environment. Bob Allen / Getty Images
A mountain woodland caribou bull in the Muskwa-Kechika Wilderness area in northern British Columbia, Canada. John E Marriott / All Canada Photos / Getty Images
It's heartening, in the midst of the human-caused sixth mass extinction, to find good wildlife recovery news. As plant and animal species disappear faster than they have for millions of years, Russia's Siberian, or Amur, tigers are making a comeback. After falling to a low of just a few dozen in the mid-20th century, the tigers now number around 500, with close to 100 cubs — thanks to conservation measures that include habitat restoration and an illegal hunting crackdown.