Watch Jimmy Kimmel Slam Sarah Palin for Her Part in Climate Hustle
Jimmy Kimmel generally keeps things relatively light, comedy wise, on his late night show. But apparently, Sarah Palin's appearance in a new climate change denial film called Climate Hustle got the host fired up enough to take up the dumb-dumbness that is both Palin and the entire climate change denial brigade, aka, the GOP.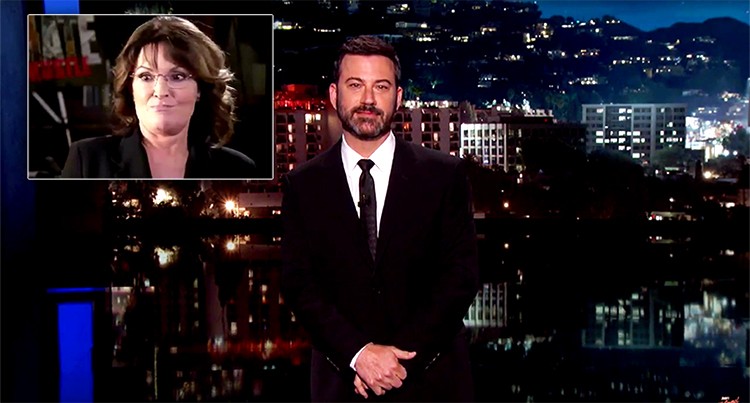 Kimmel shows two clips from the film of Palin who, in typical word-salad fashion, basically states that climate change is a big conspiracy that's harming our kids most of all. She suggests that people are being deluded into not seeing through the whole sham just because 97 percent of scientists agree that it's a real thing.
Again, this is brainiac Sarah Palin talking, telling you that you should took her word for it over pretty much every scientist on the planet.
"[T]he idea that she knows more than 97 percent of scientists is offensive. It's dangerous," Kimmel said. "No matter what Sarah Palin and these geniuses she surrounds herself with try to tell you, climate change is not a liberal-versus-conservative thing. But the people who profit from ignoring it want you to believe it is."
The host kept going from there, weaving comedy with a pretty on-the-nail takedown of the entire climate-change-denial industry:
"2014 was the warmest year ever until 2015 became the warmest year ever. Now 2016 might turn out to be even warmer than either of those. You know how you know climate change is real? When the hottest year on record is whatever year it currently is.
"A huge majority of climate scientists say climate change is happening. They say we're causing it and we need to do something about it before it has a terrible effect on all of us. There's no debate about the greenhouse effect, just like there's no debate about gravity. It someone throws a piano off the roof, I don't care what Sarah Palin tells you. Get out of the way, because it's coming down on your head.
"Ninety-seven percent of climate scientists agree on this. And 97 percent of scientists don't agree on much. Even one out of five dentists don't believe in sugarless gum for their patients that chew gum. But almost half our representatives in Washington, apparently, know more about science than our scientists. Or they pretend to, because big corporations give them a lot of money to make sure they can keep doing the destructive things that they do."
Kimmel offered a few more moments of levity ("What if I decided to deny the existence of yogurt? Think about it! I've seen the containers, I just don't believe there's anything in them.") before turning the floor over to a bunch of actual scientists—people with actual degrees who can speak from a place of authority perhaps millions of miles beyond Palin—who reassure us, one by one, that they're "not fucking with you."
Good job, Jimmy Kimmel. It's sad we have to keep saying this, but there you have it.
Check out the clip in its entirety here:
YOU MIGHT ALSO LIKE
Largest Civil Disobedience in History of the Environmental Movement Begins Today
Climate Change Could Make Parts of Middle East and North Africa 'Uninhabitable'
Leaked Documents Confirm TTIP 'Amounts to a Huge Transfer of Power from People to Big Business'
Mark Ruffalo: New York State Leading the Way on the Clean Energy Revolution
The Santa Barbara City Council approved a resolution Tuesday opposing new drilling off the California coast and fracking in existing offshore oil and gas wells. The resolution is the first in a new statewide campaign to rally local governments against proposals to expand offshore fossil fuel extraction in federal waters.
The vote—which makes Santa Barbara the first California city to oppose both fracking and new offshore drilling—follows President Trump's April 28 executive order urging federal agencies to expand oil and gas leasing in federal waters. The order could expose the Pacific Ocean to new oil leasing for the first time in more than 30 years.
Keep reading...
Show less
www.facebook.com
Starting Wednesday, the vast majority of Americans can learn about every potentially harmful chemical in their drinking water and what scientists say are the safe levels of those contaminants. The Environmental Working Group's (EWG) new national Tap Water Database is the most complete source available on the quality of U.S. drinking water, aggregating and analyzing data from almost 50,000 public water systems in all 50 states and the District of Columbia.
The organization has earned a reputation for ambitious data-mining research projects that shake up policy debates and consumer markets. EWG's online Farm Subsidy Database, listing millions of subsidy recipients, and its Skin Deep guide to more than 70,000 personal care products, draw tens of millions of visitors every year.
Keep reading...
Show less
By Stacy Malkan
Ever since they classified the world's most widely used herbicide as "probably carcinogenic to humans," a team of international scientists at the World Health Organization's (WHO) cancer research group have been under withering attack by the agrichemical industry and its surrogates.
In a front-page series, The Monsanto Papers, the French newspaper Le Monde described the attacks as "the pesticide giant's war on science," and reported, "to save glyphosate, the firm [Monsanto] undertook to harm the United Nations agency against cancer by all means."
Keep reading...
Show less
Shutterstock
The U.S. electric utility industry recognized decades ago that burning fossil fuels would lead to increased warming, yet later opposed efforts to shift away from coal, according to a new report.
The lengthy report from the Energy and Policy Institute uses reams of archival documents to demonstrate that utility industry representatives knew as far back as 1968 that burning fossil fuels could trigger "catastrophic effects" on the climate.
Keep reading...
Show less
www.youtube.com
By Sharon Kelly
The Pennsylvania's Environmental Hearing Board ordered Sunoco Pipeline LP Tuesday to temporarily halt some types of work on a $2.5 billion pipeline project designed to carry 275,000 barrels a day of butane, propane and other liquid fossil fuels from Ohio and West Virginia, across Pennsylvania, to the Atlantic coast.
On July 19, three environmental groups presented Judge Bernard Labuskes, Jr. with documentation showing that the project had caused dozens of drilling fluid spills and other accidents between April and mid-June.
Keep reading...
Show less
www.youtube.com
By Andy Rowell
The UK has followed France in banning the sale of new petrol and diesel cars by 2040, as part of its plan to tackle chronic air pollution in cities. The government has been coming under intense pressure to act, with an estimated 40,000 people dying prematurely a year from air pollution.
Keep reading...
Show less
By Colleen Curry
People traveling across America today can, if they're lucky, pitch a tent in the same exact spot that early American explorers and map-makers Lewis and Clark did, amid the jagged rocks and sweeping plains of the Upper Missouri River Breaks in central Montana.
Brent Rose, a journalist and filmmaker who has been traveling around the U.S. in a van for two years, was one of the lucky ones.
Keep reading...
Show less
www.youtube.com
Kyara, a killer whale born at SeaWorld San Antonio just three months ago, died Monday at the park, as reported in this video from Newsy. Kyara is the last orca to be born in captivity under the SeaWorld breeding program, which shut down in 2016.
In a statement, SeaWorld said the cause of death was "likely pneumonia" and that "Kyara had faced some very serious and progressive health issues over the last week."
Keep reading...
Show less