This website uses cookies to ensure you get the best experience while browsing it. By clicking 'Got It' you're accepting these terms.
Watch Jimmy Kimmel Slam Sarah Palin for Her Part in Climate Hustle
May. 03, 2016 11:15AM EST
Climate
Jimmy Kimmel generally keeps things relatively light, comedy wise, on his late night show. But apparently, Sarah Palin's appearance in a new climate change denial film called Climate Hustle got the host fired up enough to take up the dumb-dumbness that is both Palin and the entire climate change denial brigade, aka, the GOP.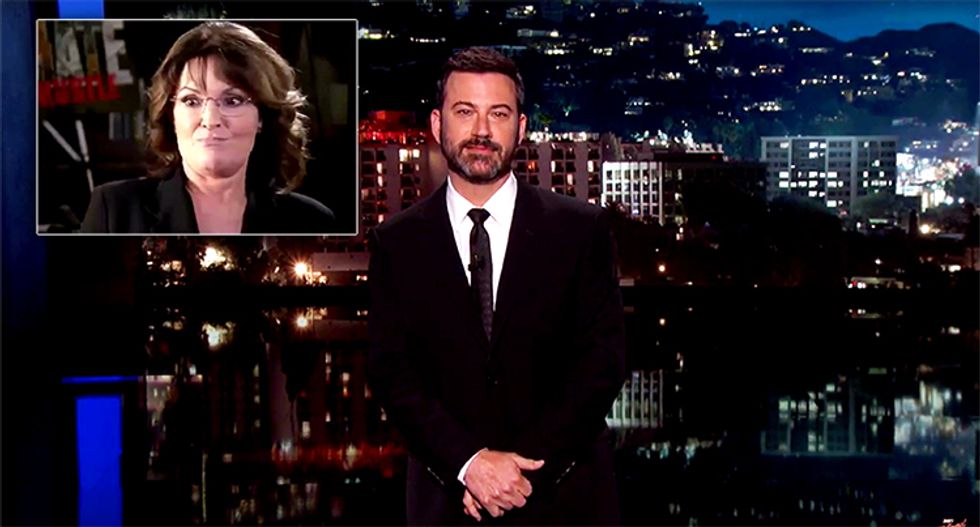 Kimmel shows two clips from the film of Palin who, in typical word-salad fashion, basically states that climate change is a big conspiracy that's harming our kids most of all. She suggests that people are being deluded into not seeing through the whole sham just because 97 percent of scientists agree that it's a real thing.
Again, this is brainiac Sarah Palin talking, telling you that you should took her word for it over pretty much every scientist on the planet.
"[T]he idea that she knows more than 97 percent of scientists is offensive. It's dangerous," Kimmel said. "No matter what Sarah Palin and these geniuses she surrounds herself with try to tell you, climate change is not a liberal-versus-conservative thing. But the people who profit from ignoring it want you to believe it is."
The host kept going from there, weaving comedy with a pretty on-the-nail takedown of the entire climate-change-denial industry:
"2014 was the warmest year ever until 2015 became the warmest year ever. Now 2016 might turn out to be even warmer than either of those. You know how you know climate change is real? When the hottest year on record is whatever year it currently is.
"A huge majority of climate scientists say climate change is happening. They say we're causing it and we need to do something about it before it has a terrible effect on all of us. There's no debate about the greenhouse effect, just like there's no debate about gravity. It someone throws a piano off the roof, I don't care what Sarah Palin tells you. Get out of the way, because it's coming down on your head.
"Ninety-seven percent of climate scientists agree on this. And 97 percent of scientists don't agree on much. Even one out of five dentists don't believe in sugarless gum for their patients that chew gum. But almost half our representatives in Washington, apparently, know more about science than our scientists. Or they pretend to, because big corporations give them a lot of money to make sure they can keep doing the destructive things that they do."
Kimmel offered a few more moments of levity ("What if I decided to deny the existence of yogurt? Think about it! I've seen the containers, I just don't believe there's anything in them.") before turning the floor over to a bunch of actual scientists—people with actual degrees who can speak from a place of authority perhaps millions of miles beyond Palin—who reassure us, one by one, that they're "not fucking with you."
Good job, Jimmy Kimmel. It's sad we have to keep saying this, but there you have it.
Check out the clip in its entirety here:
YOU MIGHT ALSO LIKE
Largest Civil Disobedience in History of the Environmental Movement Begins Today
Climate Change Could Make Parts of Middle East and North Africa 'Uninhabitable'
Leaked Documents Confirm TTIP 'Amounts to a Huge Transfer of Power from People to Big Business'
Mark Ruffalo: New York State Leading the Way on the Clean Energy Revolution
EcoWatch Daily Newsletter
In this view from an airplane rivers of meltwater carve into the Greenland ice sheet near Sermeq Avangnardleq glacier on Aug. 4 near Ilulissat, Greenland. Climate change is having a profound effect in Greenland, where over the last several decades summers have become longer and the rate that glaciers and the Greenland ice cap are retreating has accelerated. Sean Gallup / Getty Images
The rate that Greenland's ice sheet is melting surpassed scientists' expectations and has raised concerns that their worst-case scenario predictions are coming true, Business Insider reported.
An Alagoas curassow in captivity. Luís Fábio Silveira / Agência Alagoas / Mongabay
By Pedro Biondi
Extinct in its habitat for at least three decades, the Alagoas curassow (Pauxi mitu) is now back in the jungle and facing a test of survival, thanks to the joint efforts of more than a dozen institutions to pull this pheasant-like bird back from the brink.

Elizabeth Warren's Blue New Deal aims to expand offshore renewable energy projects, like the Block Island Wind Farm in Rhode Island.
Luke H. Gordon / Flickr
By Julia Conley
Sen. Elizabeth Warren expanded her vision for combating the climate crisis on Tuesday with the release of her Blue New Deal — a new component of the Green New Deal focusing on protecting and restoring the world's oceans after decades of pollution and industry-caused warming.
Former U.S. Secretary of State Rex Tillerson leaves the courthouse after testifying in the Exxon Mobil trial on Oct. 30, 2019 in New York. DON EMMERT / AFP via Getty Images
A judge in New York's Supreme Court sided with Exxon in a case that accused the fossil fuel giant of lying to investors about the true cost of the climate crisis. The judge did not absolve Exxon from its contribution to the climate crisis, but insisted that New York State failed to prove that the company intentionally defrauded investors, as NPR reported.
By Sharon Elber
You may have heard that giving a pet for Christmas is just a bad idea. Although many people believe this myth, according to the ASPCA, 86 percent of adopted pets given as gifts stay in their new homes. These success rates are actually slightly higher than average adoption/rehoming rates. So, if done well, giving an adopted pet as a Christmas gift can work out.