This website uses cookies to ensure you get the best experience while browsing it. By clicking 'Got It' you're accepting these terms.
Watch Jimmy Kimmel Slam Sarah Palin for Her Part in Climate Hustle
May. 03, 2016 11:15AM EST
Politics
Jimmy Kimmel generally keeps things relatively light, comedy wise, on his late night show. But apparently, Sarah Palin's appearance in a new climate change denial film called Climate Hustle got the host fired up enough to take up the dumb-dumbness that is both Palin and the entire climate change denial brigade, aka, the GOP.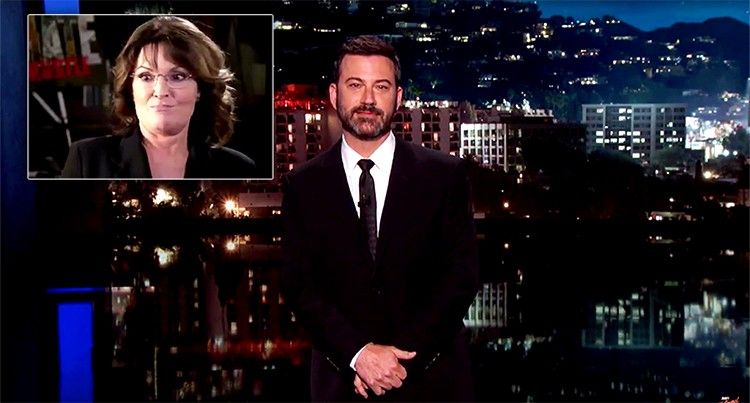 Kimmel shows two clips from the film of Palin who, in typical word-salad fashion, basically states that climate change is a big conspiracy that's harming our kids most of all. She suggests that people are being deluded into not seeing through the whole sham just because 97 percent of scientists agree that it's a real thing.
Again, this is brainiac Sarah Palin talking, telling you that you should took her word for it over pretty much every scientist on the planet.
"[T]he idea that she knows more than 97 percent of scientists is offensive. It's dangerous," Kimmel said. "No matter what Sarah Palin and these geniuses she surrounds herself with try to tell you, climate change is not a liberal-versus-conservative thing. But the people who profit from ignoring it want you to believe it is."
The host kept going from there, weaving comedy with a pretty on-the-nail takedown of the entire climate-change-denial industry:
"2014 was the warmest year ever until 2015 became the warmest year ever. Now 2016 might turn out to be even warmer than either of those. You know how you know climate change is real? When the hottest year on record is whatever year it currently is.
"A huge majority of climate scientists say climate change is happening. They say we're causing it and we need to do something about it before it has a terrible effect on all of us. There's no debate about the greenhouse effect, just like there's no debate about gravity. It someone throws a piano off the roof, I don't care what Sarah Palin tells you. Get out of the way, because it's coming down on your head.
"Ninety-seven percent of climate scientists agree on this. And 97 percent of scientists don't agree on much. Even one out of five dentists don't believe in sugarless gum for their patients that chew gum. But almost half our representatives in Washington, apparently, know more about science than our scientists. Or they pretend to, because big corporations give them a lot of money to make sure they can keep doing the destructive things that they do."
Kimmel offered a few more moments of levity ("What if I decided to deny the existence of yogurt? Think about it! I've seen the containers, I just don't believe there's anything in them.") before turning the floor over to a bunch of actual scientists—people with actual degrees who can speak from a place of authority perhaps millions of miles beyond Palin—who reassure us, one by one, that they're "not fucking with you."
Good job, Jimmy Kimmel. It's sad we have to keep saying this, but there you have it.
Check out the clip in its entirety here:
YOU MIGHT ALSO LIKE
Largest Civil Disobedience in History of the Environmental Movement Begins Today
Climate Change Could Make Parts of Middle East and North Africa 'Uninhabitable'
Leaked Documents Confirm TTIP 'Amounts to a Huge Transfer of Power from People to Big Business'
Mark Ruffalo: New York State Leading the Way on the Clean Energy Revolution
EcoWatch Daily Newsletter
A vegan diet can improve your health, but experts say it's important to keep track of nutrients and protein. Getty Images
By Dan Gray
Research shows that 16 weeks of a vegan diet can boost the gut microbiome, helping with weight loss and overall health.
A healthy microbiome is a diverse microbiome. A plant-based diet is the best way to achieve this.
It isn't necessary to opt for a strictly vegan diet, but it's beneficial to limit meat intake.
New research shows that following a vegan diet for about 4 months can boost your gut microbiome. In turn, that can lead to improvements in body weight and blood sugar management.
Students gathered at the National Mall in Washington DC, Sept. 20. NRDC
By Jeff Turrentine
Nearly 20 years have passed since the journalist Malcolm Gladwell popularized the term tipping point, in his best-selling book of the same name. The phrase denotes the moment that a certain idea, behavior, or practice catches on exponentially and gains widespread currency throughout a culture. Having transcended its roots in sociological theory, the tipping point is now part of our everyday vernacular. We use it in scientific contexts to describe, for instance, the climatological point of no return that we'll hit if we allow average global temperatures to rise more than 2 degrees Celsius above preindustrial levels. But we also use it to describe everything from resistance movements to the disenchantment of hockey fans when their team is on a losing streak.
samael334 / iStock / Getty Images
Berries are small, soft, round fruit of various colors — mainly blue, red, or purple.
A glacier is seen in the Kenai Mountains on Sept. 6, near Primrose, Alaska. Scientists from the U.S. Geological Survey have been studying the glaciers in the area since 1966 and their studies show that the warming climate has resulted in sustained glacial mass loss as melting outpaced the accumulation of new snow and ice. Joe Raedle / Getty Images
By Mark Mancini
On Aug. 18, Iceland held a funeral for the first glacier lost to climate change. The deceased party was Okjökull, a historic body of ice that covered 14.6 square miles (38 square kilometers) in the Icelandic Highlands at the turn of the 20th century. But its glory days are long gone. In 2014, having dwindled to less than 1/15 its former size, Okjökull lost its status as an official glacier.
Members of Chicago Democratic Socialists of America table at the Logan Square Farmers Market on Aug. 18. Alex Schwartz
By Alex Schwartz
Among the many vendors at the Logan Square Farmers Market on Aug. 18 sat three young people peddling neither organic vegetables, gourmet cheese nor handmade crafts. Instead, they offered liberation from capitalism.
Hackney primary school students went to the Town Hall on May 24 in London after school to protest about the climate emergency. Jenny Matthews / In Pictures / Getty Images
Bird watching in the U.S. may be a lot harder than it once was, since bird populations are dropping off in droves, according to a new study.