This website uses cookies to ensure you get the best experience while browsing it. By clicking 'Got It' you're accepting these terms.
Watch Jimmy Kimmel Slam Sarah Palin for Her Part in Climate Hustle
May. 03, 2016 11:15AM EST
Climate
Jimmy Kimmel generally keeps things relatively light, comedy wise, on his late night show. But apparently, Sarah Palin's appearance in a new climate change denial film called Climate Hustle got the host fired up enough to take up the dumb-dumbness that is both Palin and the entire climate change denial brigade, aka, the GOP.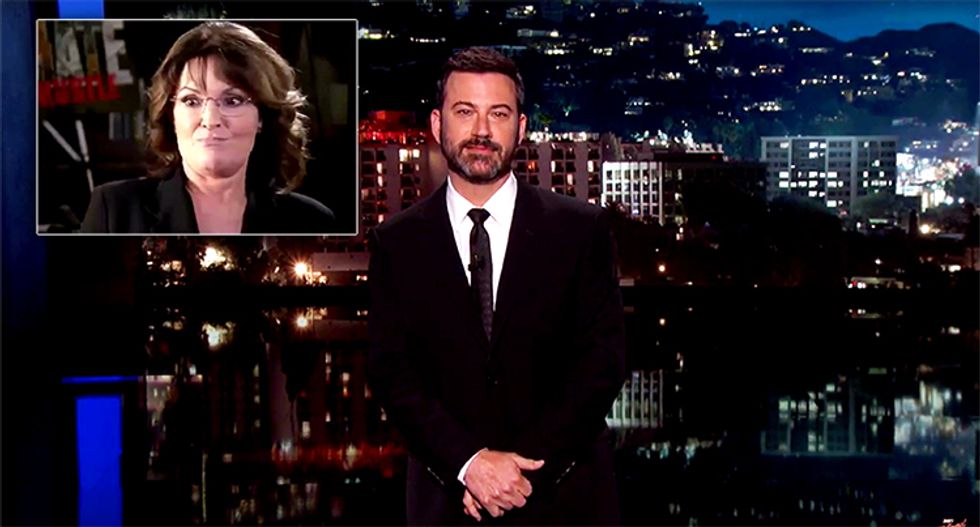 Kimmel shows two clips from the film of Palin who, in typical word-salad fashion, basically states that climate change is a big conspiracy that's harming our kids most of all. She suggests that people are being deluded into not seeing through the whole sham just because 97 percent of scientists agree that it's a real thing.
Again, this is brainiac Sarah Palin talking, telling you that you should took her word for it over pretty much every scientist on the planet.
"[T]he idea that she knows more than 97 percent of scientists is offensive. It's dangerous," Kimmel said. "No matter what Sarah Palin and these geniuses she surrounds herself with try to tell you, climate change is not a liberal-versus-conservative thing. But the people who profit from ignoring it want you to believe it is."
The host kept going from there, weaving comedy with a pretty on-the-nail takedown of the entire climate-change-denial industry:
"2014 was the warmest year ever until 2015 became the warmest year ever. Now 2016 might turn out to be even warmer than either of those. You know how you know climate change is real? When the hottest year on record is whatever year it currently is.
"A huge majority of climate scientists say climate change is happening. They say we're causing it and we need to do something about it before it has a terrible effect on all of us. There's no debate about the greenhouse effect, just like there's no debate about gravity. It someone throws a piano off the roof, I don't care what Sarah Palin tells you. Get out of the way, because it's coming down on your head.
"Ninety-seven percent of climate scientists agree on this. And 97 percent of scientists don't agree on much. Even one out of five dentists don't believe in sugarless gum for their patients that chew gum. But almost half our representatives in Washington, apparently, know more about science than our scientists. Or they pretend to, because big corporations give them a lot of money to make sure they can keep doing the destructive things that they do."
Kimmel offered a few more moments of levity ("What if I decided to deny the existence of yogurt? Think about it! I've seen the containers, I just don't believe there's anything in them.") before turning the floor over to a bunch of actual scientists—people with actual degrees who can speak from a place of authority perhaps millions of miles beyond Palin—who reassure us, one by one, that they're "not fucking with you."
Good job, Jimmy Kimmel. It's sad we have to keep saying this, but there you have it.
Check out the clip in its entirety here:
YOU MIGHT ALSO LIKE
Largest Civil Disobedience in History of the Environmental Movement Begins Today
Climate Change Could Make Parts of Middle East and North Africa 'Uninhabitable'
Leaked Documents Confirm TTIP 'Amounts to a Huge Transfer of Power from People to Big Business'
Mark Ruffalo: New York State Leading the Way on the Clean Energy Revolution
EcoWatch Daily Newsletter
Loggers operate in an area of lodgepole pine trees killed by the mountain pine beetle in the Beaverhead-Deerlodge National Forest on Sept. 13, 2019 in Montana. As climate change makes summers hotter and drier in the Northern Rockies, forests are threatened with increasing wildfire activity, deadly pathogens and insect infestations, including the mountain pine beetle outbreak. The insects have killed more than six million acres of forest across Montana since 2000. Chip Somodevilla / Getty Images
Wild rice flatbread is one of many Native recipes found in Indigikitchen.
Indigikitchen
The online cooking show Indigikitchen is providing a platform to help disseminate Indigenous food recipes — while helping eaters recognize their impact on the planet and Native communities.
On the Solomon Islands, rats and poachers are the two major threats to critically endangered sea turtles. A group of local women have joined forces to help save the animals from extinction.
By Joe Roman
One of the most important global conservation events of the past year was something that didn't happen. For the first time since 2002, Iceland — one of just three countries that still allow commercial whaling — didn't hunt any whales, even though its government had approved whaling permits in early 2019.
People participate in a national mile-long march to highlight the push for clean water in Flint Feb. 19, 2016 in Flint, Michigan.
Bill Pugliano
/ Stringer / Getty Images
The Supreme Court made a decision Tuesday that means Flint residents can sue state and local officials over the water crisis that leached lead into their water and resulted in at least 12 deaths.