Watch Hillary Clinton on Saturday Night Live Talk Keystone XL and Donald Trump
Oct. 04, 2015 01:12PM EST
Energy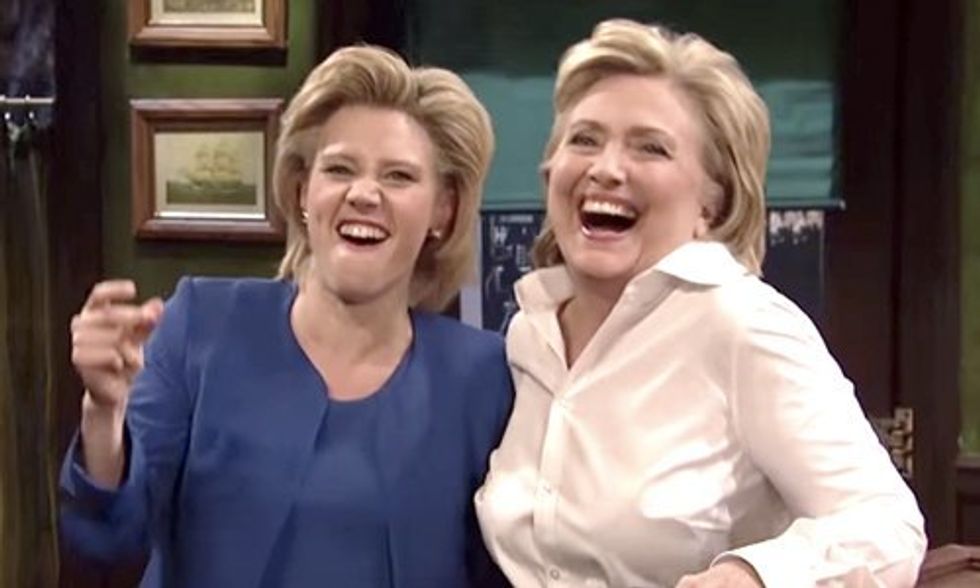 If you missed the season premier last night of Saturday Night Live, you missed Hillary Clinton playing a sympathetic bartender named "Val" who served SNL's Kate McKinnon vodka as she did her much celebrated impression of Clinton.
"Hillary" started by sharing with "Val" that she's "had a hard couple of 22 years." "Val" then shared that she's "just an ordinary citizen who believes the Keystone pipeline will destroy our environment." "Hillary" responded, "I agree with you there. It did take me a long time to decide that, but I am against it."
Next, the conversation turned to Donald Trump. "Hillary" said, "Oh Val, I'm just so darn bummed, all anyone wants to talk about is Donald Trump." "Val" replied with a great impression of Trump and said, "Donald Trump? Isn't he the one that's like 'Uh, you're all losers?'"
There are many other hilarious moments in this segment too. Watch here:
YOU MIGHT ALSO LIKE
Bernie Sanders Goes Big in Boston Calling for a 'Political Revolution'
Ben Carson Says He Doesn't Believe in Climate Change or Evolution
Robert Reich: Why Bernie Sanders Is So Popular
Al Gore Blasts GOP Climate Deniers, Thom Hartmann Says Throw Them in Jail
EcoWatch Daily Newsletter