WATCH: Fracking 101 Narrated by Edward James Olmos
Dec. 08, 2014 04:06PM EST
Fracking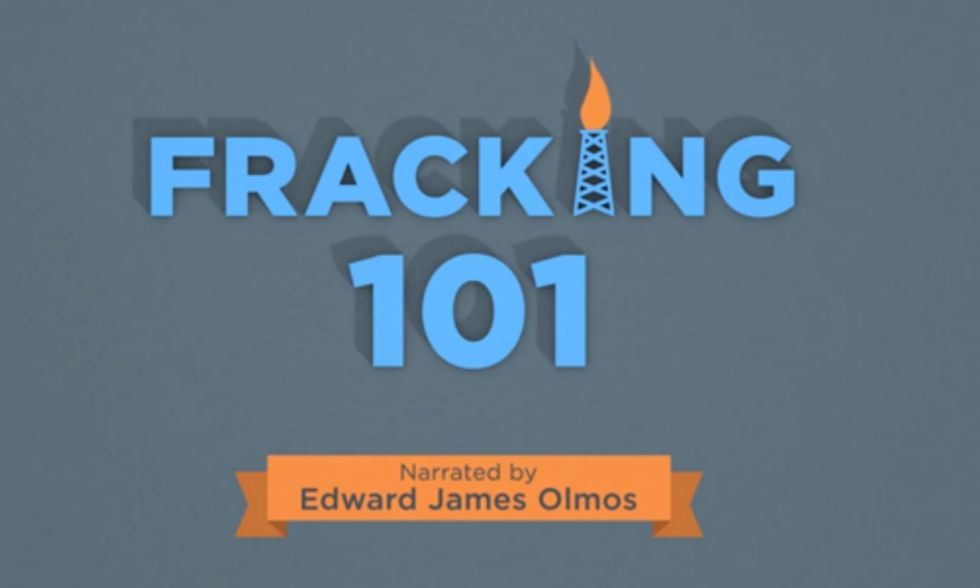 '''Chances are you're already up in arms about fracking and its impact on people's health, the environment and our climate. It's also likely you know some people who don't know a lot about it, but they may have heard a newscaster say that it's behind dropping gas prices and they think "That's great!" You may have also seen some polls that show a lot of Americans approve of fracking—but they've also shown that people don't know very much about its impacts, and once they do, they're likely to oppose it.
The Sierra Club has put together a two-and-a-half minute animated video called Fracking 101 that's simple enough for a kindergartner to understand and short enough so that even the most attention-challenged will get it. Cancer-causing poisons? Check. Polluted aquifers? Check. Climate change-causing methane-emissions? Check. It's all here in digestible and entertaining form.
The video, which features narration by actor Edward James Olmos (Battlestar Galactica, Stand and Deliver, Blade Runner), depicts how methane gas escapes from fracking operations to drive climate change, how the toxic chemicals used in the process find their way into our water and air, and what kind of health impacts those chemicals have.
"It is an honor to team up with a powerful voice for progress like Edward James Olmos as we continue to educate Americans about the dangers fracking poses to our health, our homes and our future," said Sierra Club executive director Michael Brune. "It's time that we act to keep natural gas and other dirty fuels in the ground and speed the transition to clean, renewable energy like wind and solar."
The video is also available in Spanish.
YOU MIGHT ALSO LIKE
Study Finds More Costs Than Benefits From Fracking
Study Finds 8 Fracking Chemicals Toxic to Humans
EcoWatch Daily Newsletter
Related Articles from EcoWatch
Recent Stories from EcoWatch