This website uses cookies to ensure you get the best experience while browsing it. By clicking 'Got It' you're accepting these terms.
Watch Exclusive Trailer: George Kourounis Descends Into World's Most Active Volcano
Apr. 24, 2015 09:53AM EST
Climate
In Angry Planet's season premiere last week, storm chaser and explorer George Kourounis took viewers to Australia to find out if climate change could eventually make the continent uninhabitable. In the series, which is now in its fourth season, Kourounis gets up close and personal with some of the fiercest weather phenomena on Earth. But this season's focus is specifically on climate change.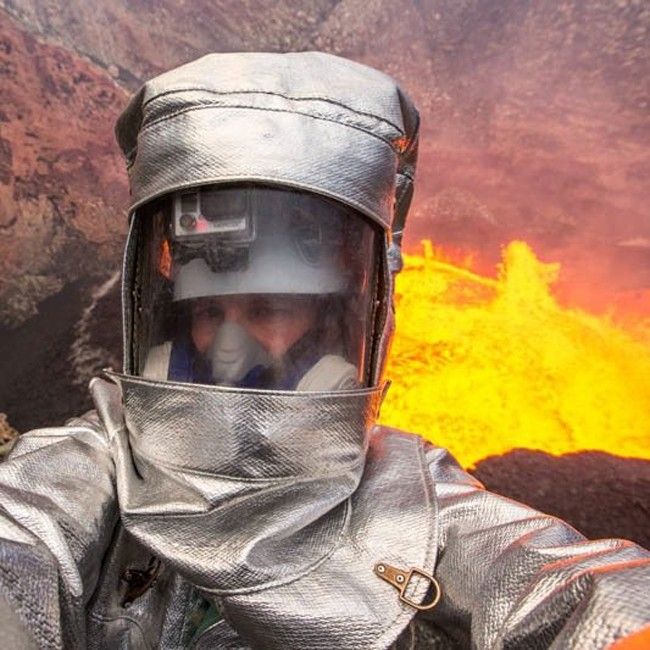 Kourounis documents how climate change is "directly impacting and endangering Earth's delicate ecosystem and in turn the world's population." Tonight's episode should be especially intense because Kourounis goes to the Pacific island of Vanuatu to descend 1,200 feet into one of the most active volcanoes in the world. This is actually not the first time he's done it. Kourounis made headlines last August when he rappelled into the volcano with a GoPro, which Kourounis describes "like being on another planet, nothing inside that crater relates to normal everyday life ... It was like peeking into the centre of the Earth. Then there's the heat, oh the heat! It's hard to describe how hot lava actually is."
Now, he's back to do it again. But this time, he's investigating the claim made by climate deniers that volcanoes produce more greenhouse gases than fossil fuels do. "I really wanted to go out there and show people that volcanoes do not cause global warming," Kourounis said in an interview with EcoWatch. "There have been so many times that people have claimed that big eruptions, like the recent dramatic one at Calbuco volcano in Chile, have set back all the 'Green good deeds' done over the past entire year." That's not at all true because volcanic eruptions actually cool the atmosphere temporarily "by increasing the albedo, or reflectivity, of sunlight back into space."
Kourounis has a very special connection to Vanuatu. He even got married there. So, the devastation Vanuatu experienced from Cyclone Pam was especially saddening for him. Of course, no one single storm can be linked to climate change, but warmer sea water means more fuel to power stronger hurricanes and typhoons.
Kourounis hopes that this episode and the series will help people connect with the issue of climate change. "The people who will be watching these programs will probably be at home, in a climate controlled room, comfortable and dry. Climate change doesn't affect their everyday lives yet. There are people and places though that are facing real, genuine consequences from the actions of others. It's so easy to be separated from that, intellectually and emotionally," he told us.
He hopes viewers recognize "we've passed the point of debating whether or not climate change is actually happening. The science is very clear. It is, and we are causing it. It's not volcanoes, not solar flares or natural variability. All those things have been taken into account and have been thoroughly ruled out. We're now at the point where we must decide what actions we need to take as individuals, governments and as a species in general. The Earth will go on without us. It's been through worse catastrophes than mankind in its 4.5 billion year history. It's not really the planet we need to save, it's ourselves."
Watch this exclusive trailer from tonight's episode which airs on Pivot at 10 p.m. ET/PT.
YOU MIGHT ALSO LIKE
'Angry Planet' Comes Face-to-Face With Our Rapidly Changing Planet
Viral Video: Man Hikes Pacific Crest Trail and Takes a Selfie Every Mile
6 Year Old Gets President Obama's Attention With This Climate Change Video
EcoWatch Daily Newsletter
Variety of fermented food korean traditional kimchi cabbage and radish salad. white and red sauerkraut in ceramic plates over grey spotted background. Natasha Breen / REDA&CO / Universal Images Group / Getty Image
Even if you've never taken probiotics, you've probably heard of them.
These supplements provide numerous benefits because they contain live microorganisms, such as bacteria or yeast, which support the healthy bacteria in your gut (1, 2, 3, 4).
Pexels
Singapore will become the first country in the world to place a ban on advertisements for carbonated drinks and juices with high sugar contents, its health ministry announced last week. The law is intended to curb sugar consumption since the country has some of the world's highest diabetes rates per capita, as Reuters reported.
A typical adult takes around 20,000 breaths per day. If you live in a megacity like Beijing, with many of those lungfuls you're likely to inhale a noxious mixture of chemicals and pollutants.
Fred Stone holds his brown swiss cow Lida Rose at his Arundel dairy farm on March 18 after a press conference where he spoke about PFAS chemical contamination in his fields. Gregory Rec / Portland Portland Press Herald via Getty Images
By Susan Cosier
First there was Fred Stone, the third-generation dairy farmer in Maine who discovered that the milk from his cows contained harmful chemicals. Then came Art Schaap, a second-generation dairy farmer in New Mexico, who had to dump 15,000 gallons of contaminated milk a day.
Protesters attend the 32nd annual Fur-Free Friday demonstration on Nov. 23, 2018 in Beverly Hills, California. Ella DeGea / Getty Images
California Governor Gavin Newsom signed into law a bill that that bans the sale and manufacture of fur products in the state. The fur ban, which he signed into law on Saturday, prohibits Californians from selling or making clothing, shoes or handbags with fur starting in 2023, according to the AP.
By Simon Evans
During the three months of July, August and September, renewables generated an estimated total of 29.5 terawatt hours (TWh), compared with just 29.1TWh from fossil fuels, the analysis shows.
A demonstrator waves an Ecuadorian flag during protests against the end of subsidies to gasoline and diesel on Oct. 9 in Quito, Ecuador. Jorge Ivan Castaneira Jaramillo / Getty Images
Protesters block the road outside Mansion House in London during an XR climate change protest. Gareth Fuller / PA Images via Getty Images