Watch Colbert Shame GOP Climate Deniers: 'I am Not a Scientist'
Nov. 08, 2014 10:15AM EST
Climate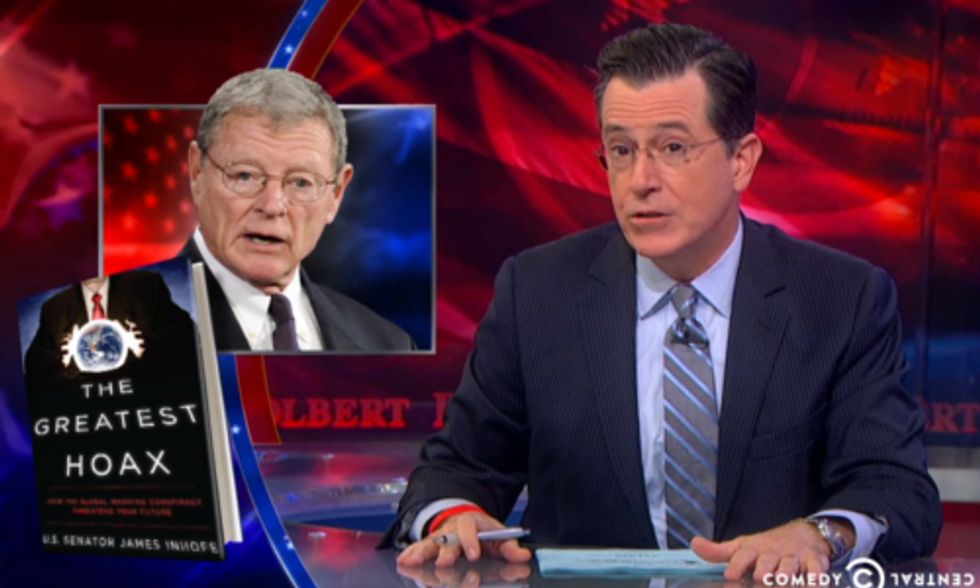 A favorite meme among climate denier politicians these days is "I'm not a scientist but ..." Usually, the "but" is their escape hatch to say they don't have to believe what scientists are saying about climate change.
And with their election victories Tuesday and takeover of the Senate, putting James Inhofe, author of The Greatest Hoax: How the Global Warming Conspiracy Threatens Your Future, in charge of the Senate Environment Committee, we're going to be hearing that line a lot more.
Stephen Colbert shows a video montage of Republican leaders mouthing those words, commenting to appreciative applause from his audience, "Yes, everyone who denies manmade climate change has the same stirring message: we don't know what the f**k we're talking about."
He added, "I hope that these conservative leaders can inspire all the children out there watching to think to themselves, 'Hey, maybe someday I can grow up to be not a scientist.'"
He then performed his "not a scientist" demonstration of the impacts of rising sea levels by pouring colored water over a map of the U.S., saying, "Remember, kids, if you get unhooked on science early maybe some day you could completely lack any understanding of science and then grow up to be chairman of the Senate Environment Committee!"
YOU MIGHT ALSO LIKE
Must-See Video: Jon Stewart Tackles Climate Deniers in Congress
Dark Money Fuels Election Wins for Climate Deniers
EcoWatch Daily Newsletter
Related Articles from EcoWatch