Watch Bill Nye Shred Climate Denying Congresswoman
Oct. 30, 2014 02:24PM EST
Climate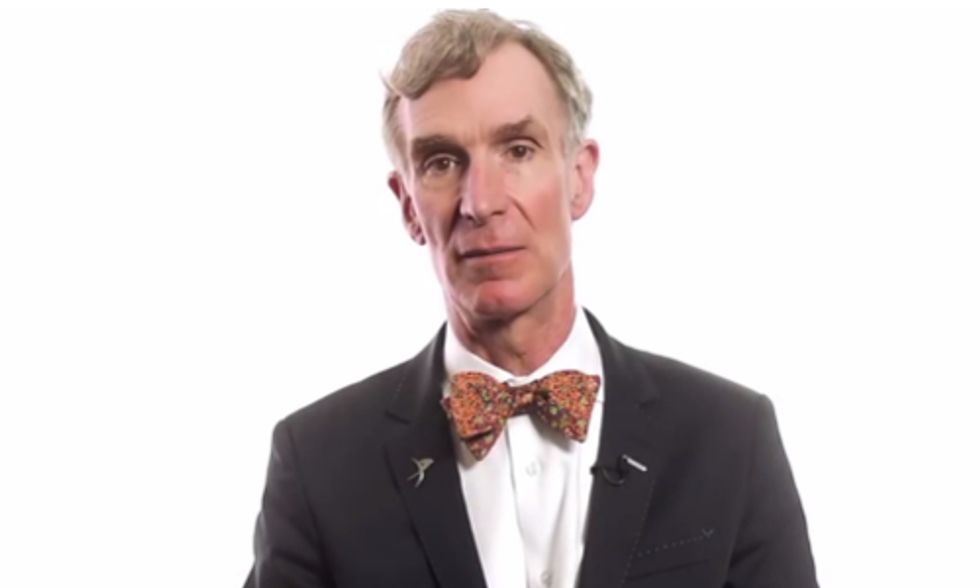 Bill Nye the Science Guy has no patience with climate deniers like Congresswoman Marsha Blackburn (R-TN), whom he faced off with on a recent segment of CBS's Meet The Press. Blackburn blithely dismissed his contention that climate change is real, saying "Neither he nor I are a climate scientist ... what we have to do is look at the information we get from climate scientists."
"She did something which is very common in the climate denier community or whatever you want to call it, which is to talk about credentials," noted Nye. "You don't need to be a full-time climate scientist to understand it. As far as my credentials, I'm a mechanical engineer. I took a lot of physics. I get it. I can understand what's goung on. We're putting carbon dioxide in the air at a prodigious rate and the world is getting warmer."
"The world is getting warmer because of human activity—that's a fact," he continued. "If you have somebody who really strongly believes the Earth was flat, you wouldn't have to have that person on a television show with the people who believe the earth is round. It's not one person vs the other person. It's 97 people vs. three people."
He suggests that perhaps Blackburn is getting her information from sources other than climate scientists.
"As far as Ms. Blackburn, it sounded like she's been coached on denial bullet points or talking points," he said. "I very much enjoy talking those people on but meanwhile it breaks my heart because we've got work to do. The fossil fuel industry has really gotten in their ears, and it's really troublesome. We're the world's most technical advanced country—certainly in the top 10. To have a generation of science students brought up without awareness of climate change is just a formula for disaster."
 YOU MIGHT ALSO LIKE
5 Ways ALEC Enables Climate Deniers
Must-See Video: Jon Stewart Tackles Climate Deniers in Congress
EcoWatch Daily Newsletter