Watch Bill Nye Put His Climate Money Where His Mouth Is
Apr. 20, 2016 10:39AM EST
Climate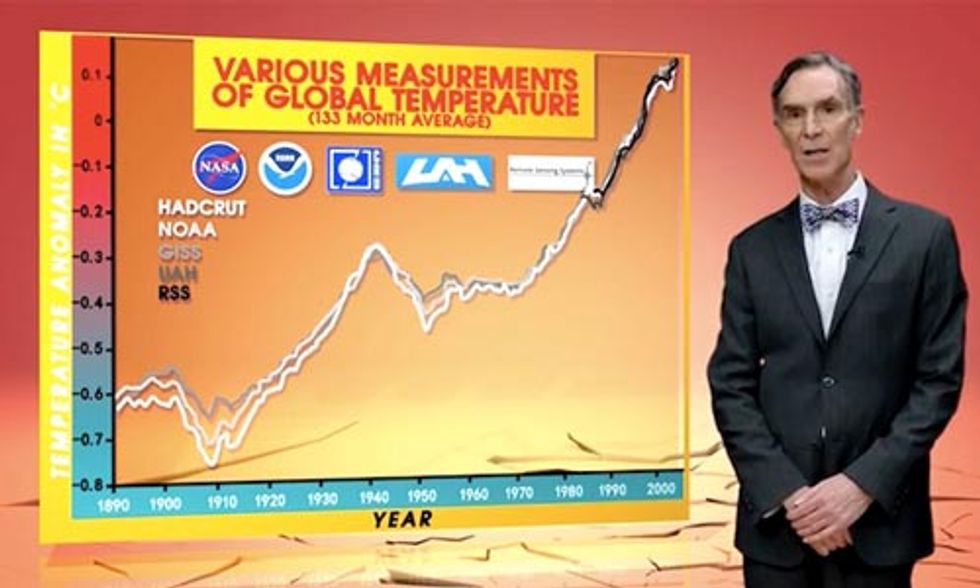 Bill Nye, an outspoken proponent of man-made climate change, has taken on meteorologist and well-known climate denier Joe Bastardi in a new StarTalk video.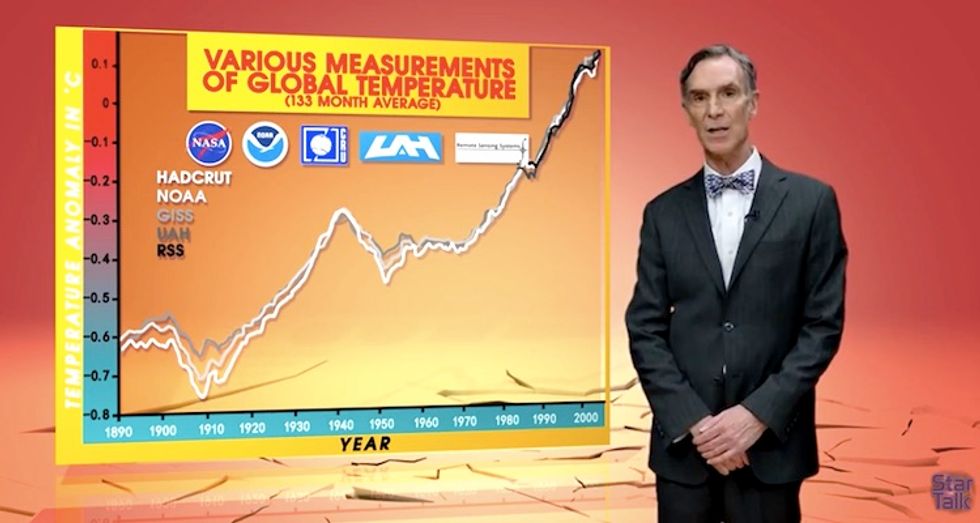 "We have real data and you can see the world is getting warmer," Nye said. "These five curves were produced by five independent organizations and they all got the same answer."
The clip was posted in response to a November 2015 editorial Bastardi wrote for The Patriot Post in which he described Nye as an "agenda-driven zealot [rather] than a man of science."
The WeatherBell chief forecaster also challenged "The Science Guy" to the following three points:
1. Explain why there's no linkage in the entire known CO2-temperature history of the planet.
2. Explain the lack of warming in real-time temperature data, and why so far I have been right.
3. Make your forecast. You claim to be a leader yet refuse to take a stand. Instead you sit in the stands and never allow what you are saying to be verified. What kind of science is that?
Nye not only took on Bastardi's challenge, he's also putting a total of $20,000 on the line that 2016 will be in the top 10 hottest years ever recorded and that 2010-2020 will be the hottest decade ever recorded.
JUST POSTED: @BillNye puts his climate money where his mouth is: [video: 2m 45s] https://t.co/GFtrYSycHN

— Neil deGrasse Tyson (@Neil deGrasse Tyson)1461099686.0
In the video, Nye points out flaws in the graphs Bastardi used on his Patriot Post opinion piece and also explained that the weatherman chose to highlight the years 2005 and 2006 which followed an El Niño, which causes temperatures to rise and fall in a short period of time.
"So when you start when it's warm of course it's going to go down a little bit at first," he said. "I'm not sure why you would choose to present the graph this way."
Nye then quotes Upton Sinclair who said, "It's hard to get a man to believe something when his salary depends on his not believing it."
As a side note, Nye brought up Bastardi's appearances at events hosted by the American Coal Council, the Nebraska Propane Gas Association and the North American Gas Forum suggesting that Bastardi has ties to the fossil fuel industry.
"Where you speak is your business but it also seems to be your business—telling your audiences what they want to hear," he said.
"So come on, champ," Nye tells Bastardi, who is a weightlifter. "Show us how tough you are."
Well, Mr. Bastardi? @BigJoeBastardi https://t.co/wgpQnvfNlq

— Bill Nye (@Bill Nye)1461095045.0
This isn't the first time Nye has made a big bet on climate change. As the Huffington Post noted, Nye has now clocked up a total of $60,000 on bets against climate deniers.
Earlier this month, the television presenter bet Marc Morano, of the conservative think tank the Committee for a Constructive Tomorrow (CFACT) that Earth is getting hotter.
Morano turned down the challenge and told DeSmog it was "silly" to take a bet when it was "obvious" the official records would show more global warming.
This isn't the first time Nye and Bastardi traded barbs. The two debated man-made climate change in this 2010 The O'Reilly Factor segment:
In response to the video, Bastardi has sent out a string of tweets at Nye:
Hey bill nye. I ISSUED challenge on oreilly factor SIX yrs ago. You didn't take it. So you lost already. take 20k put it to feeding people

— Joe Bastardi (@Joe Bastardi)1461100239.0
Besides bill nye. I don't have 20k. Putting my kids thru school.I'm not a rich actor with 20k to play with on what I would have won already

— Joe Bastardi (@Joe Bastardi)1461100390.0
Btw. I am not a climate change denier I question a messiah complex agenda that claim mans influence on nature is bigger than what it is

— Joe Bastardi (@Joe Bastardi)1461100646.0
Gentle reminder. Since last year saying 2016 would be warmest on ncep record ?is 17-19 response. so bill nye wants me to bet against myself?

— Joe Bastardi (@Joe Bastardi)1461107539.0
Reminder: MyForecast from Last year WAS FOR THE NINO SPIKE FOR 2016.Started last summer touting 16 as NCEP warmest https://t.co/WfM8FuA6y8

— Joe Bastardi (@Joe Bastardi)1461118385.0
HE stands in front of chart that shows direct link to enso/global temps,and he still claims its co2?That is cultish https://t.co/vzUhLfTNhk

— Joe Bastardi (@Joe Bastardi)1461148807.0
YOU MIGHT ALSO LIKE
Bill Nye vs. Sarah Palin on Climate Change: Who Do You Believe?
On Earth Day 150 World Leaders to Sign Paris Climate Agreement
Scientists Start to Look at Ground Beneath Their Feet for Solution to Climate Change
Dalai Lama, Archbishop Tutu Among 250 Faith Leaders Urging Immediate Action on Climate Change
EcoWatch Daily Newsletter