This website uses cookies to ensure you get the best experience while browsing it. By clicking 'Got It' you're accepting these terms.


The best of EcoWatch, right in your inbox. Sign up for our email newsletter!
Watch Bill Nye Put His Climate Money Where His Mouth Is
Apr. 20, 2016 09:39AM EST
Climate
Bill Nye, an outspoken proponent of man-made climate change, has taken on meteorologist and well-known climate denier Joe Bastardi in a new StarTalk video.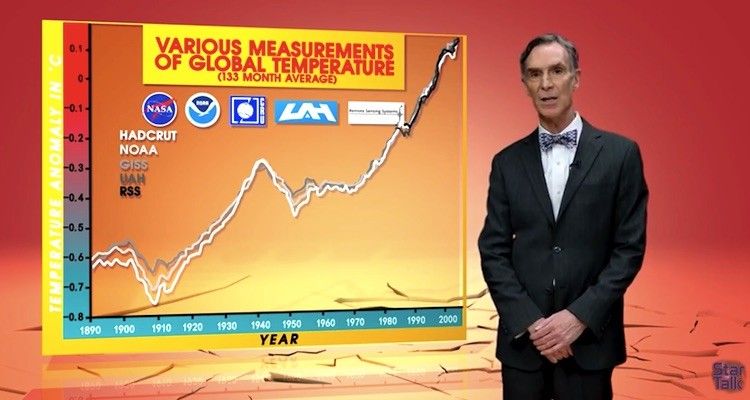 "We have real data and you can see the world is getting warmer," Nye said. "These five curves were produced by five independent organizations and they all got the same answer."
The clip was posted in response to a November 2015 editorial Bastardi wrote for The Patriot Post in which he described Nye as an "agenda-driven zealot [rather] than a man of science."
The WeatherBell chief forecaster also challenged "The Science Guy" to the following three points:
1. Explain why there's no linkage in the entire known CO2-temperature history of the planet.
2. Explain the lack of warming in real-time temperature data, and why so far I have been right.
3. Make your forecast. You claim to be a leader yet refuse to take a stand. Instead you sit in the stands and never allow what you are saying to be verified. What kind of science is that?
Nye not only took on Bastardi's challenge, he's also putting a total of $20,000 on the line that 2016 will be in the top 10 hottest years ever recorded and that 2010-2020 will be the hottest decade ever recorded.
In the video, Nye points out flaws in the graphs Bastardi used on his Patriot Post opinion piece and also explained that the weatherman chose to highlight the years 2005 and 2006 which followed an El Niño, which causes temperatures to rise and fall in a short period of time.
"So when you start when it's warm of course it's going to go down a little bit at first," he said. "I'm not sure why you would choose to present the graph this way."
Nye then quotes Upton Sinclair who said, "It's hard to get a man to believe something when his salary depends on his not believing it."
As a side note, Nye brought up Bastardi's appearances at events hosted by the American Coal Council, the Nebraska Propane Gas Association and the North American Gas Forum suggesting that Bastardi has ties to the fossil fuel industry.
"Where you speak is your business but it also seems to be your business—telling your audiences what they want to hear," he said.
"So come on, champ," Nye tells Bastardi, who is a weightlifter. "Show us how tough you are."
This isn't the first time Nye has made a big bet on climate change. As the Huffington Post noted, Nye has now clocked up a total of $60,000 on bets against climate deniers.
Earlier this month, the television presenter bet Marc Morano, of the conservative think tank the Committee for a Constructive Tomorrow (CFACT) that Earth is getting hotter.
Morano turned down the challenge and told DeSmog it was "silly" to take a bet when it was "obvious" the official records would show more global warming.
This isn't the first time Nye and Bastardi traded barbs. The two debated man-made climate change in this 2010 The O'Reilly Factor segment:
In response to the video, Bastardi has sent out a string of tweets at Nye:
YOU MIGHT ALSO LIKE
Bill Nye vs. Sarah Palin on Climate Change: Who Do You Believe?
On Earth Day 150 World Leaders to Sign Paris Climate Agreement
Scientists Start to Look at Ground Beneath Their Feet for Solution to Climate Change
Dalai Lama, Archbishop Tutu Among 250 Faith Leaders Urging Immediate Action on Climate Change
EcoWatch Daily Newsletter
arinahabich / Stock / Getty Images
By Sydney Swanson
With April hopping along and Easter just around the corner, it's time for dyeing eggs (and inadvertently, dyeing hands.) It's easy to grab an egg-dyeing kit at the local supermarket or drug store, but those dye ingredients are not pretty.
Aerial of farmland and mountains near Seaward Kaikoura Range in New Zealand. David Wall Photo / Lonely Planet Images / Getty Images Plus
By Jordan Davidson
New Zealand's pristine image as a haven of untouched forests and landscapes was tarnished this week by a brand new government report. The Environment Aotearoa 2019 painted a bleak image of the island nation's environment and its future prospects.
heshphoto / Image Source / Getty Images
Mike Taube / Getty Images
A new EPA rule on asbestos does not say anything about the asbestos currently in the environment. Bob Allen / Getty Images
A mountain woodland caribou bull in the Muskwa-Kechika Wilderness area in northern British Columbia, Canada. John E Marriott / All Canada Photos / Getty Images
It's heartening, in the midst of the human-caused sixth mass extinction, to find good wildlife recovery news. As plant and animal species disappear faster than they have for millions of years, Russia's Siberian, or Amur, tigers are making a comeback. After falling to a low of just a few dozen in the mid-20th century, the tigers now number around 500, with close to 100 cubs — thanks to conservation measures that include habitat restoration and an illegal hunting crackdown.