Watch All Four North Carolina GOP Senate Candidates Laugh When Asked About Climate Change
Apr. 25, 2014 10:51AM EST
Climate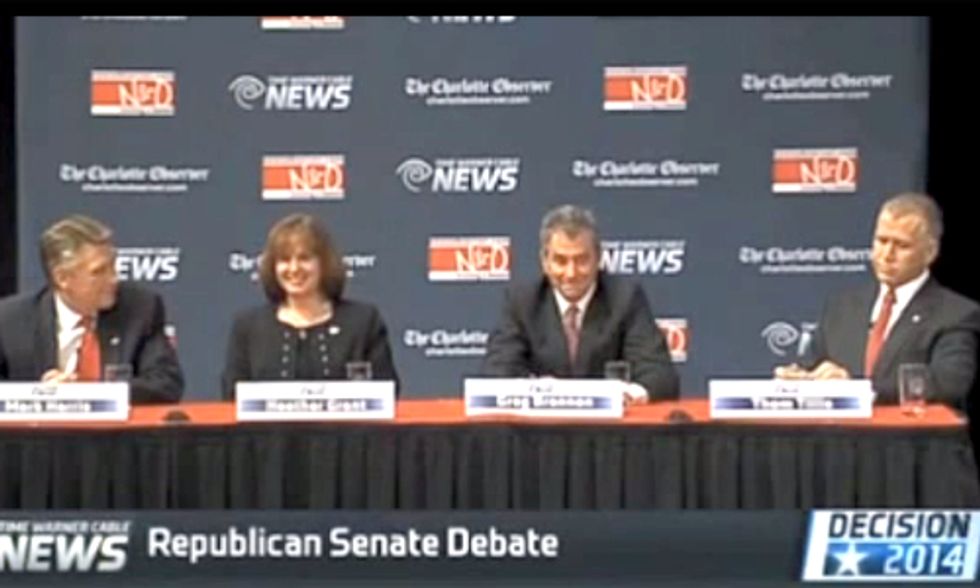 Nearly every scientist breathing agrees that climate change is a serious, manmade threat to the planet, but the same can't be said for four U.S. Senate hopefuls in North Carolina.
In fact, a warming planet, extreme weather, droughts and potential resource battles are all pretty funny concepts to candidates Thom Tillis, Greg Brannon, Mark Harris and Heather Grant.
They're so funny that a primary debate moderator could barely get those two words out of his mouth before the candidates begin chuckling. Watch the video originally posted by Buzzfeed and uploaded to YouTube by ThinkProgress:
As the Sierra Club's David Shadburn, an advocate for Democratic incumbent Sen. Kay Hagan,  points out, candidates in North Carolina should be the last ones laughing, even if the state does have a well-documented history of climate denial. 
"And Sen. Kay Hagan knows that coastal North Carolina won't be laughing if sea levels rise," Shadburn writes. "If sea levels rise four feet by 2100 as predicted, much of the Outer Banks, Albemarle and Pamlico Sounds, and the Atlantic coastline in the southeastern part of the state will be underwater.
"What's more is that the North Carolina coast is considered a "hotspot," meaning that by the end of the 21st century, it would see 11.4 more inches of sea rise than the global average."
Clearly, no laughing matter.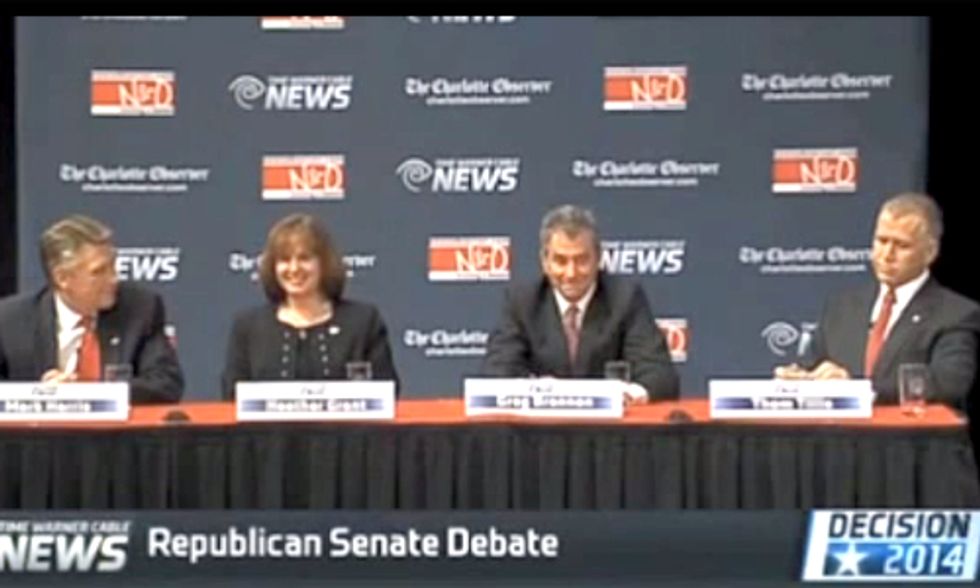 ——–
YOU ALSO MIGHT LIKE
Groundbreaking UN Report Warns Climate Change a Threat to Global Security and Mankind
NASA: Earth Could Warm 20 Percent More Than Earlier Estimates
Superstorm Sandy's Unhappy Anniversary
 ——–
EcoWatch Daily Newsletter