Watch a Florida Congressman Nonsensically Compare Dinosaur Extinction to Climate Change
Jun. 09, 2014 04:38PM EST
Climate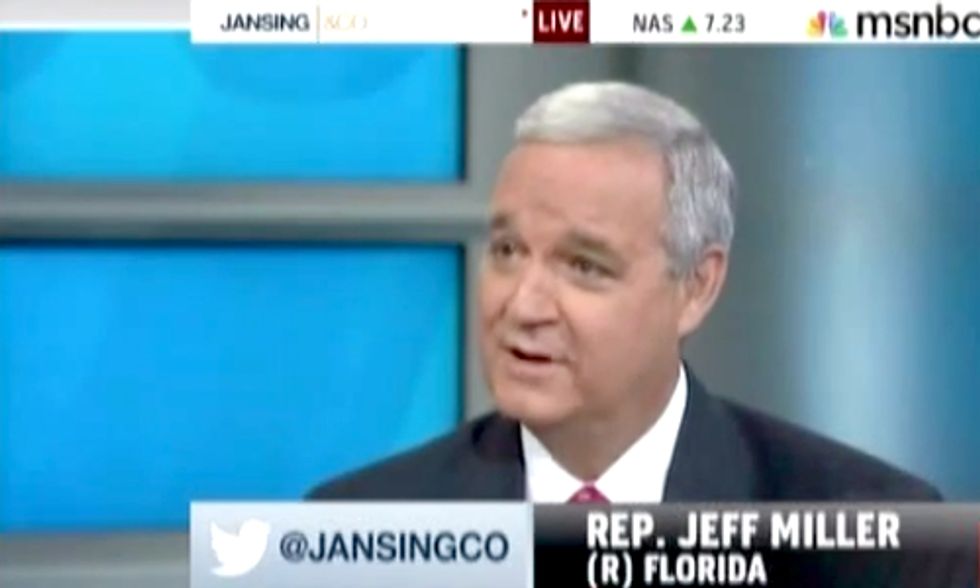 Sometimes you're just in too deep.
While there are exceptions, it appears that most Republicans have reached the point of no return when it comes to climate change. Unless a Congress member wants to go rogue from the party line, he or she is basically forced to deny the science of climate change. Anything different would hurt contributions from lobbyists and, in turn, the votes that would otherwise be counted on.
That's the only logical way to explain how we get statements like the latest from U.S. Rep. Jeff Miller (R-FL). His line of thinking—that humans don't cause climate change—is nothing new, but his approach to the argument is bizarre at best.
"Why did the dinosaurs go extinct," Miller asked Monday in response MSNBC host Richard Lui's mention of manmade climate change.
"Were there men that were causing [it]? Were there cars running around at that point, that were causing global warming? No. The climate has changed since earth was created."
Strangely enough, some of the staunchest climate deniers come from Florida even though it's a state with a city (Miami) that will be threatened by a changing climate more than all others in the country, aside from New Orleans, LA, a 300-scientist governmental study found. Gov. Rick Scott darted questions about climate change last month, repeatedly saying he's not a scientist while not relying on information from actual scientists. Scott's bid for re-election is one of several targets of billionaire climate activist Tom Steyer, who plans on lobbying for the opponents of climate deniers around the country this November.
Meanwhile, U.S. Sen. Marco Rubio (R-FL) has questioned "the way these scientists are portraying it" and agreed with Miller that "our climate is always changing."
——–
YOU ALSO MIGHT LIKE
Marco Rubio: Humans Don't Cause Climate Change
White House's Alarming Climate Change Study Calls For 'Urgent Action'
John Boehner: 'I'm Not Qualified To Debate the Science Over Climate Change'
——–
EcoWatch Daily Newsletter