This website uses cookies to ensure you get the best experience while browsing it. By clicking 'Got It' you're accepting these terms.
Washington University Sit-In: Students Against Peabody Coal Ask Which Side Are You On?
Apr. 16, 2014 07:41AM EST
Energy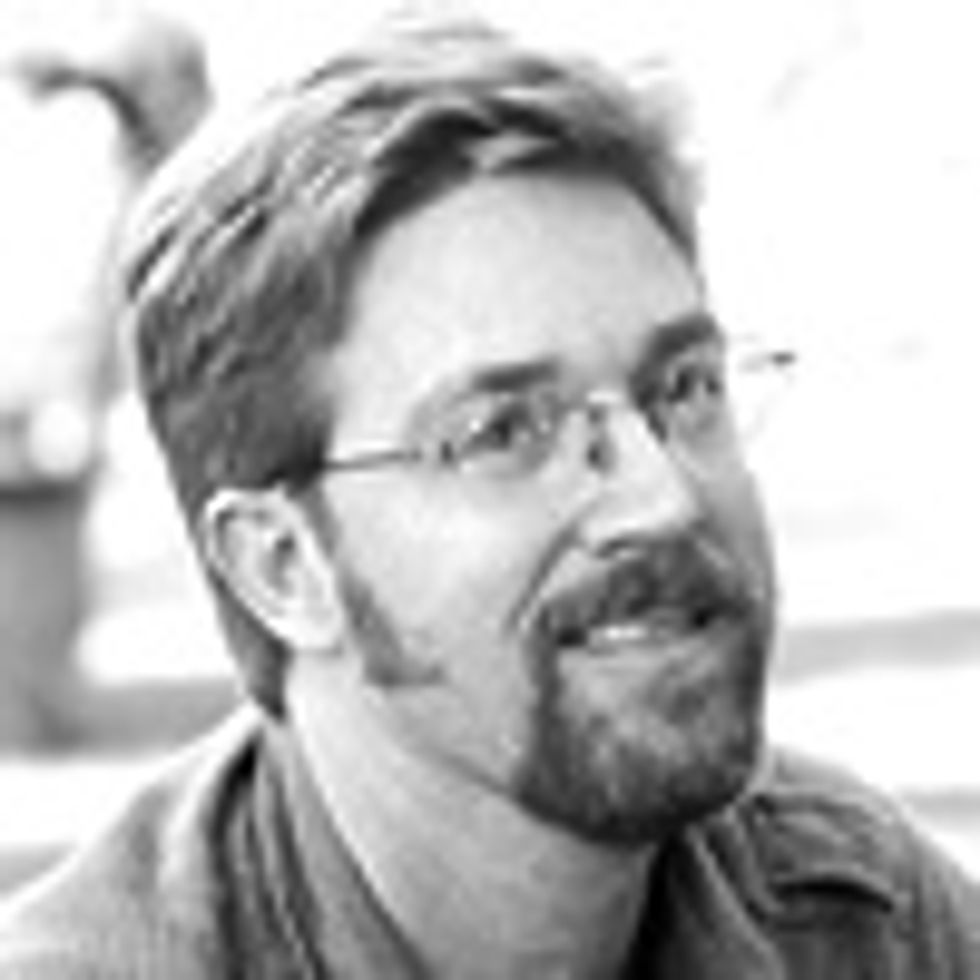 Entering its second week, the inspiring Washington University sit-in against Peabody Energy has already gone beyond its goals to cut school ties with the St. Louis-based coal giant, and forced the rest of the nation to ask themselves an urgent question in an age of climate change and reckless strip mining ruin: Which side are you on?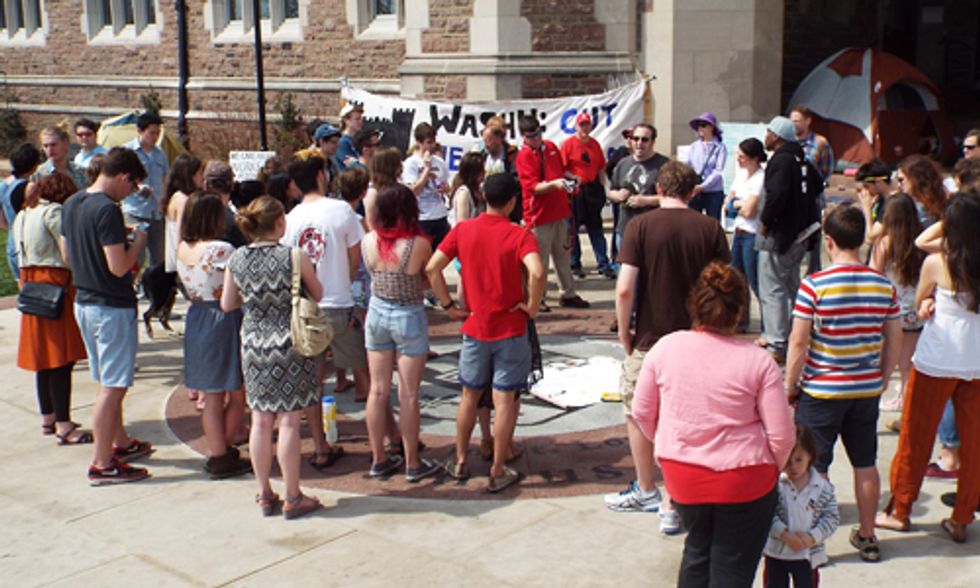 Will other schools, alumni groups—and investors in Peabody Energy—follow the lead of the Washington U. students?
Case in point: Tonight in my native Saline County in southern Illinois, the county commissioners genuflected to short-term Peabody coal dollars over the "negative impact on about a dozen homeowners who live near the site of the proposed mine," according to one cynical commissioner, and voted to allow the company to close off Rocky Branch road for a proposed strip mine expansion, despite the lack of the Environmental Protection Agency permits, and documented evidence of flooding, blasting and emergency access problems.
Facing financial ruin, grave heath problems and displacement, the Rocky Branch residents will fight on, thanks to the Wash U. students, and continue to tell the truth: We all live in the coalfields now, in this age of climate change, and it is no longer acceptable to allow anyone to be collateral damage to a disastrous energy policy.
As Rolling Stone recently noted, Peabody CEO Greg Boyce just might be one of the biggest obstacles to meaningful climate change action in the world.
And the historic legacy of those obstacles—from the heartland to the far reaches of Asia—should make Washington University end its shameless relationship with Boyce and Peabody immediately.
My family and communities in southern Illinois have literally been fighting the plunder of our communities, farms, forests and coal mining laborers by Peabody coal, along with various other out-of-state companies, since Mr. Francis Peabody himself sank his first historic mine in our parts in 1895.
When Wash U. students joined retired coal miners at Peabody headquarters last year, to reclaim promised health benefits lost in a bankruptcy scheme—one miner died in 2012 in Peabody's violation-ridden mines—we were reminded that our coal mining family members even had to pitch a veritable war against Peabody and its sycophants for a living wage, workplace safety and civil rights back in the 1930s, and earlier decades.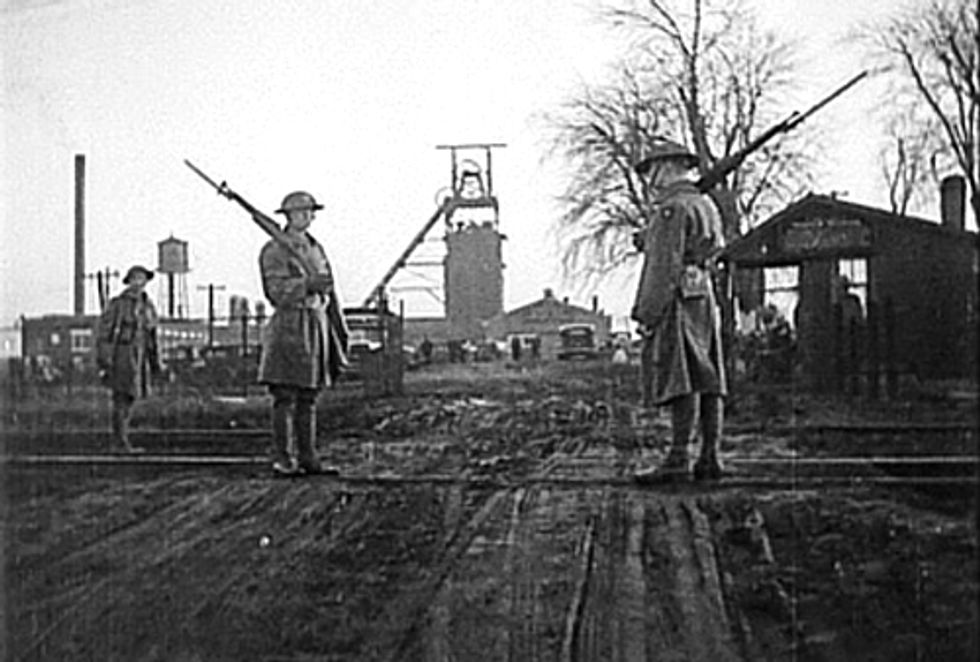 But southern Illinois, despite its historic role in coal mining, has hardly cornered the market on suffering—especially when it comes to Peabody coal plunder.
In the 1950s, when Peabody collapsed due to market pressures, and relocated its famous brand name to St. Louis under Sinclair Coal Company control, it began one of the most shameful chapters in American history by manipulating the relocation of thousands of Hopi and Navajos on Black Mesa in Arizona and carried out decades of strip mining ruin and water contamination.
In the meantime, Peabody also shifted its massive strip mining operations to central Appalachia, made famous by John Prine's "Paradise" ballad about the loss of his family's community in western Kentucky. "Mr. Peabody's coal train has hauled it away," go the chilling lyrics.
Today, recording more than $7 billion in revenues, Peabody has taken its devastating plunder worldwide.
Peabody now operates the largest strip mine in the eastern states, in a controversial operation in Indiana.
With an eye to the spiraling and poorly regulated Asian market, Peabody is expanding its operations in Mongolia.
Despite the magnitude of climate change and the loss of Indonesia's forests and carbon sink for the world, Peabody is expanding operations in that country.
In Australia, Peabody coal miners have launched recent strikes, while religious, farm and environmental groups have called out its reckless mine expansion and lack of a moral compass.
Back in the Midwest, more than 217 communities are outraged by their soaring electricity rates from a Peabody boondoggle Prairie state coal-fired plant.
How much longer should educational institutions and other civil rights-minded investors enable the Peabody mine disasters?
That's the big question the Washington University students have asked their administration—and the rest of the nation.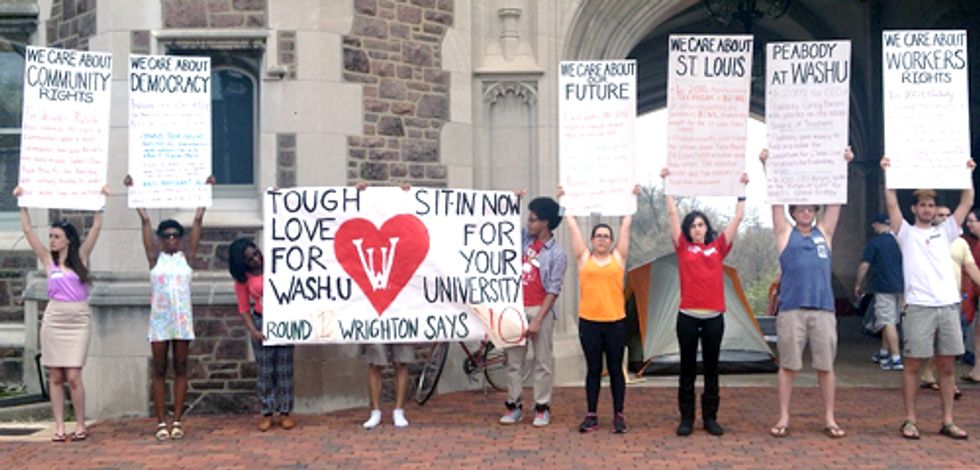 And that is the big question we must all answer.
Meanwhile, for more information the Rocky Branch strip mine showdown in southern Illinois, see:
Judy's Rock: More Road Blocks of Peabody's Dead End
Mr. Peabody's Coal Train Ain't Haulin' Away Rocky Branch
Residents Stand Up to Peabody Coal at Historic EPA Hearing
Illinois Strip Mine Showdown is Last Best Hope for Coalfield Justice
——–
YOU ALSO MIGHT LIKE
93 Members of Harvard Faculty Call on University to Divest From Fossil Fuels
Florida State Students Question University's Integrity Amid Koch Contributions and President's Departure
Why the Millennial Generation Sees Keystone XL as More Than Just a Pipeline
——–
EcoWatch Daily Newsletter
Heavy industry on the lower Mississippi helps to create dead zones.
AJ Wallace on Unsplash.
Cutting out coal-burning and other sources of nitrogen oxides (NOx) from heavy industry, electricity production and traffic will reduce the size of the world's dead zones along coasts where all fish life is vanishing because of a lack of oxygen.
Despite the ongoing coronavirus pandemic, which has restricted the ability to gather in peaceful assembly, a Canadian company has moved forward with construction of the controversial Keystone XL pipeline, according to the AP.
A gas flare from the Shell Chemical LP petroleum refinery illuminates the sky on August 21, 2019 in Norco, Louisiana. Drew Angerer / Getty Images.
Methane levels in the atmosphere experienced a dramatic rise in 2019, preliminary data released Sunday shows.
A retired West Virginia miner suffering from black lung visits a doctor for tests. Andrew Lichtenstein / Corbis via Getty Images
In some states like West Virginia, coal mines have been classified as essential services and are staying open during the COVID-19 pandemic, even though the close quarters miners work in and the known risks to respiratory health put miners in harm's way during the spread of the coronavirus.
Solar panel installations and a wind turbine at the Phu Lac wind farm in southern Vietnam's Binh Thuan province on April 23, 2019. MANAN VATSYAYANA / AFP via Getty Images