This website uses cookies to ensure you get the best experience while browsing it. By clicking 'Got It' you're accepting these terms.
Washington State Clean Air Rule Defies Court Order
Jun. 02, 2016 10:22AM EST
Climate
The Inslee administration released its revised Clean Air Rule Wednesday, which defies an unprecedented May 16 court order issued by King County Superior Court Judge Hollis R. Hill and fails the children of Washington. Judge Hill ordered the state to adopt a rule "to limit greenhouse gas emissions in Washington" by the end of the year.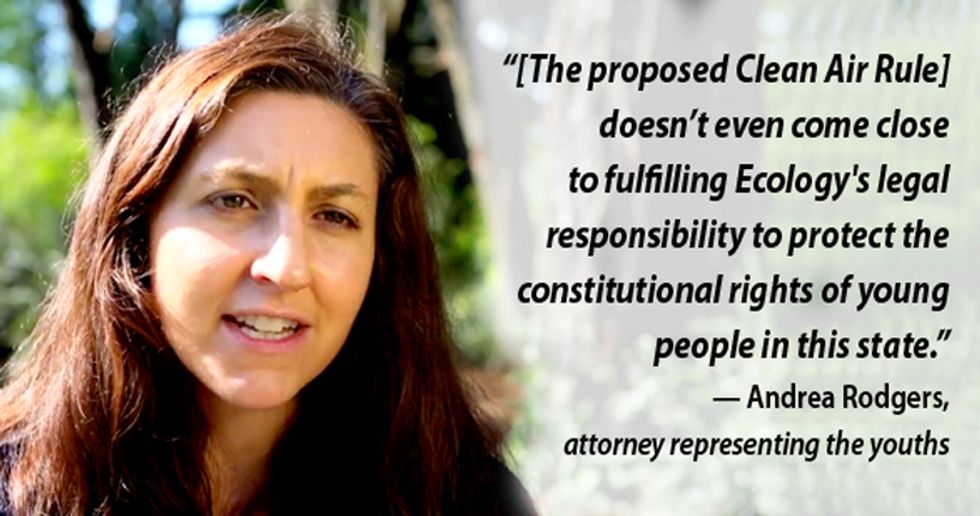 The proposed Clean Air Rule, however, is based on outdated emissions data and only requires emissions reductions of a mere 1.7 percent annually, completely disregarding current science that would put Washington on a path toward climate stability.
Further, loopholes in the proposed rule may actually foster an increase in greenhouse gas emissions within the state. For example, a third of instate emissions are not even covered under the proposed rule. Also, Washington polluters may obtain emission reductions from out-of-state emissions market programs and certain sectors (imported petroleum) don't have to reduce emissions for several years.
"We are extremely disappointed with Ecology's revised Clean Air Rule," Andrea Rodgers, the Western Environmental Law Center attorney representing the youths in their lawsuit against the state, said. "This doesn't even come close to fulfilling Ecology's legal responsibility to protect the constitutional rights of young people in this state. The youths will participate in the rule making process and will continue to hold Ecology accountable for complying with the law."
Inslee ignored the youths' requests to meet with him to discuss the state's responsibility to protect the constitutional rights of young people in Washington.
"Emission reductions of only 1.7 percent per year are not much different than business as usual," Dr. James Hansen, director of the Climate Science, Awareness and Solutions program at Columbia University, said. "They would leave young people with an intolerable burden to somehow suck enormous quantities of CO2 from the air if they are to avoid a climate system running out of control. The state should live up its obligations to young people, reducing emissions 8 percent per year, which is what the science indicates is needed to stabilize climate."
The young plaintiffs, who are all members of Plant for the Planet Academy, are asking their supporters to submit a public comment on the proposed rule to let the Inslee administration know that paltry 1.7 percent emission reductions aren't based on science or reason.
"All developed nations and states should be doing no less than the global average emission reductions required to return to a safe level of 350 ppm by 2100," Julia Olson, executive director and chief legal counsel at Our Children's Trust, said. "In fact, those who have caused the lion's share of the problem and have the wealth to transition more quickly, should be declining at a more rapid pace."
This case is one of several similar state, federal, and international cases, all supported by Our Children's Trust, seeking the legal right to a healthy atmosphere and stable climate.
YOU MIGHT ALSO LIKE
New York State Assembly Passes Nation's Most Ambitious Climate Bill
This 6-Year-Old Has a Message for People Who Are Rude to the Planet
Stephen Hawking: One Thing Threatens Us More Than Donald Trump … Climate Change
Student Abandons Economics Major at George Mason Over Koch 'Donations'
EcoWatch Daily Newsletter
Participants of the climate demonstration Fridays for Future walk through Hamburg, Germany on Feb. 21, 2020. Axel Heimken / picture alliance via Getty Images
Blue whale (Balaenoptera musculus) surfacing, showing the remains of a blow and its mottled appearance near South Georgia Island in the Polar Regions. Mick Baines & Maren / Getty Images
The largest animal on Earth is proving that wildlife protections work.
More than 300 people were forced to evacuate and 46 were sent to the hospital after a gas pipeline ruptured in Mississippi Saturday.

Pexels
By Tim Lydon
Climate-related disasters are on the rise, and carbon emissions are soaring. Parents today face the unprecedented challenge of raising children somehow prepared for a planetary emergency that may last their lifetimes. Few guidebooks are on the shelves for this one, yet, but experts do have advice. And in a bit of happy news, it includes strategies already widely recognized as good for kids.
Pexels
Be it Nina Simone and James Brown for civil rights, Joni Mitchell and Marvin Gaye for the environment, or Jackson Browne and Buffalo Springfield for nuclear disarmament, musicians have long helped push social movements into the limelight.