This website uses cookies to ensure you get the best experience while browsing it. By clicking 'Got It' you're accepting these terms.
Washing Big Name Brands Makes Consumers Polluters
Mar. 20, 2012 11:30AM EST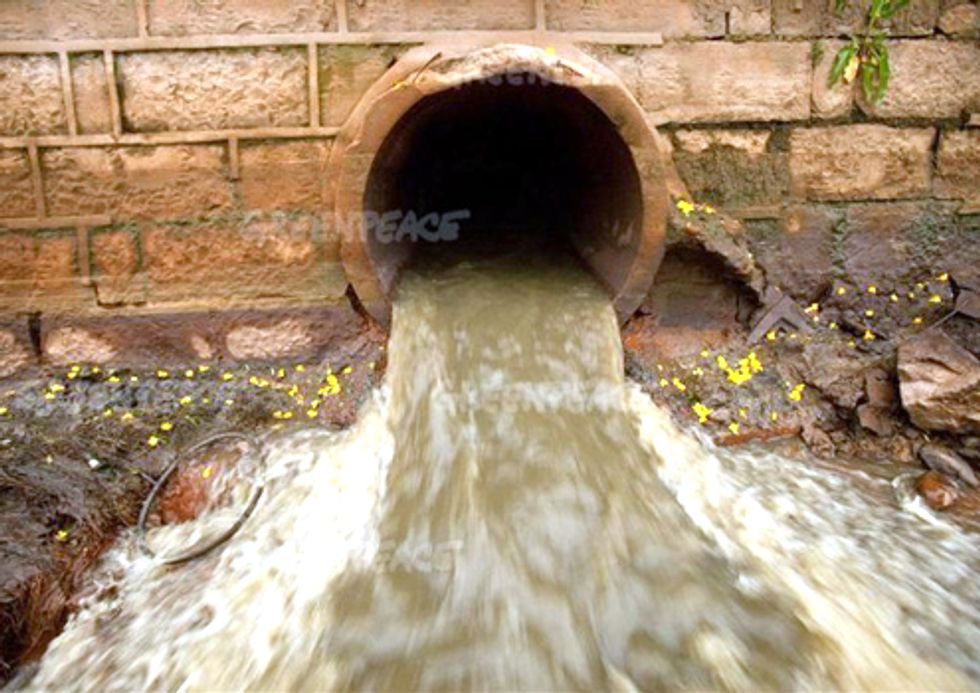 Greenpeace released evidence1 on March 20 that hazardous chemical residues in clothing items sold by major brands2 are released into public waterways when they are washed by consumers. Once entering our rivers, lakes and seas these chemicals then break down into even more toxic and hormone-disrupting substances.
Greenpeace research measures for the first time the percentage of the hazardous chemicals nonylphenol ethoxylates (NPEs)3 washed out during simulated standard domestic laundering conditions for 14 clothing items.4 The results show that consumers of brands such Abercrombie & Fitch, G-Star and Calvin Klein are unknowingly polluting the public water supplies in regions and countries around the world, including those where there are restrictions or bans on the use of these chemicals.5
"World Water Day is approaching and while international organisations and research groups show their concerns over the future of water quality and water access, the textile industry is still polluting. It's time the sector moved to safe alternatives to these chemicals," said Marietta Harjono, Greenpeace International toxics campaigner.
"This study proves that the textile industry is creating water pollution all around the globe. While the discharges of toxic chemicals from the manufacturing process is focused where the textile are produced, the washing of the clothes and the pollution which follows are happening anywhere in the world these products are bought," said Harjono.
In 2011, Greenpeace published two reports—one investigating the discharge of hazardous substances from textiles manufacturing in China linked to major clothing and sportswear companies (Dirty Laundry)6, and another detailing the presence of NPEs in clothing and footwear of 15 leading brands (Dirty Laundry 2: Hung Out to Dry).7  With the publication of these reports, Greenpeace challenged global brands to eliminate all releases of hazardous chemicals from their supply chains and products by 2020. The call has so far led to public commitments to "Detox" from sportswear giants Nike, Adidas, Puma and Li-Ning, along with fast-fashion retailers H&M and C&A.8
Given the scale of the problem, Greenpeace is calling for more brands to join the Detox challenge. For the companies which have already committed, Greenpeace is demanding that they respond to the urgency of the situation by setting clear and ambitious short term deadlines for the elimination of the most hazardous chemicals.
To mark the publication of Dirty Laundry Reloaded and raise awareness for the pollution caused by the fashion sector, Greenpeace activists today joined PlanetStreet artists to create a 3D street painting which was unveiled at 11.00 a.m. in the square facing the World Fashion Centre in Amsterdam.
For more information, click here.
—————
1. Report available by clicking here.
2. For the lists of brands and products against the percentage of chemicals released please see "Dirty Laundry: Reloaded" report Figure 1, page 6
3. NPEs are chemicals used in textile manufacture. Even where wastewater containing NPEs is treated, this only speeds up the conversion into the toxic NP. More detailed information on these substances is available on page 12 of "Dirty Laundry II" by clicking here and on page 51, Box 2.2, of the "Dirty Laundry" report, available by clicking here.
4. The tested sample consisting of 12 made of plain fabric and two samples of fabric bearing a plastisol print. The items were part of the samples found containing residues of NPEs as specified in the "Dirty Laundry - Hung out to dry" report, available by clicking here.
5. "The use of NP and NPEs in clothing manufacture has effectively been banned within the EU and similar restrictions are also in place in the US and Canada. In the EU, releases of NP/NPEs due to the washing of textile products imported from outside the EU have been estimated to constitute by far the largest source of these chemicals entering wastewater treatment facilities in some instances." Dirty Laundry Reloaded, Executive Summary, page 7.
6. Dirty Laundry report is available by clicking here.
7. See "Dirty Laundry—Hung out to Dry" report by clicking here.
8. So far six international brands have committed to Detox. These include:
EcoWatch Daily Newsletter
Locusts swarm from ground vegetation as people approach at Lerata village, near Archers Post in Samburu county, approximately 186 miles north of Nairobi, Kenya on Jan. 22. "Ravenous swarms" of desert locusts in Ethiopia, Kenya and Somalia threaten to ravage the entire East Africa subregion, the UN warned on Jan. 20. TONY KARUMBA / AFP / Getty Images
East Africa is facing its worst locust infestation in decades, and the climate crisis is partly to blame.
By Dan Morgan
Antarctica is the remotest part of the world, but it is a hub of scientific discovery, international diplomacy and environmental change. It was officially discovered 200 years ago, on Jan. 27, 1820, when members of a Russian expedition sighted land in what is now known as the Fimbul Ice Shelf on the continent's east side.
The seafood market in Wuhan, China that has been linked to the spread of the new coronavirus. HECTOR RETAMAL / AFP via Getty Images
China banned its trade in wild animals Sunday until the new coronavirus, which was linked to a market in Wuhan where wildlife was sold, is eradicated. Now, conservationists are calling on the country to make the ban permanent.
Coral restoration in Guam. U.S. Pacific Fleet / CC BY-NC 2.0
By Erica Cirino
Visit a coral reef off the coast of Miami or the Maldives and you may see fields of bleached white instead of a burst of colors.
Cracker Lake, Glacier National Park, Montana. Jacob W. Frank / NPS / Flickr
By Jason Bittel
High up in the mountains of Montana's Glacier National Park, there are two species of insect that only a fly fishermen or entomologist would probably recognize. Known as stoneflies, these aquatic bugs are similar to dragonflies and mayflies in that they spend part of their lives underwater before emerging onto the land, where they transform into winged adults less than a half inch long. However, unlike those other species, stoneflies do their thing only where cold, clean waters flow.