This website uses cookies to ensure you get the best experience while browsing it. By clicking 'Got It' you're accepting these terms.
War on Renewables Claims Victory in West Virginia
Feb. 06, 2015 10:57AM EST
Energy
West Virginia lowered the bar on renewable energy this week when Governor Earl Ray Tomblin signed into law Tuesday the repeal of its Alternative and Renewable Energy Portfolio, enacted in 2009.
In doing so, West Virginia became the first state of the 29 that currently have renewable energy targets to completely eliminate previously passed standards. The previous low bar was set in Ohio last July, when its legislature passed and Governor John Kasich signed into law a two-year freeze of its standards. It too is looking at revoking them permanently; the legislature has convened a panel, loaded with fossil-fuel advocates, to ponder whether to move ahead on this.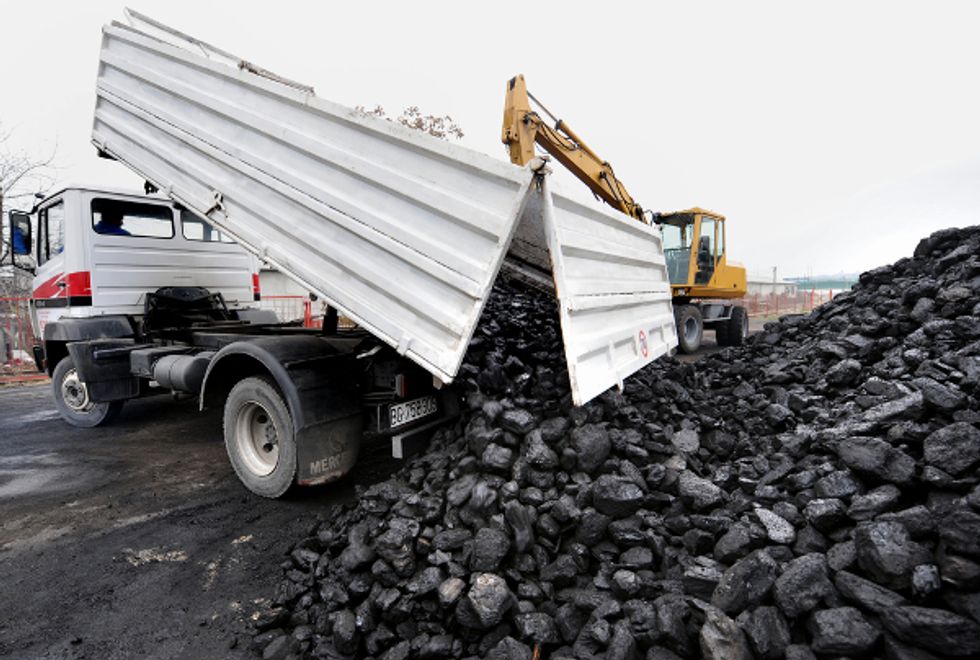 Photo credit: Shutterstock
The rejection of its energy future in this coal-dependent state was a bipartisan affair. Governor Tomblin is a Democrat. Its Senate passed the repeal 33-0 after rejecting a Democratic amendment to undertake a study to see if it actually created jobs as its sponsors contend. It passed the House 95-4 after rejecting a similar amendment.
West Virginia's portfolio, which required that 25 percent of the state's power be generated by renewable sources by 2025, was initially supported by the same people, including Tomblin, who now pushed for for its repeal. It was even supported by the coal industry at the time.
"In 2009 when the Legislature approved West Virginia's Alternative Renewable Energy Portfolio, the Act had overwhelming support from business and industry," Tomblin said. "We understand economic drivers and factors change over time, and the Act as it was passed in 2009 is no longer beneficial for our state."
According to Inside Climate News, those factors are primarily political. It called the Portfolio "largely symbolic" due to its extremely broad definition of "renewable," which included natural gas, some forms of coal burning and even burnt tires.
"Because [the 2009 law] was written so broadly, none of the utilities have to actually produce any new renewable energy before 2030," Jim Kotcon, chairman of the energy committee at West Virginia's Sierra Club chapter, told Inside Climate News.
But Republicans took over both houses of the West Virginia legislature in November, and the repeal was the first measure they pushed and passed in the new session.
"This whole thing is a charade," West Virginia citizen-activist Bill Howley told Inside Climate News."The Republicans had made it a big issue in the elections and they want to be able to say, 'See, we told you we were going to do something about it and look, here it is.'"
A nationwide push is underway to repeal standards in the states that have them, according to an AP story, which identified the American Legislative Exchange Council (ALEC) and the far-right fossil-fuel dominated Heartland Institute, as primarily drivers in rejecting renewable energy standards. ALEC has been coordinating the effort to repeal these standards for several years with its "model bill" dubbed the "Electricity Freedom Act."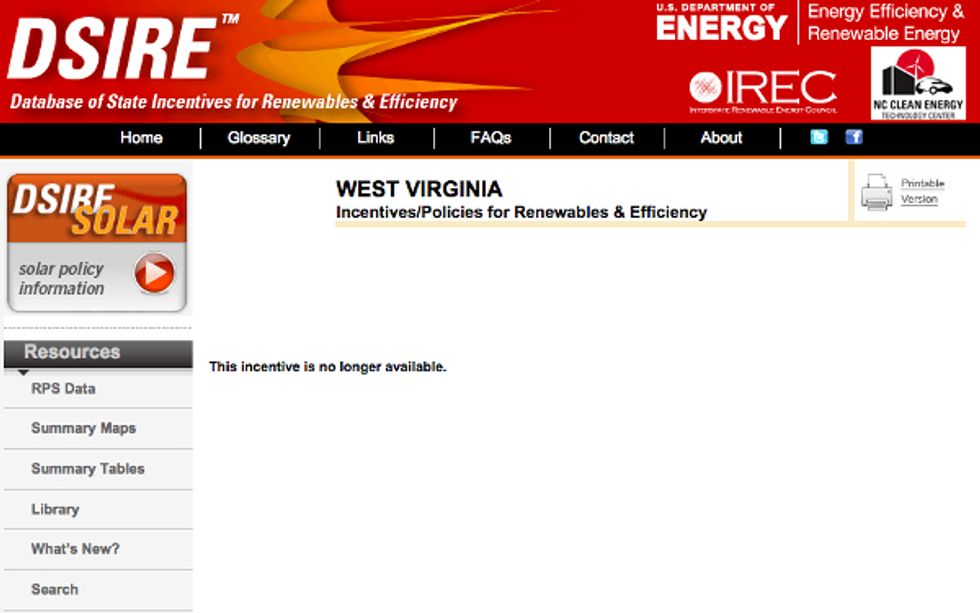 "West Virginia policymakers recognized, in a bipartisan and overwhelming manner, that renewable power mandates drive up electricity costs, kill jobs, punish the economy and inflict substantial unintentional harm on the environment," said Heartland Institute senior fellow James M. Taylor. "Fortunately for electricity consumers and environmentalists, several other states are poised to follow West Virginia's lead and will be considering similar legislation this year."
Whether the concerns about jobs and energy costs are accurate is dubious. A study released a few weeks ago by the Solar Foundation found that there are now more than twice as many jobs in the solar industry alone as in coal. And coal jobs have been shrinking. The U.S. Energy Information Administration (EAI) annual coal report released in January showed that the number of coal mine employees has decreased 10.5 percent since 2010, continuing a long-term trend. And in Ohio, a recent study by the Pew Charitable Group found that its freeze threatens the burgeoning job growth in there in renewable energy technologies. As for energy costs, in Ohio three energy companies are asking the state's public utilities commission to allow it to raise customer rates—to prop up and extend the life of obsolete coal-fired power plants.
YOU MIGHT ALSO LIKE
Ohio Gov. John Kasich Signs Nation's First Renewable Energy Freeze
Solar Is Creating Jobs Nearly 20 Times Faster Than Overall U.S. Economy
Even Coal Baron Robert Murray Knows the Future of Coal is Dead
EcoWatch Daily Newsletter
Penguins are seen near the Great Wall station in Antarctica, Feb. 9, days after the continent measured its hottest temperature on record at nearly 65 degrees Fahrenheit. Xinhua / Liu Shiping / Getty Images
By Richard Connor
Scientists have recorded Antarctica's first documented heat wave, warning that animal and plant life on the isolated continent could be drastically affected by climate change.
The Athos I tanker was carrying crude oil from Venezuela when a collision caused oil to begin gushing into the Delaware River.
U.S. Department of the Interior
A case that has bounced around the lower courts for 13 years was finally settled yesterday when the U.S. Supreme Court upheld a lower court decision, finding oil giant Citgo liable for a clean up of a 2004 oil spill in the Delaware River, according to Reuters.
The buildings of downtown Los Angeles are partially obscured in the late afternoon on Nov. 5, 2019, as seen from Pasadena, California, a day when air quality for Los Angeles was predicted to be "unhealthy for sensitive groups." Mario Tama / Getty Images
The evidence continues to build that breathing dirty air is bad for your brain.
Wave power in Portugal. The oceans' energy potential is immense. Luis Ascenso, via Wikimedia Commons
By Paul Brown
The amount of energy generated by tides and waves in the last decade has increased tenfold. Now governments around the world are planning to scale up these ventures to tap into the oceans' vast store of blue energy.
Yellowstone National Park closed to visitors on March 24, 2020 because of the Covid-19 virus threat. William Campbell-Corbis via Getty Images
When the novel coronavirus started to sweep across the country, the National Park Service started to waive entrance fees. The idea was that as we started to practice social distancing, Americans should have unfettered access to the outdoors. Then the parking lots and the visitor centers started to fill up, worrying park employees.