War on Renewables Claims Victory in West Virginia
West Virginia lowered the bar on renewable energy this week when Governor Earl Ray Tomblin signed into law Tuesday the repeal of its Alternative and Renewable Energy Portfolio, enacted in 2009.
In doing so, West Virginia became the first state of the 29 that currently have renewable energy targets to completely eliminate previously passed standards. The previous low bar was set in Ohio last July, when its legislature passed and Governor John Kasich signed into law a two-year freeze of its standards. It too is looking at revoking them permanently; the legislature has convened a panel, loaded with fossil-fuel advocates, to ponder whether to move ahead on this.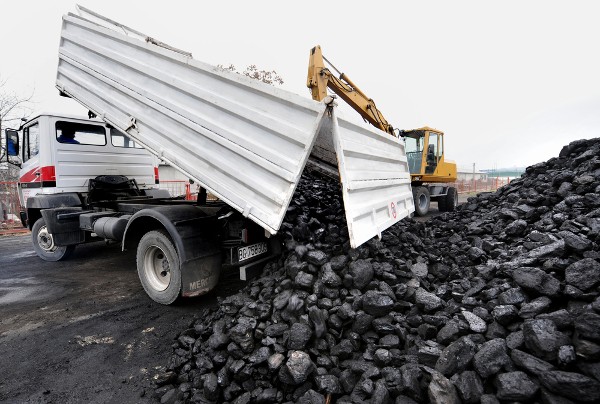 Photo credit: Shutterstock
The rejection of its energy future in this coal-dependent state was a bipartisan affair. Governor Tomblin is a Democrat. Its Senate passed the repeal 33-0 after rejecting a Democratic amendment to undertake a study to see if it actually created jobs as its sponsors contend. It passed the House 95-4 after rejecting a similar amendment.
West Virginia's portfolio, which required that 25 percent of the state's power be generated by renewable sources by 2025, was initially supported by the same people, including Tomblin, who now pushed for for its repeal. It was even supported by the coal industry at the time.
"In 2009 when the Legislature approved West Virginia's Alternative Renewable Energy Portfolio, the Act had overwhelming support from business and industry," Tomblin said. "We understand economic drivers and factors change over time, and the Act as it was passed in 2009 is no longer beneficial for our state."
According to Inside Climate News, those factors are primarily political. It called the Portfolio "largely symbolic" due to its extremely broad definition of "renewable," which included natural gas, some forms of coal burning and even burnt tires.
"Because [the 2009 law] was written so broadly, none of the utilities have to actually produce any new renewable energy before 2030," Jim Kotcon, chairman of the energy committee at West Virginia's Sierra Club chapter, told Inside Climate News.
But Republicans took over both houses of the West Virginia legislature in November, and the repeal was the first measure they pushed and passed in the new session.
"This whole thing is a charade," West Virginia citizen-activist Bill Howley told Inside Climate News."The Republicans had made it a big issue in the elections and they want to be able to say, 'See, we told you we were going to do something about it and look, here it is.'"
A nationwide push is underway to repeal standards in the states that have them, according to an AP story, which identified the American Legislative Exchange Council (ALEC) and the far-right fossil-fuel dominated Heartland Institute, as primarily drivers in rejecting renewable energy standards. ALEC has been coordinating the effort to repeal these standards for several years with its "model bill" dubbed the "Electricity Freedom Act."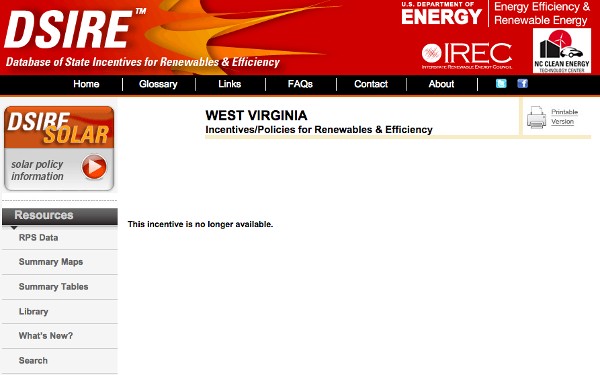 "West Virginia policymakers recognized, in a bipartisan and overwhelming manner, that renewable power mandates drive up electricity costs, kill jobs, punish the economy and inflict substantial unintentional harm on the environment," said Heartland Institute senior fellow James M. Taylor. "Fortunately for electricity consumers and environmentalists, several other states are poised to follow West Virginia's lead and will be considering similar legislation this year."
Whether the concerns about jobs and energy costs are accurate is dubious. A study released a few weeks ago by the Solar Foundation found that there are now more than twice as many jobs in the solar industry alone as in coal. And coal jobs have been shrinking. The U.S. Energy Information Administration (EAI) annual coal report released in January showed that the number of coal mine employees has decreased 10.5 percent since 2010, continuing a long-term trend. And in Ohio, a recent study by the Pew Charitable Group found that its freeze threatens the burgeoning job growth in there in renewable energy technologies. As for energy costs, in Ohio three energy companies are asking the state's public utilities commission to allow it to raise customer rates—to prop up and extend the life of obsolete coal-fired power plants.
YOU MIGHT ALSO LIKE
Ohio Gov. John Kasich Signs Nation's First Renewable Energy Freeze
Solar Is Creating Jobs Nearly 20 Times Faster Than Overall U.S. Economy
Even Coal Baron Robert Murray Knows the Future of Coal is Dead
By Itai Vardi
A recent intensification in protests against Williams Partners' planned Atlantic Sunrise pipeline in Pennsylvania prompted a state senator to propose legislation aimed at limiting demonstrations.
Last month, Pennsylvania Sen. Scott Martin (R-Norman) announced his intention to introduce legislation that would pass the costs of law enforcement responding to protests onto the demonstrators. Martin also helped introduce a different bill that would criminalize protests at natural gas facilities.
Keep reading...
Show less
Black Shogun / iStock
The Federal Energy Regulatory Commission (FERC) released its Final Environmental Impact Statement Friday for the Mountain Valley Pipeline, a controversial 303-mile pipeline that would carry two billion cubic feet of fracked gas per day from West Virginia through Virginia.
Keep reading...
Show less
Falcon PEV
The so-called "first and last mile" problem is one of the biggest hurdles with public transportation. How do you encourage more people to take Earth-friendlier commutes when their homes are miles away from the train or bus station?
One solution, as this Estonian electric scooter company proposes, is to simply take your commute with you—literally. Tallinn-based Stigo has developed a compact e-scooter that folds to the size of a rolling suitcase in about two seconds.
Keep reading...
Show less
Connect4Climate
[Editor's note: I'm still in shock after hearing the news that Lucia Grenna passed away in her sleep last week. When we first met in April of 2014 at a Copenhagen hotel, I was immediately taken by here powerful presence. We spent the next couple days participating in a Sustainia climate change event where Lucia presented her audacious plans to connect people to the climate issue. I had the chance to partner with Lucia on several other projects throughout the years and work with her incredible Connect4Climate team. I was always in awe of her ability to "make the impossible possible." Her spirit will live on forever. — Stefanie Spear]
It is with a heavy heart that Connect4Climate announces the passing of its founder and leading light, Lucia Grenna. Lucia passed peacefully in her sleep on June 15, well before her time. We remember her for her leadership and extraordinary ability to motivate people to take on some of the greatest challenges of our time, not least climate change.
Keep reading...
Show less
Jun. 23, 2017 07:29PM EST
Wikimedia Commons
By Stacy Malkan
Neil deGrasse Tyson has inspired millions of people to care about science and imagine themselves as participants in the scientific process. What a hopeful sign it is to see young girls wearing t-shirts emblazoned with the words, "Forget princess, I want to be an astrophysicist."
Keep reading...
Show less
Jun. 23, 2017 01:57PM EST
www.youtube.com
By Andy Rowell
Any day now we will truly witness climate change in action. Within days at worst, maybe weeks at best, scientists predict that a huge section of the Larsen C ice shelf in Antarctica will break off into the ocean, in what is called a major "carving" event.
Keep reading...
Show less
Jun. 23, 2017 02:27PM EST
www.youtube.com
President Trump visited Cedar Rapids, Iowa on June 21 to speak to a large crowd in the U.S. Cellular Center at a political rally organized by his campaign.
As Trevor Noah noted during The Daily Show episode last night (starts at 2:25), the real reason Trump has these rallies is to "get back in front of his loyal crowds and feed of their energy." Noah believes that "Trump supporters are so on board with their dude he can say anything and they'll come along for the ride."
Keep reading...
Show less
Jun. 23, 2017 07:50PM EST
The Kamuthi solar plant in the southern Indian state of Tamil Nadu.
The rapid growth in renewable energy continues to put a dent in the demand for coal.
Coal India, the world's biggest coal mining company and producer of 82 percent of the country's coal, announced the closure of 37 mines that are financially "unviable."
Keep reading...
Show less
Jun. 23, 2017 06:42PM EST
www.youtube.com
By Katie O'Reilly
Two years ago—long before coal became one of the most dominant and controversial symbols of the 2016 presidential election—Bloomberg Philanthropies approached production company RadicalMedia with the idea of creating a documentary exploring the U.S. coal mining industry. Last spring, they brought on Emmy-nominated director Michael Bonfiglio, tasked with forging a compelling story out of the multitudes of facts, statistics and narratives underlying the declining industry.
Keep reading...
Show less


Get EcoWatch in your inbox