This website uses cookies to ensure you get the best experience while browsing it. By clicking 'Got It' you're accepting these terms.
Swimming with dolphins in Hawaii might be a dream come true for some people, but federal officials are worried that it might not be such a positive experience for dolphins.
Hawaii's population of spinner dolphins, whose regular presence near shore has become a big draw for people, are now at the center of concerns about how increasing interactions are impacting their health and well being.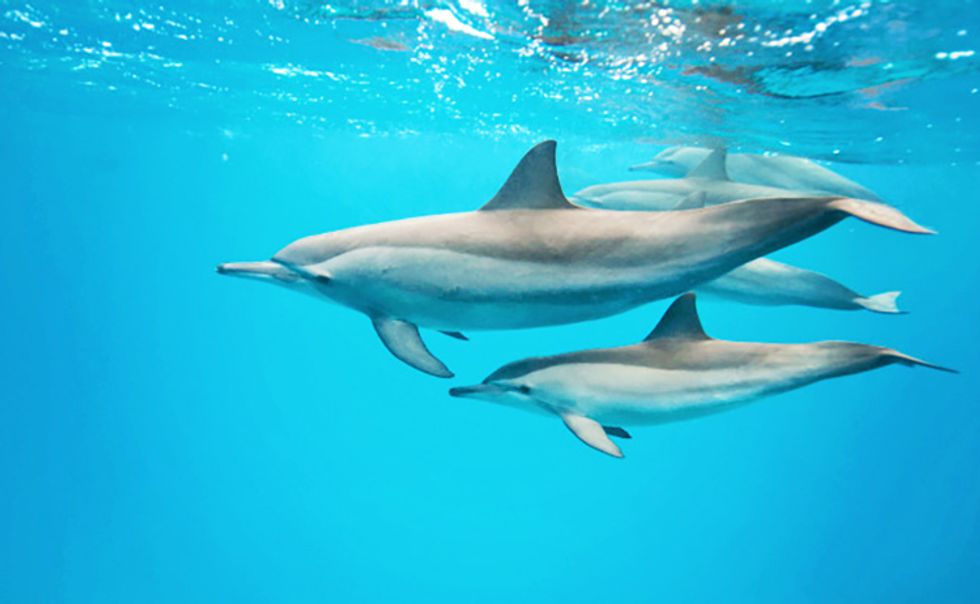 The National Oceanic and Atmospheric Administration (NOAA) explains that spinner dolphins are nocturnal, they hunt in deep waters at night and return to shallow bays during the day to rest, care for their young and avoid predators.
Even though they may appear to be active during the day, they're actually sleeping … or trying to and federal officials are worried ongoing disturbances throughout the day are going to have a serous impact on them.
If we're bothering them while they're trying to rest, it could cause them to move into areas where they're more vulnerable and make them use up vital energy they need to socialize, reproduce, travel and hunt at night.
"Disturbing their resting behaviors can actually affect their long term health and the health of the population," Ann Garrett, assistant regional administrator of the National Marine Fisheries Service's protected resources division for the Pacific Islands, told the AP.
Unfortunately, our interest in encounters has led to an increase in activities that are posing a threat to these dolphins. The AP reports there are about 200 dolphin-related businesses operating in Hawaii, on top of other recreational activities, while as many as 20 tour boats can sometimes show up at a time and be seen dropping tourists in the water to swim with them.
Garrett added that the National Marine Fisheries Service has gotten reports of "vessels chasing down pods at high speed and corralling the dolphins into an area."
In response to concerns about how we may be unintentionally hurting spinner dolphins, NOAA is getting ready to propose rules that could change regulations to protect them, which may include a ban on swimming with them or closing areas where they're resting. While there are voluntary guidelines in place, few are reportedly following them.
It's not really about shutting down opportunities to see dolphins in the wild, but to make sure it's done respectfully. For anyone looking to have such an experience, there are tour operators that have pledged to follow guidelines intended to encourage responsible viewing.
For info on dolphin-friendly tour operators in Hawaii, in addition to Florida and Alabama, check out Dolphin SMART.
YOU MIGHT ALSO LIKE
Penguin Swims 5,000 Miles Each Year to Visit the Man Who Rescued Him
How You Can Help Save the Whales by Eating the Right Fish
Wild Baby Wolverines Make On-Screen Debut in Remarkable New Documentary
Palm Oil Scorecard: Find Out Which Brands Are (and aren't) Helping Save Indonesia's Rainforests
EcoWatch Daily Newsletter
A coal-fired power station blocks out a sunrise in the UK. sturti / E+ / Getty Images
According to a recent National Oceanic and Atmospheric Administration (NOAA) report, the last time carbon dioxide levels were this high was 3 million years ago "when temperature was 2°–3°C (3.6°–5.4°F) higher than during the pre-industrial era, and sea level was 15–25 meters (50–80 feet) higher than today."
Passengers arrive in Los Angeles from Asia on Feb. 2. MARK RALSTON / AFP via Getty Images
The spread of the new coronavirus, COVID-19, could cause "severe" disruption to daily life in the U.S., public health officials warned Tuesday.
A harbour seal on an ice floe in Glacier Bay, Alaska. A new study shows that the climate crisis has warmed waters, changing ecosystems and crippling sea ice growth. Janette Hill / robertharding / Getty Images Plus
Doctors report that only 1 in 4 children are getting the recommended 60 minutes of physical activity per day. Ronnie Kaufman / DigitalVision / Getty Images
By Dan Gray
Pediatricians are being urged to start writing "exercise prescriptions" for the children they see in their office.
A First Nations protester walks in front of a train blockade in Tyendinaga, near Belleville, Ontario, Canada on Feb. 21, 2020. LARS HAGBERG / AFP via Getty Images
An indigenous rail blockade that snarled train travel in Canada for more than two weeks came to an end Monday when police moved in to clear protesters acting in solidarity with another indigenous community in British Columbia (B.C.), which is fighting to keep a natural gas pipeline off its land.