This website uses cookies to ensure you get the best experience while browsing it. By clicking 'Got It' you're accepting these terms.
Want to Swim With Dolphins? Read This First
Mar. 16, 2016 11:25AM EST
Swimming with dolphins in Hawaii might be a dream come true for some people, but federal officials are worried that it might not be such a positive experience for dolphins.
Hawaii's population of spinner dolphins, whose regular presence near shore has become a big draw for people, are now at the center of concerns about how increasing interactions are impacting their health and well being.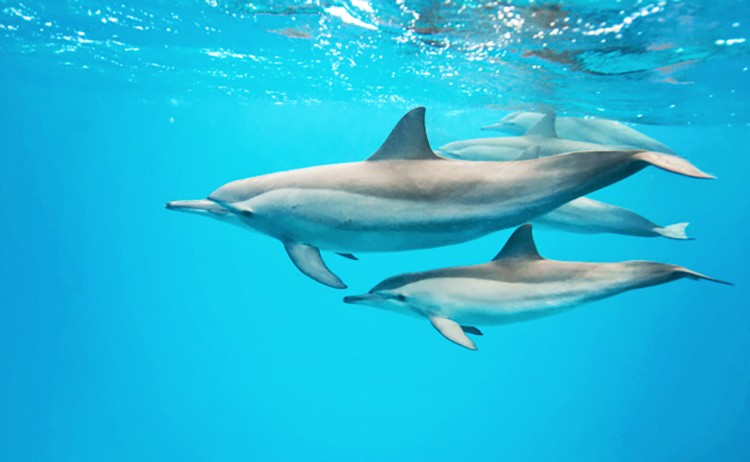 The National Oceanic and Atmospheric Administration (NOAA) explains that spinner dolphins are nocturnal, they hunt in deep waters at night and return to shallow bays during the day to rest, care for their young and avoid predators.
Even though they may appear to be active during the day, they're actually sleeping … or trying to and federal officials are worried ongoing disturbances throughout the day are going to have a serous impact on them.
If we're bothering them while they're trying to rest, it could cause them to move into areas where they're more vulnerable and make them use up vital energy they need to socialize, reproduce, travel and hunt at night.
"Disturbing their resting behaviors can actually affect their long term health and the health of the population," Ann Garrett, assistant regional administrator of the National Marine Fisheries Service's protected resources division for the Pacific Islands, told the AP.
Unfortunately, our interest in encounters has led to an increase in activities that are posing a threat to these dolphins. The AP reports there are about 200 dolphin-related businesses operating in Hawaii, on top of other recreational activities, while as many as 20 tour boats can sometimes show up at a time and be seen dropping tourists in the water to swim with them.
Garrett added that the National Marine Fisheries Service has gotten reports of "vessels chasing down pods at high speed and corralling the dolphins into an area."
In response to concerns about how we may be unintentionally hurting spinner dolphins, NOAA is getting ready to propose rules that could change regulations to protect them, which may include a ban on swimming with them or closing areas where they're resting. While there are voluntary guidelines in place, few are reportedly following them.
It's not really about shutting down opportunities to see dolphins in the wild, but to make sure it's done respectfully. For anyone looking to have such an experience, there are tour operators that have pledged to follow guidelines intended to encourage responsible viewing.
For info on dolphin-friendly tour operators in Hawaii, in addition to Florida and Alabama, check out Dolphin SMART.
YOU MIGHT ALSO LIKE
Penguin Swims 5,000 Miles Each Year to Visit the Man Who Rescued Him
How You Can Help Save the Whales by Eating the Right Fish
Wild Baby Wolverines Make On-Screen Debut in Remarkable New Documentary
Palm Oil Scorecard: Find Out Which Brands Are (and aren't) Helping Save Indonesia's Rainforests
Three scissor-tailed flycatcher fledglings in a mesquite tree in Texas. Texas Eagle / CC BY-NC 2.0
By Gary Paul Nabhan
President Trump has declared a national emergency to fund a wall along our nation's southern border. The border wall issue has bitterly divided people across the U.S., becoming a vivid symbol of political deadlock.
PeopleImages / E+ / Getty Images
By Daniel Ross
Hurricane Florence, which battered the U.S. East Coast last September, left a trail of ruin and destruction estimated to cost between $17 billion and $22 billion. Some of the damage was all too visible—smashed homes and livelihoods. But other damage was less so, like the long-term environmental impacts in North Carolina from hog waste that spilled out over large open-air lagoons saturated in the rains.
Hog waste can contain potentially dangerous pathogens, pharmaceuticals and chemicals. According to the state's Department of Environmental Quality, as of early October nearly 100 such lagoons were damaged, breached or were very close to being so, the effluent from which can seep into waterways and drinking water supplies.
This picture taken on May 21, 2018 shows discarded climbing equipment and rubbish scattered around Camp 4 of Mount Everest. Decades of commercial mountaineering have turned Mount Everest into the world's highest rubbish dump as an increasing number of big-spending climbers pay little attention to the ugly footprint they leave behind. DOMA SHERPA / AFP / Getty Images
China has closed its Everest base camp to tourists because of a buildup of trash on the world's tallest mountain.
Researchers tested the eggs of Arctic northern fulmers like these in Nunavut, Canada.
Fiona Paton / Flickr
By Madison Dapcevich
Plastics have been recorded in every corner of the world, from the remote icy waters of Antarctica to the bellies of deep-sea fishes. Now, preliminary findings presented at this year's American Association for the Advancement of Science (AAAS) annual meeting in Washington, DC suggest that bird eggs from the high Arctic—one of the most remote wildernesses on the planet—show evidence of contamination from chemicals used in plastics.