Want to Buy GMO-Free Food? Buy Organic
Aug. 21, 2015 10:17AM EST
Food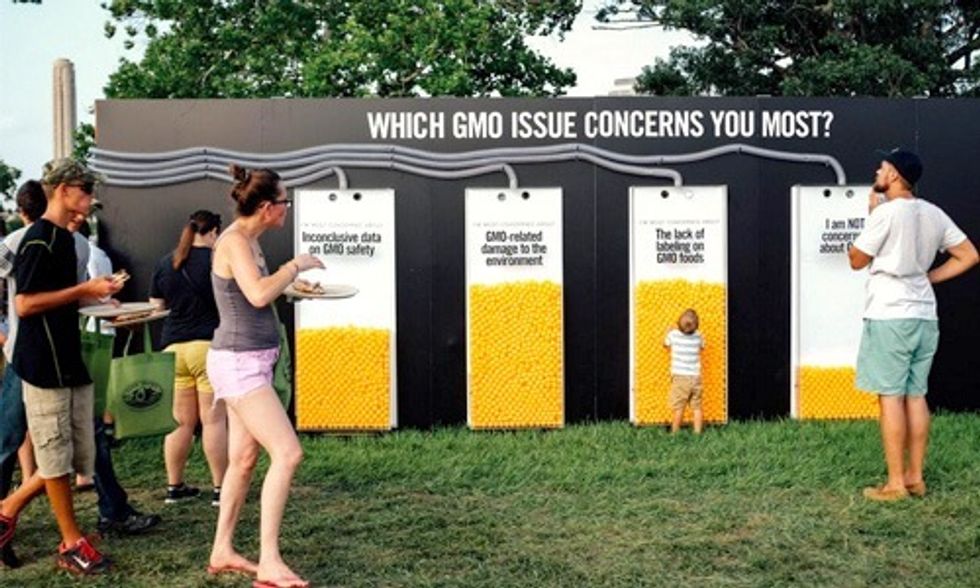 The right to know what's in one's food is undoubtedly a contentious issue. Just last month, the House passed the so-called DARK Act (Denying Americans the Right to Know), which preempts state and local authority to label and regulate genetically engineered foods (GMO). A recent analysis from Environmental Working Group revealed that big food and biotech companies have vastly increased their lobbying expenditures in the first half of 2015, spending an estimated $51 million to prevent GMO labeling.
Meanwhile, surveys show that the vast majority of Americans—as much as 93 percent, according to a New York Times—want their food labeled. So, when Chipotle—already wildly popular to begin with for its delicious burritos and its sustainability-minded menu—became the first national restaurant chain to pledge to cook with only non-GMO ingredients, it was no surprise that people were going to like it even more.
In an NPR segment this week, reporter Peggy Lowe highlights how the move has been a major boon to the restaurant chain, and other companies are taking notice and "jumping on the GMO-free bandwagon." But as sales of GMO-free food skyrocket, Lowe points out, some polls indicate half of all Americans don't know what it means for a food to be genetically modified and that just because it's GMO-free does not necessarily mean it's organic or healthy as some believe.
Some scenes from @ChipotleTweets's Cultivate Festival #KansasCity http://t.co/a5JZb1g3os pic.twitter.com/LTmZAirk4x

— Fruhlein Econar (@bafrowfrow) July 22, 2015
"The demand for these foods falls under what the industry calls the 'health halo'—the perception that a food is healthy," says Lowe. She speaks with Cathy Calfo, executive director of California Certified Organic Farmers, who points out that the U.S. already has a GMO-free label: the organic label.
Listen to the full segment here:
YOU MIGHT ALSO LIKE
5 GMO Myths Debunked by Vandana Shiva
Subway Sandwiches Fuel Major Public Health Crisis
California Businesses Save Water in Style With #DroughtNotDrab
EcoWatch Daily Newsletter
Recent Stories from EcoWatch