This website uses cookies to ensure you get the best experience while browsing it. By clicking 'Got It' you're accepting these terms.
Vikings Likely Hunted Ancient Walruses in Iceland to Extinction, New Research Finds
Sep. 18, 2019 07:17AM EST
Animals
Prehistoric and historic walrus skulls, tusks and bone fragments often wash ashore on the southern coast of Snæfellsnes peninsula in Iceland. Hilmar J. Malmquist
A unique subpopulation of ancient walrus in Iceland was likely hunted to extinction by Vikings shortly after arrival to the region, according to new research.
---
Two subspecies of walrus (Odobenus rosmarus) occur throughout the Arctic in both Pacific and Atlantic waters, the latter having a population of around 30,000 individuals throughout northeastern Canada, Greenland and parts of Russia. However, walruses are no longer found in Iceland despite ancient skeletal remains and centuries-old written documents indicating they once thrived in the region.
An international team of scientists analyzed the prehistoric remains of walruses found within the region by extracting DNA and compared this information against modern walruses. They further conducted radiocarbon dating in coordination with a review of studies related to walruses in the region. They found that walruses had inhabited the area for thousands of years, but disappeared mid-14th century just five centuries after the Norse settlers arrived, reports New Scientist.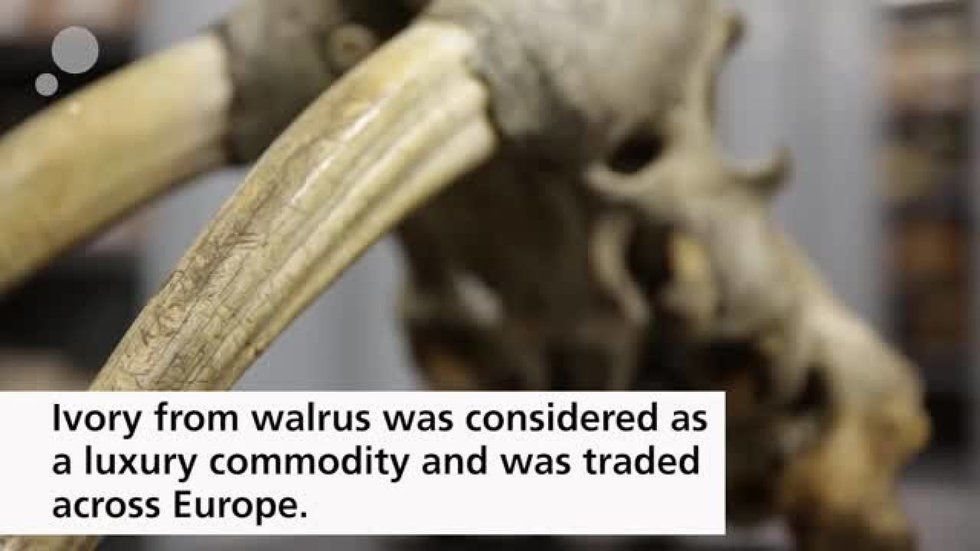 "Our study provides one of the earliest examples of local extinction of a marine species following human arrival and overexploitation. It further adds to the debate about the role of humans in the extinction of megafauna, supporting a growing body of evidence that wherever humans turn up, the local environment and ecosystem suffers," said Morten Tange Olsen, assistant professor at Globe Institute, University of Copenhagen.
Writing in the journal Molecular Biology and Evolution, the researchers note that ivory from walrus tusk was a luxury good in high demand and was traded across the Viking Age and Medieval Europe as far as the Middle East and India. A 2018 study reported by National Geographic similarly found that Norse hunters had indeed established a steady ivory trade, but the source of the tusks and ivory remained a mystery.
The work highlights the impact of human arrival in "pristine" environments and provides one of the earliest examples of trade and human exploitation resulting in the extinction of a marine resource.
"We show that already in the Viking Age, more than 1000 years ago, commercial hunting, economic incentives and trade networks were of sufficient scale and intensity to result in significant, irreversible ecological impacts on the marine environment, potentially exacerbated by a warming climate and volcanism," explained lead author Xénia Keighley. "The reliance on marine mammal resources for both consumption and trade has so far been underestimated."
The lineage of Icelandic walruses also proved to be a genetically unique species that is distinct from historic and contemporary walrus populations now found in the North Atlantic. The subspecies had existed in western Iceland for about 7,500 years, which the authors say suggests a "stable, long-term presence" up until 1213 to 1330 AD.
EcoWatch Daily Newsletter
A. Battenburg / Technical University of Munich
By Sarah Kennedy
Algae in a pond may look flimsy. But scientists are using algae to develop industrial-strength material that's as hard as steel but only a fraction of the weight.
Variety of fermented food korean traditional kimchi cabbage and radish salad. white and red sauerkraut in ceramic plates over grey spotted background. Natasha Breen / REDA&CO / Universal Images Group / Getty Image
Even if you've never taken probiotics, you've probably heard of them.
These supplements provide numerous benefits because they contain live microorganisms, such as bacteria or yeast, which support the healthy bacteria in your gut (1, 2, 3, 4).
Pexels
Singapore will become the first country in the world to place a ban on advertisements for carbonated drinks and juices with high sugar contents, its health ministry announced last week. The law is intended to curb sugar consumption since the country has some of the world's highest diabetes rates per capita, as Reuters reported.
A typical adult takes around 20,000 breaths per day. If you live in a megacity like Beijing, with many of those lungfuls you're likely to inhale a noxious mixture of chemicals and pollutants.
Fred Stone holds his brown swiss cow Lida Rose at his Arundel dairy farm on March 18 after a press conference where he spoke about PFAS chemical contamination in his fields. Gregory Rec / Portland Portland Press Herald via Getty Images
By Susan Cosier
First there was Fred Stone, the third-generation dairy farmer in Maine who discovered that the milk from his cows contained harmful chemicals. Then came Art Schaap, a second-generation dairy farmer in New Mexico, who had to dump 15,000 gallons of contaminated milk a day.
Protesters attend the 32nd annual Fur-Free Friday demonstration on Nov. 23, 2018 in Beverly Hills, California. Ella DeGea / Getty Images
California Governor Gavin Newsom signed into law a bill that that bans the sale and manufacture of fur products in the state. The fur ban, which he signed into law on Saturday, prohibits Californians from selling or making clothing, shoes or handbags with fur starting in 2023, according to the AP.
By Simon Evans
During the three months of July, August and September, renewables generated an estimated total of 29.5 terawatt hours (TWh), compared with just 29.1TWh from fossil fuels, the analysis shows.
A demonstrator waves an Ecuadorian flag during protests against the end of subsidies to gasoline and diesel on Oct. 9 in Quito, Ecuador. Jorge Ivan Castaneira Jaramillo / Getty Images