This website uses cookies to ensure you get the best experience while browsing it. By clicking 'Got It' you're accepting these terms.
Vikings Likely Hunted Ancient Walruses in Iceland to Extinction, New Research Finds
Sep. 18, 2019 07:17AM EST
Animals
Prehistoric and historic walrus skulls, tusks and bone fragments often wash ashore on the southern coast of Snæfellsnes peninsula in Iceland. Hilmar J. Malmquist
A unique subpopulation of ancient walrus in Iceland was likely hunted to extinction by Vikings shortly after arrival to the region, according to new research.
---
Two subspecies of walrus (Odobenus rosmarus) occur throughout the Arctic in both Pacific and Atlantic waters, the latter having a population of around 30,000 individuals throughout northeastern Canada, Greenland and parts of Russia. However, walruses are no longer found in Iceland despite ancient skeletal remains and centuries-old written documents indicating they once thrived in the region.
An international team of scientists analyzed the prehistoric remains of walruses found within the region by extracting DNA and compared this information against modern walruses. They further conducted radiocarbon dating in coordination with a review of studies related to walruses in the region. They found that walruses had inhabited the area for thousands of years, but disappeared mid-14th century just five centuries after the Norse settlers arrived, reports New Scientist.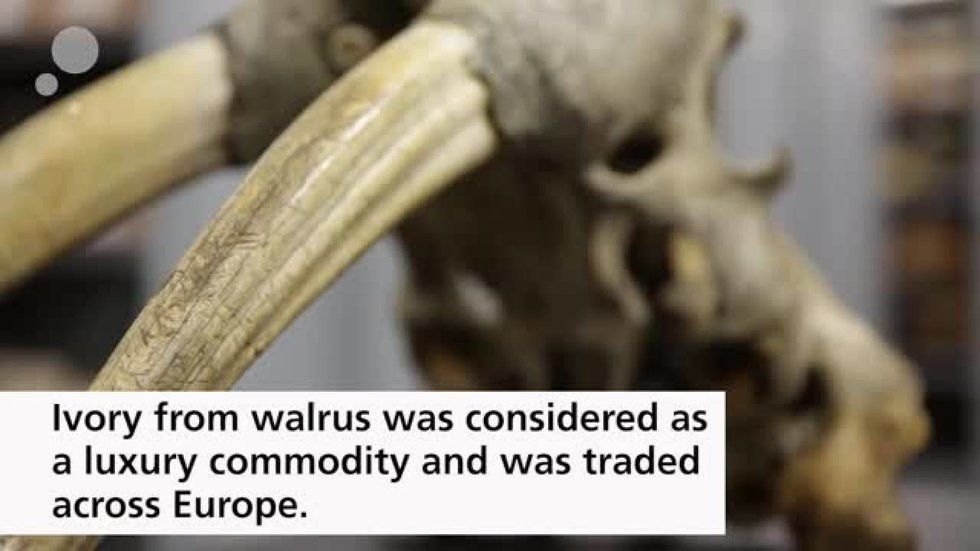 "Our study provides one of the earliest examples of local extinction of a marine species following human arrival and overexploitation. It further adds to the debate about the role of humans in the extinction of megafauna, supporting a growing body of evidence that wherever humans turn up, the local environment and ecosystem suffers," said Morten Tange Olsen, assistant professor at Globe Institute, University of Copenhagen.
Writing in the journal Molecular Biology and Evolution, the researchers note that ivory from walrus tusk was a luxury good in high demand and was traded across the Viking Age and Medieval Europe as far as the Middle East and India. A 2018 study reported by National Geographic similarly found that Norse hunters had indeed established a steady ivory trade, but the source of the tusks and ivory remained a mystery.
The work highlights the impact of human arrival in "pristine" environments and provides one of the earliest examples of trade and human exploitation resulting in the extinction of a marine resource.
"We show that already in the Viking Age, more than 1000 years ago, commercial hunting, economic incentives and trade networks were of sufficient scale and intensity to result in significant, irreversible ecological impacts on the marine environment, potentially exacerbated by a warming climate and volcanism," explained lead author Xénia Keighley. "The reliance on marine mammal resources for both consumption and trade has so far been underestimated."
The lineage of Icelandic walruses also proved to be a genetically unique species that is distinct from historic and contemporary walrus populations now found in the North Atlantic. The subspecies had existed in western Iceland for about 7,500 years, which the authors say suggests a "stable, long-term presence" up until 1213 to 1330 AD.
EcoWatch Daily Newsletter
Bill Bader, owner of Bader Farms, and his wife Denise pose in front of the Rush Hudson Limbaugh Sr. United States Courthouse in Cape Girardeau, Missouri on Jan. 27, 2020.
Johnathan Hettinger /
Midwest Center for Investigative Reporting
A jury in Missouri awarded a farmer $265 million in a lawsuit that claimed Bayer and BASF's weedkiller destroyed his peach orchard, as Reuters reported.
Earthjustice says Louisiana has violated the Clean Water Act and given Formosa Plastics Group the "greenlight to double toxic air pollution in St. James" (seen above).
Louisiana Bucket Brigade
A coalition of local and national groups on Friday launched a legal challenge to a Louisiana state agency's decision to approve air permits for a $9.4 billion petrochemical complex that Taiwan-based Formosa Plastics Group plans to build in the region nationally known as "Cancer Alley."
Bears Ears National Monument in Utah. Bob Wick / BLM / onEarth
Well, he told us he would do it. And now he's actually doing it — or at least trying to. Late last week, President Trump, via the U.S. Department of the Interior's Bureau of Land Management, announced that he was formalizing his plan to develop lands that once belonged within the Bears Ears and Grand Staircase-Escalante National Monuments in southern Utah. The former is a stunningly beautiful, ecologically fragile landscape that has played a crucial role in Native American culture in the Southwest for thousands of years; the latter, just as beautiful, is one of the richest and most important paleontological sites in North America.
Smoke pours from the exhaust pipes on a truck on Nov. 5, 2019 in Miami, Florida. According to a 2017 EPA study the largest source of greenhouse gas emissions in the U.S. is from the transportation sector. Joe Raedle / Getty Images
Hundreds of thousands of green-lipped mussels (like those pictured) were found dead on a New Zealand beach.
DianesPhotographicDesigns
/ iStock / Getty Images
Hundreds of thousands of mussels that cooked to death off the New Zealand coast are likely casualties of the climate crisis.