This website uses cookies to ensure you get the best experience while browsing it. By clicking 'Got It' you're accepting these terms.
Wall Street Journal Willing to Print Truth About Climate Change if You Pay Them
Jun. 15, 2016 10:47AM EST
The Wall Street Journal's opinion page is perhaps the most influential outlet for climate denial and rarely gives its readers accurate information about how fossil fuels cause global warming.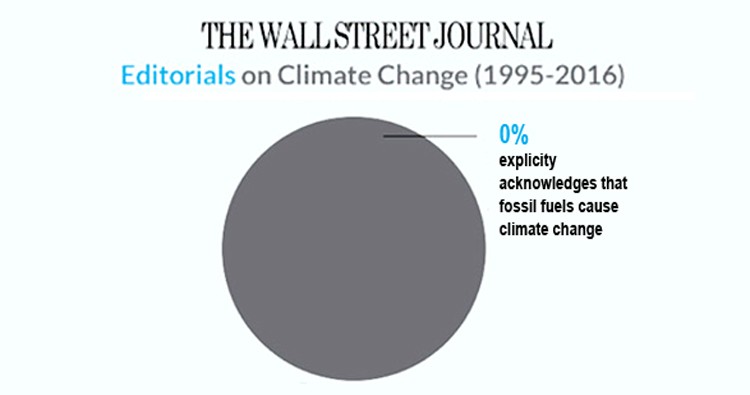 A new ad campaign from The Partnership for Responsible Growth seeks to fix that, giving readers real facts on climate change and driving them to pricecarbon.org to learn about solutions. Yesterday, they kicked off the campaign with a quarter-page ad in the Journal's opinion section featuring the headline: "Exxon's CEO says fossil fuels are raising temperatures and sea levels. Why won't the Wall Street Journal?" (Good question!)
The Washington Post has the ad for you to see, as well as the inside scoop, revealing tidbits such as how the paper charged nearly $10,000 more for the first ad that calls out the Wall Street Journal than it did for the next dozen that don't explicitly reference the paper. (The Wall Street Journal disputes that claim, responding that the first ad is simply full price while the rest are discounted … )
The Washington Post story also points to a white paper that underpins the claims in the ad that the Wall Street Journal's editorial board has never acknowledged the reality of climate change. Turns out that in at least 201 editorials going back to 1997, not once has the editorial board explicitly admitted fossil fuels cause climate change. And not only are pieces usually scientifically inaccurate, the Wall Street Journal also routinely fails to disclose to readers that op-ed authors work for fossil-fuel funded think tanks. So not only are there errors, but given the funding bias of authors, those frequent errors might not be accidents …
The white paper is an analysis of more than 600 pieces of content on the Wall Street Journal's opinion page, each judged according to whether or not it provides the reader with mainstream climate science or fringe denial. Out of the 602 editorials, columns and op-eds, only 44 reflect the consensus or call for climate action. So while 97 percent of climate scientists agree fossil fuels cause climate change, readers of the Journal's opinion page get the opposite impression as 93 percent of its content runs counter to the consensus.
So while it's no surprise that the Wall Street Journal's opinion page is a hotbed of climate inaccuracies, this sort of quantification lays bare their pro-pollution bias.
But the ads also show the Journal is willing to print the truth about climate change … So long as you pay them something like $30,000.
YOU MIGHT ALSO LIKE
World's Biggest Banks Are Driving Climate Change, Pumping Billions Into Extreme Fossil Fuels
Court Documents Show Peabody Energy Funded Dozens of Climate Denial Groups
Carbon Dioxide Levels Set to Pass 400 ppm and Remain Above Symbolic Threshold Permanently
May Shatters Yet Another Monthly Heat Record as CO2 Levels Soar
Plus, learn if there's one that's best for your health.
Catherine Falls Commercial / Moment / Getty Images
An invasive Amynthas worm, also known as a crazy snake worm, Asian jumping worm and Alabama jumper Tom Potterfield / Flickr
By Jason Bittel
My wife and I built a house two years ago on a few acres of woodland outside of Pittsburgh. The backyard is full of maples, poplars, briars and common spicebush. Two-lined salamanders and grumpy-looking crayfish wade among the rocks in the small stream that runs down the edge of the property. Deer, raccoon and opossum tracks appear regularly in the snow and mud. Sometimes, my trail-cam even catches a pair of gray foxes as they slink through the night.
AleksandarNakic / Getty Images
By Kate Murphy
No matter the time of year, there's always a point in each season when my skin decides to cause me issues. While these skin issues can vary, I find the most common issues to be dryness, acne and redness.

David Woodfall / The Image Bank / Getty Images
By Sam Nickerson
The U.S. Environmental Protection Agency (EPA) in April 2018 proposed relaxing standards related to how it assesses the effects of exposure to low levels of toxic chemicals on public health.
Now, correspondence obtained by the LA Times revealed just how deeply involved industry lobbyists and a controversial, industry-funded toxicologist were in drafting the federal agency's proposal to scrap its current, protective approach to regulating toxin exposure.
Steve Irwin poses with a three foot long alligator at the San Francisco Zoo on June 26, 2002. Justin Sullivan / Getty Images
February 22 is the birthday of conservationist and beloved TV personality "Crocodile Hunter" Steve Irwin, who would have been 57 years old today.
Irwin's life was tragically cut short when the barb from a stingray went through his chest while he was filming in 2006, but his legacy of loving and protecting wildlife lives on, most recently in a Google Doodle today honoring his birthday.