Waiting In Line for Armageddon
Nov. 04, 2012 09:49AM EST
Climate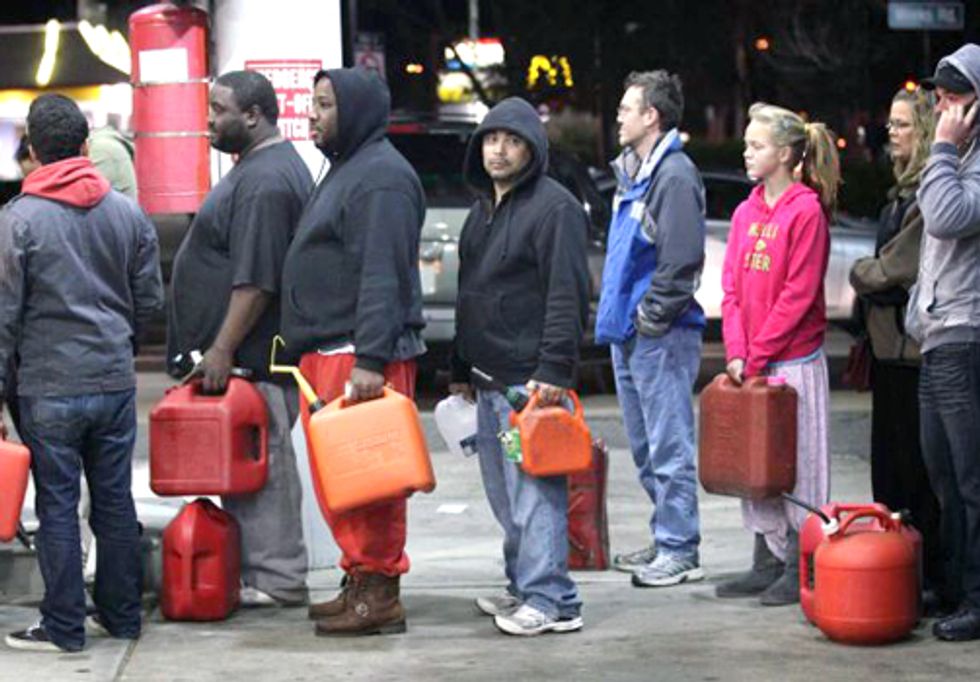 By Paul E McGinniss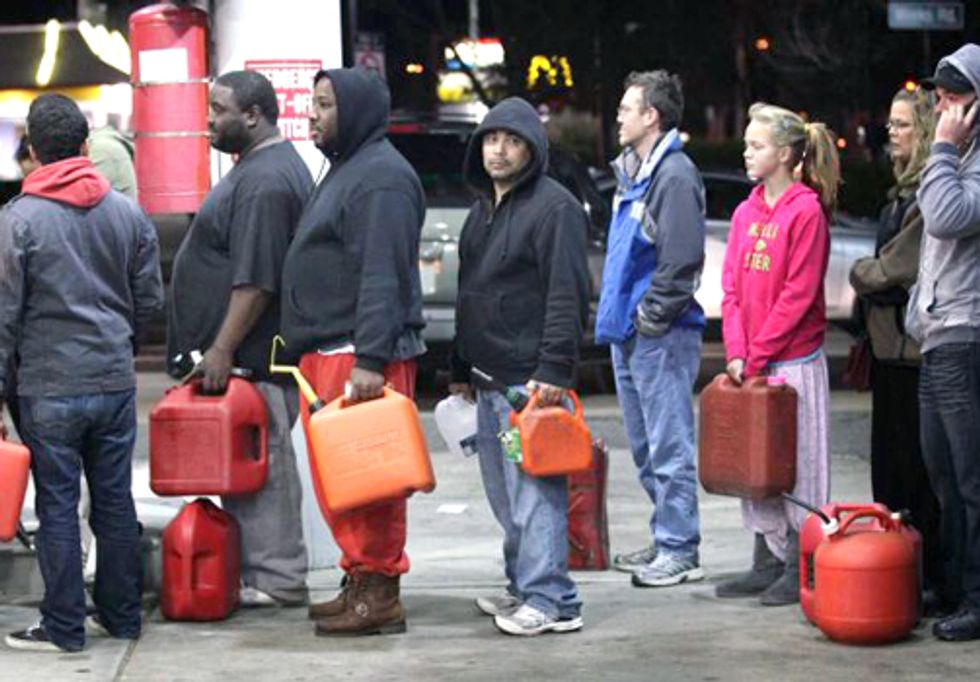 Only days before the 2012 election, tempers are flaring as thousands of New Yorkers and New Jerseyans wait in line to get their chance to fill up at the pump. Police have been summoned to quell violence at gas stations all over the region.
Clearly, our heavily subsidized fossil-fuel-dominated energy infrastructure is not designed to withstand a superstorm. Incredulously, the post-Sandy gas crisis is not caused by flooding and damage to facilities, rather by power outages that have disabled storage terminals and gas stations preventing distribution of this liquid gold.
The post-Sandy mayhem erupting at gas stations magnifies American's addiction to oil. We are truly carbon junkies! It took only two days after the storm for people to turn desperate. Baseball bats wielded, even guns drawn, to defend positions in a gas line. Who among us is ready to die over a few gallons of gas?
Not having gas to drive your car is one thing. Not having access to water is another. Can you imagine what storm-ravaged communities would be like if they were fighting for clean drinking water?
According to the film, Last Call at the Oasis, fresh water is soon to be recognized as more valuable than oil. Unfortunately, most of us in this country still take for granted clean drinking water.
Today, many believe that extreme weather like superstorm Sandy is going to be the new normal.
My colleague and fellow New Yorker, Stephen Del Percio, founder and publisher of gbNYC, wrote eloquently about Sandy and the ensuing crisis:
"The unprecedented damage Hurricane Sandy inflicted on the New York City area should be an urgent reminder to our elected officials that the local impacts of global climate change—whatever you believe is causing them—are real. It's also an important opportunity to reflect on the general lack of leadership from the federal government on this critical issue and a renewed chance to demand that Congress take strategic, systemic, and long-term remedial action with appropriate input from states and municipalities."
Are Americans so complacent, short-sighted and unenlightened that we don't immediately demand pragmatic, scientifically-based leadership from our politicians on the issue of climate change?
According to a Huffington Post piece by Michael Moore, there are up to 90 million people who are not planning to vote in this election.
I hope you're not one of them. Because as Annie Leonard from the Story of Stuff says, Vote darn it!
Visit EcoWatch's WATER and CLIMATE CHANGE pages for more related news on this topic.
——–
Paul E McGinniss is The New York Green Advocate. He is a green building consultant and real estate broker in New York. He is pretty much obsessed with all things environment and has lately become a resiliency addict.
EcoWatch Daily Newsletter
Recent Stories from EcoWatch