This website uses cookies to ensure you get the best experience while browsing it. By clicking 'Got It' you're accepting these terms.
Vote for Your Favorite Company Expediting Renewable Energy
Feb. 26, 2015 10:26AM EST
Business
Every quarter, the nonprofit Green America gives out their People & Planet Award and a $5,000 cash prize to three businesses that practice the best in sustainability in categories such as community development, green travel, worker empowerment and more. This winter's 10 finalists have been recognized for their efforts in advancing clean energy. You can help decide the winners by voting for your three favorites before 8 p.m. EST, March 2.
1. Organic Transit (Durham, North Carolina)
Organic Transit builds solar-powered ELF ("Electric, Light and Fun") bikes that can go up to 30 miles per hour and comes with headlights, turn signals, a roof and plenty of cargo space, The Atlantic's CityLab reported. The company says that if their ELF is used in place of a car, it could prevent up to six tons of CO2 from spewing into the atmosphere each year.
2. Rain Catchers (Kernersville, North Carolina)
Addressing global water shortages, food insecurity and climate change, Rain Catchers secures quality water supply through rain water harvesting and storing it below ground. They practice innovative water harvesting solutions, such as solar pumping from any water source, storm water management, UV filtration and more.
3. SkyBar (Tucson, Arizona)
Sky Bar is the only solar-powered bar on Earth and also shares its 300 solar panels with its sister restaurant, Brooklyn Pizza Company. When it gets dark, the bar offers astronomy shows along with deep space images displayed from their own telescopes.
Are you sick of lunar eclipse photos? We're not; we basically got the best photos ever. pic.twitter.com/UCCZ8NUGGd

— SKY bar (@SKYbartucson) April 16, 2014
4. Sunlight Solar Systems (Salt Lake City, Utah)
Locally owned Sunlight Solar Systems has installed more than 250 residential, commercial and industrial projects since 2008. Their green practices are from top to bottom—their office and warehouse is a net-zero building and they recycle everything from glass, cardboard, metals and plastics.
9th & 9th area. 6kw solar array paired with a solar thermal system pic.twitter.com/SnHiEbivp0 — Sunlight Solar Pro (@SunlightSolarUT) September 22, 2014
5. Technicians for Sustainability (Tucson, Arizona)
Since 2003, Technicians for Sustainability has installed more than 9 megawatts of solar in Southern Arizona. The company specializes in renewable energy and sustainable technologies for residential and commercial settings, including solar electric and solar hot water.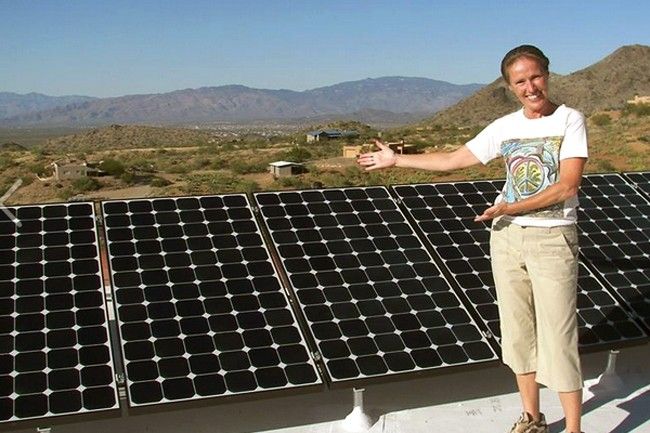 "Solar in Arizona is a 'no brainer.' To me, the cost was like buying a small car, but unlike a car, solar pays for itself after a few years and offsets your electricity bills for the next 25 years," said Technicians For Sustainability customer Marri. Photo credit: Technicians For Sustainability
6. Clean Power Perks in (Boston, Massachusetts) 
Clean Power Perks is a web-based platform that helps people find clean energy brands and also rewards them with exclusive deals and discounts from brands like prAna, Preserve, Emmy's Organics, Timberland and other businesses that use clean energy.
7. Ethical Electric in (District of Columbia) 
Energy company Ethical Electric allows their customers to buy 100 percent clean power from renewable sources like wind and solar. In 2014 alone, Ethical Electric's customers have abated 605 millions pounds of CO2, the equivalent of preventing the burning of 294 million pounds of coal, taking 57,773 cars off the road or planting 7 million trees, the company says.
The Ethical Electric team hearts wind! #iheartwind pic.twitter.com/XsfUu7Omjx

— Ethical Electric (@ChooseEthical) February 13, 2015
8. Envision Solar (San Diego, California)
Envision Solar aims to transform parking lots into solar power plants that can also charge electric vehicles at the same time. The company creates solar tree structures and the world's only transportable solar-powered electric vehicle charging station, called the EV ARC.
9. Maple Hill Farm Inn and Conference Center (Hallowell, Maine)
It's not your average B&B, that's for sure. Maple Hill Farm Inn runs on solar and wind power, heats with a sustainable wood-pellet boiler, uses LED lighting and is planning an EV-charging station. "We have always been committed to protect Maine's beautiful environment (which is why our guests come to stay with us) and to tread as lightly on the Earth as we can," the company says. "We have always used local and Maine-made products, minimized our use of harmful chemicals, reduced our solid waste and shared our commitment to sustainability with all our guests."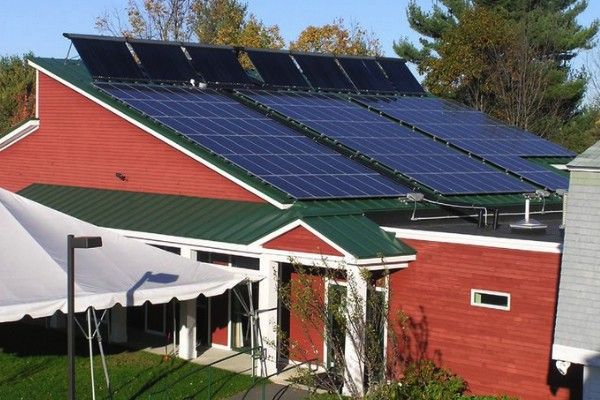 10. NativeEnergy (Burlington, Vermont)
NativeEnergy provides businesses and individuals the opportunity to invest in new clean energy in the U.S. and clean water in developing countries. The company helps businesses and individuals identify and reduce their greenhouse gas pollution and attain their sustainability goals. Clients include eBay, Keurig Green Mountain, Ben & Jerry's, Interface, Stonyfield Farm, Esurance and National Geographic. The company will dedicate the $5,000 prize to helping implement the Ghana Clean water project, which will help offset 325 metric tons of CO2, the equivalent of taking about 68 passenger cars off the road for a year.
YOU MIGHT ALSO LIKE
IKEA Sees Sales of Green Products Soar, Sales Exceed $1 Billion in 2014
It Just Got Easier for Companies Like Facebook and Google to Measure Their Investments in Renewable Energy
EcoWatch Daily Newsletter
A fracking well looms over a residential area of Liberty, Colorado on Aug. 19.
WildEarth Guardians / Flickr
Pope Francis flanked by representatives of the Amazon Rainforest's ethnic groups and catholic prelates march in procession during the opening of the Special Assembly of the Synod of Bishops for the Pan-Amazon Region at The Vatican on Oct. 07 in Vatican City, Vatican. Alessandra Benedetti / Corbis News / Getty Images
The Catholic Church "hears the cry" of the Amazon and its peoples. That's the message Pope Francis hopes to send at the Synod of the Amazon, a three-week meeting at the Vatican that ends Oct. 27.
The crowd appears to attack a protestor in a video shared on Twitter by ITV journalist Mahatir Pasha.
VOA News /
Youtube screenshot
Some London commuters had a violent reaction Thursday morning when Extinction Rebellion protestors attempted to disrupt train service during rush hour.
Some fruit drinks may appear to be healthier, but many can have high levels of added sugars. d3sign / Moment / Getty Images
By Kristen Fischer
Though the science has shown sugary drinks are not healthy for children, fruit drinks and similar beverages accounted for more than half of all children's drink sales in 2018, according to a new report.

Donald Trump attends the opening of Red Tiger Golf Course at Trump National Doral on Jan. 12, 2015 in Doral, Florida. Johnny Louis / FilmMagic
Acting White House Chief of Staff Mick Mulvaney made two controversial announcements about the 2020 Group of Seven (G7) summit: it will be hosted at one of President Donald Trump's golf resorts in Miami and it won't feature any discussion of the climate crisis.
Farms with just one or a handful of different crops encourage fewer species of pollinating and pest-controlling insects to linger, ultimately winnowing away crop yields, according to a new study.
Up to half of the detrimental impacts of the "landscape simplification" that monocropping entails come as a result of a diminished mix of ecosystem service-providing insects, a team of scientists reported Oct. 16 in the journal Science Advances.
Monocrop palm oil plantation Honduras.
​SHARE Foundation / Flickr / CC BY-NC 2.0​
"Our study shows that biodiversity is essential to ensure the provision of ecosystem services and to maintain a high and stable agricultural production," Matteo Dainese, the study's lead author and a biologist at Eurac Research in Bolzano, Italy, said in a statement.

It stands to reason that, with declines in the sheer numbers of insects that ferry pollen from plant to plant and keep crop-eating pests under control, these services will wane as well. But until now, it hasn't been clear how monocultures affect the number and mix of these species or how crop yields might change as a result.
Aiming to solve these questions, Dainese and his colleagues pulled together data from 89 studies cutting across a variety of landscapes, from the tropics of Asia and Africa to the higher latitudes of northern Europe. They tabulated the number of pollinating and pest-controlling insects at these sites — both the absolute number of individuals and the number of species — along with an assessment of the ecosystem services the insects provided.
In almost all of the studies they looked at, the team found that a more diverse pool of these species translated into more pollination and greater pest control. They also showed that simplified landscapes supported fewer species of service-providing insects, which ultimately led to lower crop yields.
The researchers also looked at a third measure of the makeup of insect populations — what they called "evenness." In natural ecosystems, a handful of dominant species with many more individuals typically live alongside a higher number of rarer species. The team found as landscapes became less diverse, dominant species numbers dwindled and rare species gained ground. This resulting, more equitable mix led to less pollination (though it didn't end up affecting pest control).
"Our study provides strong empirical support for the potential benefits of new pathways to sustainable agriculture that aim to reconcile the protection of biodiversity and the production of food for increasing human populations," Ingolf Steffan-Dewenter, one of the study's authors and an animal ecologist at the University of Würzburg in Germany, said in the statement.
The scientists figure that the richness of pollinator species explains around a third of the harmful impacts of less diverse landscapes, while the richness of pest-controlling species accounts for about half of the same measure. In their view, the results of their research point to the need to protect biodiversity on and around crops in an uncertain future.
"Under future conditions with ongoing global change and more frequent extreme climate events, the value of farmland biodiversity ensuring resilience against environmental disturbances will become even more important," Steffan-Dewenter said.
Reposted with permission from our media associate Mongabay.
From Your Site Articles
Related Articles Around the Web
View of an Ivorian cleared forest at the edge of the 35.000 hectares Peko Mont National Park on Oct. 8, 2016. The Mont Péko National Park is located in the west of Ivory Coast where the forest officers fight with illegal immigrants to protect an exceptional flora and fauna, espacially dwarf elephants. SIA KAMBOU / AFP / Getty Images
Ivory Coast's rainforests have been decimated by cocoa production and what is left is put in peril by a new law that will remove legal protections for thousands of square miles of forests, according to The Guardian.
The Apusiaajik Glacier, as seen from Kulusuk village in East Greenland. Like most glaciers in Greenland, it's retreating rapidly, changing the local landscape year by year. Photo credit: Karin Kirk
By Karin Kirk
Greenland had quite the summer. It rose from peaceful obscurity to global headliner as ice melted so swiftly and massively that many were left grasping for adjectives. Then, Greenland's profile was further boosted, albeit not to its delight, when President Trump expressed interest in buying it, only to be summarily dismissed by the Danish prime minister.
During that time I happened to be in East Greenland, both as an observer of the stark effects of climate change and as a witness to local dialogue about presidential real estate aspirations, polar bear migrations and Greenland's sudden emergence as a trending topic.