This website uses cookies to ensure you get the best experience while browsing it. By clicking 'Got It' you're accepting these terms.
Voluntary Grazing Permit Legislation Introduced in Congress
Nov. 16, 2011 09:01AM EST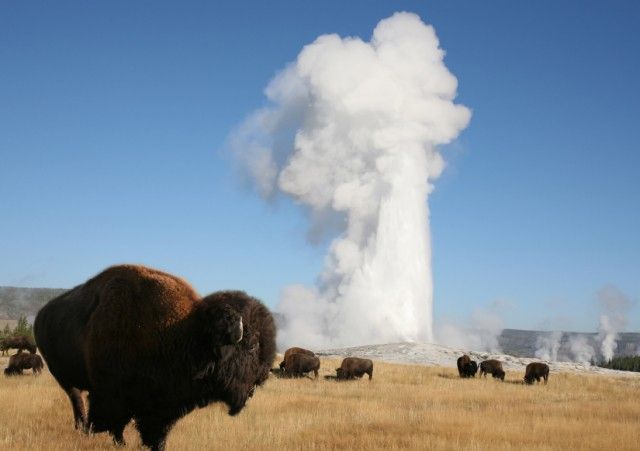 Conservationists hailed the introduction of the Rural Economic Vitalization Act (H.R. 3432) in Congress Nov. 16, a bill that would allow federal grazing permittees to voluntarily relinquish their grazing permits back to the managing federal agency in exchange for compensation paid by a third party. The bill was introduced by Representative Adam Smith (D-WA-9th) and six original cosponsors.
"When enacted, this legislation will help resolve endless conflict on public lands, while providing ranchers with opportunities to restructure their operations, start new businesses, or retire with security," said Mike Hudak, author of Western Turf Wars: The Politics of Public Lands Ranching and leader of the Sierra Club Grazing Team.
Domestic livestock grazing is the most pervasive and damaging use of federal public lands. On public land across the West, millions of non-native livestock remove and trample vegetation, damage soil, spread invasive weeds, despoil water, deprive native wildlife of forage and shelter, accelerate desertification and even contribute to global warming.
Unfortunately, antiquated federal law generally prohibits closing grazing allotments to benefit fish, wildlife and watersheds. The Rural Economic Vitalization Act would authorize federal agencies to permanently retire grazing permits if requested by ranchers.
"Grazing permit retirement has been implemented in a few places around the West with marked success, but there is much greater need—and demand from ranchers—to retire grazing permits," said Mark Salvo of WildEarth Guardians.
One landscape that has benefited from grazing permit retirement is the Greater Yellowstone Ecosystem, where grazing allotments have been closed to reduce conflicts with wolves, grizzly bears and bighorn sheep, and to expand winter range for bison outside Yellowstone National Park. Yellowstone bison, the last remaining genetically pure wild herd in the U.S., are subject to intensive management and control based on the irrational fear that they will transmit disease to domestic livestock.
"Bison are hazed, captured, shot and slaughtered to protect grazing interests on public land in Yellowstone country," said Josh Osher of the Buffalo Field Campaign. "REVA is the tool we need to finally, permanently address these conflicts."
In addition to being the source of immeasurable environmental harm, the federal grazing program is a fiscal boondoggle for federal taxpayers. The Government Accountability Office reported that the U.S. Bureau of Land Management and U.S. Forest Service annually spend $132.5 million on grazing management, but collect only $17.5 million in grazing fees for a net loss to taxpayers of $115 million.
"We want to save public lands and do our part to solve the deficit," said Brian Ertz of Western Watersheds Project. "We just need Congressional approval to buy out willing ranchers and retire their grazing permits."
Grazing permit retirement is a voluntary, non-regulatory, market-based solution to public lands grazing conflicts. Permittees determine if and when they want to retire their grazing permits. Permittees and third parties separately agree how much a permittee will be paid for relinquishing their permit. And federal agencies facilitate the transaction by immediately retiring grazing permits received from a permittee. The Rural Economic Vitalization Act caps the total number of grazing permits that may be retired each year at 100.
"This is a win-win-win for ranchers, the environment and taxpayers," said Rose Chilcoat of Great Old Broads for Wilderness. "Let's pass this bill so that we can finally take some common-sense steps to ensure healthy public lands."
For more information, click here.
EcoWatch Daily Newsletter
Artist's conception of solar islands in the open ocean. PNAS
Millions of solar panels clustered together to form an island could convert carbon dioxide in seawater into methanol, which can fuel airplanes and trucks, according to new research from Norway and Switzerland and published in the Proceedings of the National Academy of Sciences journal, PNAS, as NBC News reported. The floating islands could drastically reduce greenhouse gas emissions and dependence on fossil fuels.
Marcos Alves / Moment Open / Getty Images
More than 40 percent of insects could go extinct globally in the next few decades. So why did the U.S. Environmental Protection Agency (EPA) last week OK the 'emergency' use of the bee-killing pesticide sulfoxaflor on 13.9 million acres?
EcoWatch teamed up with Center for Biological Diversity via EcoWatch Live on Facebook to find out why. Environmental Health Director and Senior Attorney Lori Ann Burd explained how there is a loophole in the The Federal Insecticide, Fungicide, and Rodenticide Act under section 18, "that allows for entities and states to request emergency exemptions to spraying pesticides where they otherwise wouldn't be allowed to spray."
Simple swaps that cut down on kitchen trash.
Sponsored
By Kayla Robbins
Along with the bathroom, the kitchen is one of the most daunting areas to try and make zero waste.
View of downtown Miami, Florida from Hobie Island on Feb. 2, 2019.
Michael Muraz / Flickr
The Democratic candidates for president descended upon Miami for a two-night debate on Wednesday and Thursday. Any candidate hoping to carry the state will have to make the climate crisis central to their campaign, as The New York Times reported.
By Sharon Kelly
On Monday, the Wall Street Journal featured a profile of Scott Sheffield, CEO of Pioneer Natural Resources, whose company is known among investors for its emphasis on drawing oil and gas from the Permian basin in Texas using horizontal drilling and hydraulic fracturing, or fracking.
Pexels
By Craig K. Chandler
The federal government has available to it, should it choose to use them, a wide range of potential climate change management tools, going well beyond the traditional pollution control regulatory options. And, in some cases (not all), without new legislative authorization.
Denis Poroy / Getty Images
By Dan Gray
Processed foods, in their many delicious forms, are an American favorite.
But new research shows that despite increasing evidence on just how unhealthy processed foods are, Americans have continued to eat the products at the same rate.
By Sarah Steffen
With a profound understanding of their environmental surroundings, indigenous communities around the world are often cited as being pivotal to tackling climate change.