Volcano Grows New Island Off Japanese Coast
A once-hidden Japanese volcano has been rising up out of the Pacific ocean. Thanks to new research published last month in the journal Geology, scientists now have a better understanding of how this very young island formed.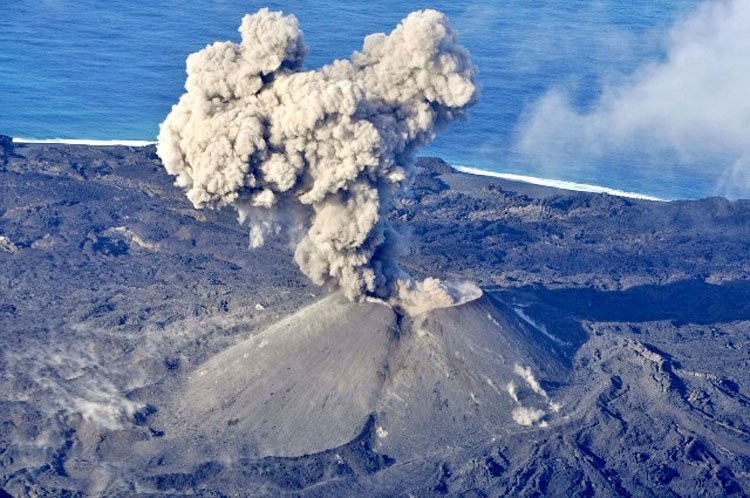 Nishinoshima is a volcanic island about 620 miles south of Tokyo, which was first seen erupting in 1973. According to IFLScience, it's part of a much larger underwater volcano that reaches nearly two miles high and 58 miles in circumference at its base.
In November 2013, explosive volcanic activity was reported near the island of Nishinoshima. Within a month, enough lava had flowed up to the ocean surface to create a new island 82 feet above sea level. And by the end of the year, this new island merged with Nishinoshima to create an even larger island.
IFLScience explained:
After observing the island's birth, the authors of this new study have revealed that its formation occurred in two main stages. The first involved the sudden release of hot, broiling lava into the shallow, cold water. An envelope of steam rapidly formed along the margins of the lava, before explosively expanding into the water and dramatically propelling glassy molten blobs high into the air.
This is known as a "Surtseyan" eruption, named after the Icelandic island that formed in precisely the same way back in 1963. Within three days of discovering the island, the Japanese Maritime Self-Defense Force noticed that the eruption style changed.
The island was now breaching the surface, and water could no longer fall into the lava-filled vent. "Dry" slugs of gas were now suddenly bursting up from the miniature mountain. This "Strombolian" eruption phase produced spectacular fire fountains, and allowed the lava to build up on the pre-existing rock.
Instead of taking a direct path from the vent of the volcano down into the sea, the lava took a far stranger route. As older lava cooled, it formed peculiar twists, bumps, tubes and grooves at the surface, so newer lava was forced down these natural helter-skelters before reaching the water and cooling.
The newly formed island is still volcanically active and continues to create new land. "In fact, since the eruption began, about 80 Olympic-sized swimming pools' worth of lava has been produced every single day," IFLScience said.
And scientists are excited to see what life forms emerge from this "evolutionary experiment," as volcanic land is extremely hospitable to life.
Watch Earthspace101's video of the evolution of this new island:
YOU MIGHT ALSO LIKE
Nation's First Vegan-Certified Farm Is Booming in Philly
First-of-it-Kind Supermarket Sells Expired Food, And It's a Hit
World's First and Only Sunglasses Made From 100% Reclaimed Fishing Nets
Humpback Whale Entangled in Illegal Gillnet Saved by Sea Shepherd Crew
Bill Maher is sick of billionaires' obsession with Mars, more like "Mars-a-Lago," he said.
In a new animation produced by ATTN:, the popular talk show host of Real Time, discusses the perils of our planet, including how "climate change is killing us."
Keep reading...
Show less
Dr. Benjamin D. Santer, research scientist
A group of prominent climate scientists have written a study explicitly refuting statements made by the U.S. Environmental Protection Agency Administrator Scott Pruitt on climate data. During his Senate confirmation hearing, Pruitt claimed in a written response that satellite data shows a "leveling off" of warming over the past two decades.
Keep reading...
Show less
By David Pomerantz
The Nevada Assembly passed a bill Wednesday that would dramatically increase the growth of renewable energy in the state, but Sheldon Adelson, the casino magnate and major donor to Donald Trump, is attempting to prevent the bill from becoming law.
Keep reading...
Show less
Matt Crossick
By Yosola Olorunshola
Whether it's through fashion or protest, Vivienne Westwood is not a woman afraid of making a statement.
On May 23, she rocked up to the residence of the Archbishop of Canterbury in London with a special guest—the Grim Reaper—to issue a strong statement on the Church of England's position on fracking.
Keep reading...
Show less
By Paul Brown
The food industry and big agricultural concerns are driving climate change and at the same time threatening to undermine efforts to feed the world's growing population, according to GRAIN, an organization that supports small farmers.
Particularly singled out for criticism are the large chemical fertilizer producers that have gained access to the United Nations talks on climate change. GRAIN accuses them of behaving like the fossil fuel companies did in the 1990s, pushing false information in the hope of delaying real action on climate change.
Keep reading...
Show less
May. 24, 2017 06:55PM EST
By Sydney Robinson
President Trump has no doubt been given a long list of extravagant, elaborate gifts in his lifetime, but the gift given to him today by Pope Francis may not make it on his most favorite list.
Keep reading...
Show less
May. 24, 2017 07:17PM EST
By John Rogers
Maybe it's because I first started working on clean energy while serving in the Peace Corps he founded, or maybe it's my years of working on these issues from his home state. But I can't help thinking about the 100th anniversary of John F. Kennedy's birth, and connecting his stirring rhetoric to the energy challenges of our times.
Here's what our 35th president might have said about the challenges of energy transition and the opportunities in clean energy:
"Change is the law of life. And those who look only to the past or present are certain to miss the future."
Keep reading...
Show less
May. 24, 2017 01:47PM EST
Keep reading...
Show less


Get EcoWatch in your inbox