This website uses cookies to ensure you get the best experience while browsing it. By clicking 'Got It' you're accepting these terms.
Vitter-Udall Chemical Bill a 'Wolf in Sheep's Clothing,' Say Advocacy Groups
Apr. 02, 2015 09:59AM EST
Health + Wellness
The bipartisan chemical safety reform bill introduced by senators David Vitter (R-La.) and Tom Udall (D-NM) has been overwhelmingly opposed by more than 50 environmental justice, health, sustainable business and community organizations. The groups have composed several letters to the U.S. Senate pointing out some of the major flaws in the bill, which would stymie states from taking new actions to protect consumers and communities from exposure to toxic chemicals.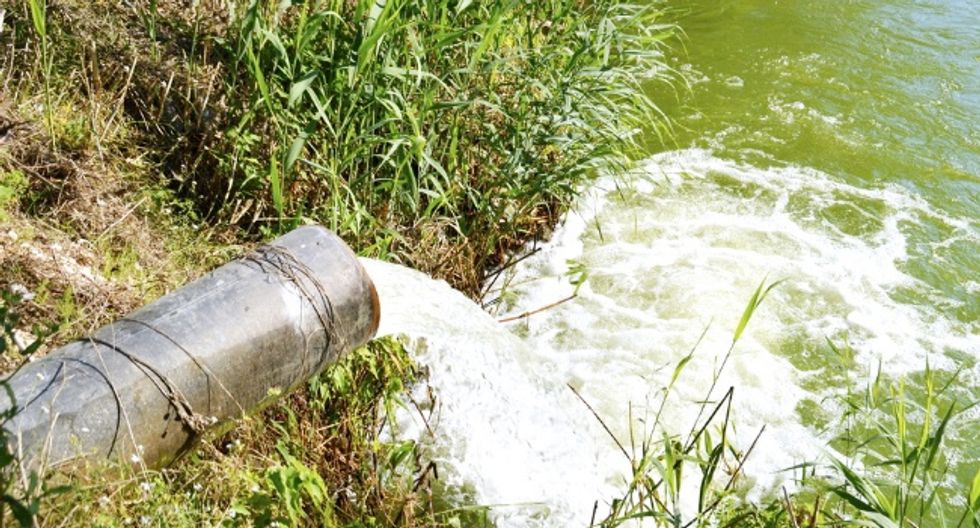 Photo credit: Shutterstock
Senate bill 697 is named the Frank R. Lautenberg Chemical Safety for the 21st Century Act and is meant to update the nation's outdated chemical safety law, the Toxic Substances Control Act, which is nearly 40 years old. The legislation would give the U.S. Environmental Protection Agency (EPA) the power to regulate the safety of chemicals in the marketplace.
However, advocacy organizations claim that the Vitter-Udall bill would actually be worse than the current law, as it not only fails to reform the country's toxic chemical safety program, it would also delay EPA reviews up to seven years with no deadline for restricting even the most dangerous chemicals.
The proposed bill would also undermine states that already have tougher chemical safety laws than the federal government, critics of the bill have noted. States would be blocked from regulating any chemical that the EPA has designated as "high priority," which means the agency is already assessing it for safety. Additionally, state regulations on chemicals would only stand if they were enacted before Jan. 1. (This tactic of "preemption" is a favorite of the chemical lobby group, and may explain why it rushed to endorse the Vitter-Udall bill, Tony Iallonardo of Safer Chemicals Healthy Families pointed out).
"This isn't chemical safety reform; this bill is an attack on state's ability to protect the health of our families," said Juan Parras, the founder of Texas Environmental Justice Advocacy Services. "While this bill pretends to be chemical safety reform, it really just blocks states from taking action while allowing the chemical industry to continue exposing us to untested and potentially dangerous substances."
Kathy Curtis, executive director of Clean and Healthy New York, said that "S. 697 is a 'wolf in sheep's clothing.'" She added, "While purporting to update our nation's chemical safety laws, the bill actually guts current protections which are largely held at the state level. States, responding to the very real harm caused by toxic chemicals in our products, workplaces and homes, have taken action to protect the public, especially children. Now, this vaguely worded law could undermine some of the 250 laws in 38 states that reduce exposure to dangerous substances."
Particularly troubling is when the San Francisco Chronicle revealed that a draft of the law was authored by the American Chemistry Council, a leading trade organization and lobbyist for the chemical industry.
"It is no surprise that a bill written and backed by the chemical industry is bad for consumers and bad for public health," said Ken Cook, president and cofounder of the Environmental Working Group. "What is truly disturbing is that Congress is actually considering it. Americans deserve more from their elected leaders. We need a chemical law that strengthens safety reviews and preserves the roles of states to help protect them and their families from toxic and potentially harmful substances."
Sustainable businesses have also banded together to oppose the bill. Companies for Safer Chemicals—a coalition of 3,000 consumer brands led by American Sustainable Business Council including Seventh Generation—have also expressed "serious reservations" about the Vitter-Udall bill.
John Replogle, president and CEO of Seventh Generation, said federal legislation should not "tie the hands of states which have shown leadership in protecting their citizens, restricting the worst chemicals and, ultimately, driving the marketplace towards safer alternatives." The group is advocating for amendments to the current bill.
Community advocacy groups are speaking out too, particularly on how the bill would still not protect people of color and low-income communities who are most at risk to chemical exposure. "Our indigenous peoples in Alaska and the Arctic have some of the highest exposures to persistent bioaccumulative toxics (PBTs) of any population on the planet and we suffer disproportionate health harms including cancers, birth defects and learning and developmental disabilities," said Vi Waghiyi, Health and Justice program director of Alaska Community Action on Toxics.
Public health and safety advocates have described numerous other concerns with S. 697, including:
S. 697 would not explicitly protect communities affected by legacy chemical contamination, or by chemical disasters such as the 2014 Elk River spill in West Virginia that contaminated drinking water for 300,000 people.

S. 697 would not explicitly require EPA to consider the cumulative burden of chemical pollution—which is essential for people who live near highly contaminated industrial and military sites or are disproportionately exposed to chemicals through food or at their workplace.

S. 697 lacks strict deadlines that ensure that EPA can make meaningful progress reviewing and regulating the hundreds of chemicals of concern. It would require only that EPA start the review of 25 chemicals within five years and would allow the agency up to seven years to review each substance. There is no clear deadline for implementing restrictions or phase-outs of even the most toxic chemicals.

S. 697 will deny states the ability to take new actions to regulate any "high priority" chemicals for which EPA has initiated a safety review, despite the several-year gap in protections before EPA takes action. Only state actions taken by Jan. 1, 2015 are explicitly grandfathered in, creating further ambiguity about state-level protections remaining in place until EPA acts to restrict a chemical of concern.

S. 697 would allow manufacturers to receive expedited review of their favored chemicals, but it would not require expedited review of toxic chemicals most clearly needed with regard to the public interest, such as asbestos and other persistent, toxic and bioaccumulative substances.

S. 697 would add yet another hurdle to the process of regulating products containing toxic chemicals. The bill would require EPA to show that people have "significant exposure" to the chemical in the product before taking regulatory action, which provides another avenue for challenges from industry.

S. 697 does not ensure that EPA's chemical safety review program is adequately funded. It in fact limits industry sources of funding, effectively hobbling EPA's ability to effectively safeguard public health from toxic chemicals. S. 697 requires that industry contribute only 25 percent of the total cost to EPA, with a cap of $18 million per year total for all chemicals under review.
"In January 2014, 300,000 West Virginians learned the severe inadequacies in our nation's chemical classification laws and how little they adequately reflect human and environmental risk," said Maya Nye, executive director of People Concerned About Chemical Safety. "When a chemical used in energy development contaminated the state's largest drinking water supply, public health officials didn't have toxicity data needed to base their public health decisions."
To read more responses from health and community advocacy organizations against the Vitter-Udall bill, click here.
YOU MIGHT ALSO LIKE
EPA Report Finds Nearly 700 Chemicals Used in Fracking
Watch Viral Video: Nebraska Man Asks Oil and Gas Commission One Simple Question: 'Would You Drink It?'
EcoWatch Daily Newsletter
polaristest / Flickr / CC BY-NC-ND 2.0
By Melissa Kravitz Hoeffner
Over six gallons of water are required to produce one gallon of wine. "Irrigation, sprays, and frost protection all [used in winemaking] require a lot of water," explained winemaker and sommelier Keith Wallace, who's also a professor and the founder of the Wine School of Philadelphia, the largest independent wine school in the U.S. And water waste is just the start of the climate-ruining inefficiencies commonplace in the wine industry. Sustainably speaking, climate change could be problematic for your favorite glass of wine.
Pixabay
Spinach is a true nutritional powerhouse, as it's rich in vitamins, minerals, and antioxidants.
Pexels
By Jeff Turrentine
From day to day, our public health infrastructure — the people and systems we've put in place to keep populations, as opposed to individuals, healthy — largely goes unnoticed. That's because when it's working well, its success takes the form of utter normalcy.
By Eoin Higgins
A viral video showing cell phone data collected by location accuracy company X-Mode from spring break partiers potentially spreading the coronavirus around the U.S. has brought up questions of digital privacy even as it shows convincingly the importance of staying home to defeat the disease.
Aerial shot top view Garbage trucks unload garbage to a recycle in the vicinity of the city of Bangkok, Thailand. bugto / Moment / Getty Images
German researchers have identified a strain of bacterium that not only breaks down toxic plastic, but also uses it as food to fuel the process, according to The Guardian.