This website uses cookies to ensure you get the best experience while browsing it. By clicking 'Got It' you're accepting these terms.
Visual Artists to Show Leaders Visions of Sustainable Communities
Nov. 23, 2011 10:22AM EST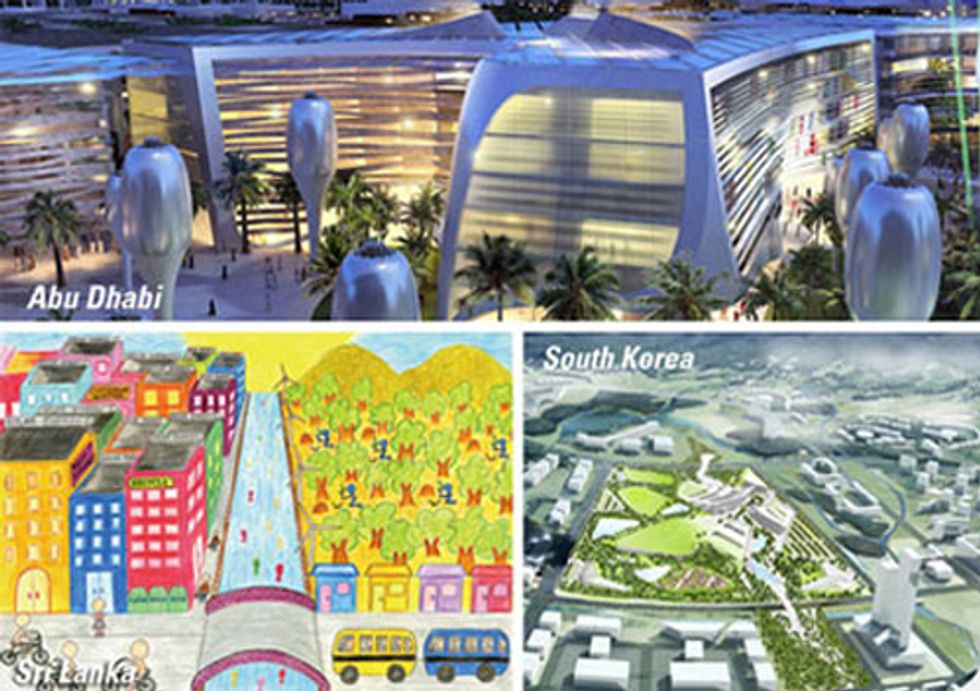 A team of world-class visual artists and experts in sustainable development announced Nov. 23 it's launching a first-of-its-kind global conversation to learn what people want their communities to be like in 2030.
The project, called The Future We Want, is being conducted in cooperation with the United Nations (U.N.), leading up to the U.N.'s Conference on Sustainable Development, better known as Rio+20, next June in Rio de Janeiro.
According to one of its directors, William Becker, the project is assembling a group of the world's foremost visual artists and technology experts who will use a variety of tools to gather ideas from around the world on this question—What do we want our community and lives to be like 20 years from now, including how we've addressed challenges such as climate change, population growth and resource limitations?
Based on responses, The Future We Want team will produce vivid videos and animations of life in a variety of cultures and nations in the year 2030, and unveil them in an exhibit at the Rio conference.
While the project is not an official U.N. enterprise—it's funded by individuals, corporations and foundations—it's designed to add a new dimension to Rio+20 and other upcoming U.N. events on sustainable development. The project's title mirrors the U.N.'s tagline for Rio+20 announced Nov. 22 by Secretary General Ban Ki-moon.
"We have seen and heard a great deal about the future we must avoid," Becker said. "It's time for a conversation about the future we can build."
The co-director of The Future We Want project, Jonathan Arnold noted that communications technologies available today make possible an unprecedented global dialogue. Arnold already uses advanced visualization technologies in his work as a successful smart-growth real estate developer in Kansas City, Mo.
"There is a point at which scientific warnings and dramatic media produce apocalypse fatigue when they focus solely on civilization's collapse," Arnold said. "When people reach that point, they feel helpless and they disengage. The Future We Want will provide balance by inviting and visualizing realistic ideas from people around the world about the positive future that's possible if we put our minds to it."
Becker and Arnold, who have been developing the project the past three years, noted that the power of positive vision was demonstrated more than 70 years ago when General Motors (GM) hosted the Futurama Pavilion at the 1939 New York Worlds Fair. Millions of visitors were shown models of a dynamic, highly mobile, car-centered society, offering hope during the Great Depression. Developed nations have invested in the GM vision ever since.
"It clearly is time for a new vision," Arnold said. "The world shown in 1939 is no longer sustainable. The Great Recession, the growing impacts of global warming, impending shortages of water and other critical resources all have created another teachable moment in which we are learning that our old concepts of communities no longer work."
"We believe the world is hungry for a future that is more stable, more secure, more resilient and more genuinely prosperous than the world we would get with business as usual," Arnold said.
People interested in joining The Future We Want conversation can begin by clicking here.
For more information, click here.
EcoWatch Daily Newsletter
Aerial view of Ruropolis, Para state, northen Brazil, on Sept. 6, 2019. Tthe world's biggest rainforest is under threat from wildfires and rampant deforestation. JOHANNES MYBURGH / AFP via Getty Images
By Kate Martyr
Deforestation in Brazil's Amazon rainforest last month jumped to the highest level since records began in 2015, according to government data.
A total of 563 square kilometers (217.38 square miles) of the world's largest rainforest was destroyed in November, 103% more than in the same month last year, according to Brazil's space research agency.
From January to November this year an area almost the size of the Caribbean island of Puerto Rico was destroyed — an 83% overall increase in destruction when compared with the same period last year.
The figures were released on Friday by the National Institute for Space Research (INPE), and collected through the DETER database, which uses satellite images to monitor forest fires, forest destruction and other developments affecting the rainforest.
What's Behind the Rise?
Overall, deforestation in 2019 has jumped 30% compared to last year — 9,762 square kilometers (approximately 3769 square miles) have been destroyed, despite deforestation usually slowing during November and December.
Environmental groups, researchers and activists blamed the policies of Brazil's president Jair Bolsonaro for the increase.
They say that Bolosonaro's calls for the Amazon to be developed and his weakening support for Ibama, the government's environmental agency, have led to loggers and ranchers feeling safer and braver in destroying the expansive rainforest.
His government hit back at these claims, pointing out that previous governments also cut budgets to environment agencies such as Ibama.
The report comes as Brazil came to loggerheads with the Association of Small Island States (AOSIS) over climate goals during the UN climate conference in Madrid.
AOSIS blasted Brazil, among other nations, for "a lack of ambition that also undermines ours."
Last month, a group of Brazilian lawyers called for Bolsonaro to be investigated by the International Criminal Court over his environmental policies.
Reposted with permission from DW.
The Carolina parakeet went extinct in 1918. James St. John /
CC BY 2.0
The Carolina parakeet, the only parrot species native to the U.S., went extinct in 1918 when the last bird died at the Cincinnati Zoo. Now, a little more than 100 years later, researchers have determined that humans were entirely to blame.
Pexels
Vitamin C is a very important nutrient that's abundant in many fruits and vegetables.
BLM drill seeders work to restore native grasses after wildfire on the Bowden Hills Wilderness Study Area in southeast Oregon, Dec. 14, 2018. Marcus Johnson / BLM / CC BY 2.0
By Tara Lohan
In 2017 the Thomas fire raged through 281,893 acres in Ventura and Santa Barbara counties, California, leaving in its wake a blackened expanse of land, burned vegetation, and more than 1,000 destroyed buildings.