Virginians Pressure Dominion to Dump ALEC
Sep. 05, 2014 03:45PM EST
Business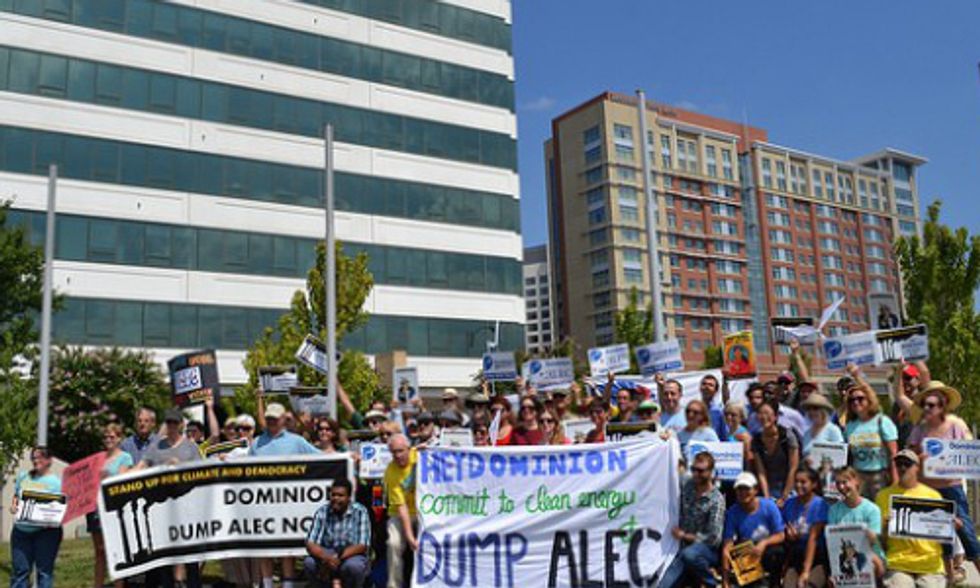 There was a time when membership in the American Legislative Exchange Council aka ALEC was a plus for large corporations. The organization, which claims to be a nonprofit advocacy group but functions more like a lobbying group, writes so-called "model legislation" designed to favor business interests over all other interests, including the environment.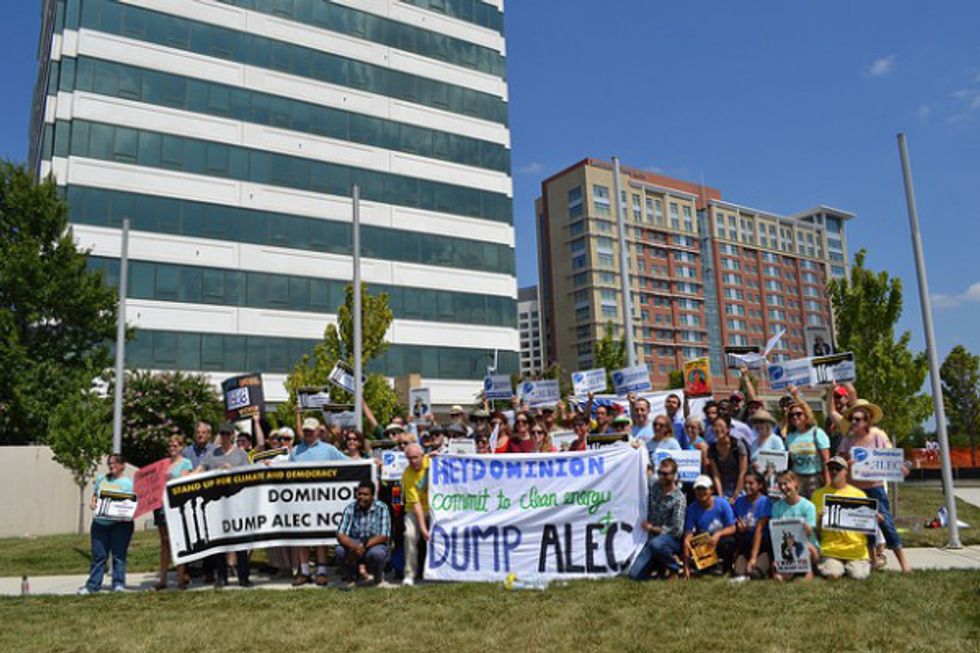 But that was when ALEC's activities were shrouded in secrecy. In the last several years, as they've gotten more publicity, membership has become a liability–and dozens of companies have dropped out, including biggies like CocaCola, Pepsi, Amazon, GE, McDonald's and Hewlett-Packard.
Activists want Virginia utility Dominion Resources to follow them. Yesterday, about 80 clean energy advocates gathered outside ALEC's Arlington, Virginia offices to draw attention to its work on behalf of polluters and to give Dominion Resources the sort of attention it probably doesn't want.
According to a Greenpeace blog, customers often have no choice other than Dominion due to market monopolization, and protestors want the company to stop investing the money they make from customers to fight against clean energy measures.
"Dumping ALEC is a basic gesture that utilities like Dominion and Duke Energy can make to show they're beginning to take climate change seriously," said Greenpeace's Connor Gibson. "Any utility claiming to acknowledge climate science or support clean energy undermines itself by bankrolling ALEC's interference on these issues."
Ahead of the protest, Alexandria mayor Bill Euille penned an editorial that appeared on the Fairfax (VA) Times last week. In it, he said:
 In working to head off the many dangers of global warming, we need the cooperation of everybody affected.  We must not permit our future well-being to be held hostage by fossil fuel companies and interests with a vested interest in maintaining the dangerous, unsustainable status quo. That means we must push back hard against groups like the American Legislative Exchange Council (ALEC), an organization which has expressly opposed the EPA's effort to curb carbon pollution from power plants as well as renewable energy while promoting dirty fossil fuels.
Sad to say, but one of the members (and funders) of that organization is Dominion Virginia Power, not coincidentally the largest emitter of carbon pollution in Virginia. In my personal opinion, Dominion Virginia Power should take a leadership role in mitigating climate change impacts by focusing on systematically replacing its coal-fired power plants with those using cleaner fuels and/or progressively installing new power sources using renewable energy.
Euille urged citizens to participate in yesterday's rally, where he spoke, along with a roster of speakers from sponsoring groups like Climate Progress, Black Youth Project, Sierra Club, Food & Water Watch and Oceana. Progress VA and the Chesapeake Climate Action Network were also sponsors.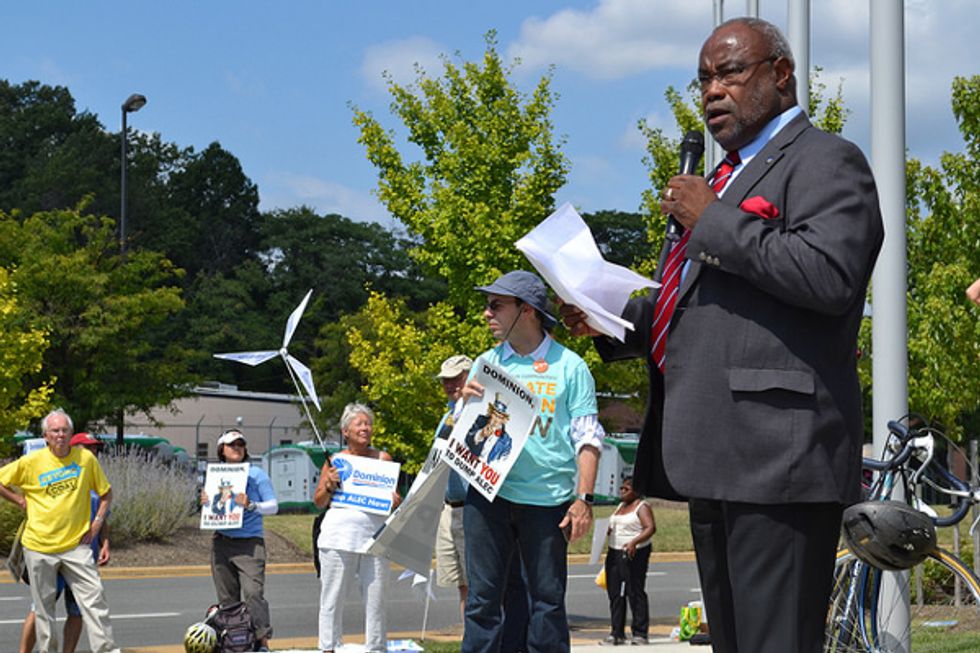 Virginia Sierra Club chair Ivy Main, who is also a member of Virginia Governor Terry McAuliffe's Climate Commission said, "ALEC works in the shadows to get its agenda through state legislatures, using the money and influence of corporate members like Dominion Resources. ALEC's agenda is anti-EPA, anti-clean energy, anti-consumer, and anti-worker. And because the only ones who can block the ALEC agenda are the people, ALEC is also anti-voting rights. ALEC is not an organization any public utility should belong to, and Dominion's customers deserve better. Dominion should quit ALEC now."
ALEC serves as a front for dirty energy companies, working in state legislatures to attack incentives for clean energy, including freezing  or repealing renewable energy standards as it did in Ohio and penalizing homeowners who install solar panels as it did in Arizona.
Greenpeace has pushed ALEC to explain how blocking clean energy while promoting incentives for fossil fuel interests is in line with its so-called "free market" strategy. 
"ALEC staff have not been able to account for the contradiction," says Greenpeace.
YOU MIGHT ALSO LIKE
Why 6 Utilities Quietly Dumped ALEC and Others Won't Even Speak of the Lobbying Group
Why ALEC Said 'No Thanks' to Renewable Energy Members
ALEC Continues Attack on Renewable Energy Policies to Keep America Addicted to Fossil Fuels
EcoWatch Daily Newsletter