Viral Video Confronts the War on Science
Oct. 12, 2015 11:31AM EST
Climate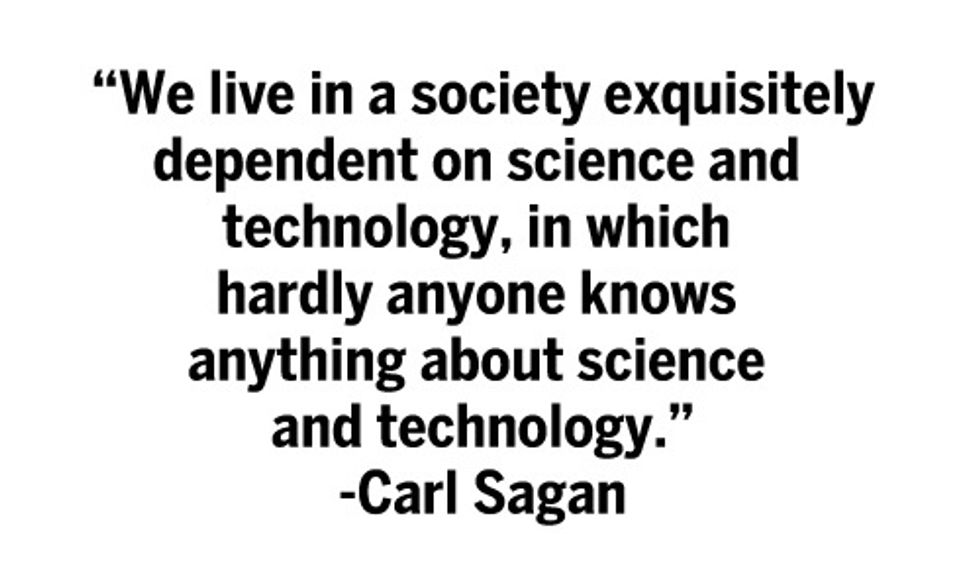 In yet another case of learning nothing from history, modern society continues the war on science. "Science and society are often at odds," explains the AsapScience video, which has garnered more than 1 million views since it was published four days ago.
"Scientific discoveries like the Earth is round, that our planet revolves around the Sun or that diseases are spread through germs are all once ideas that were rejected by society," continues the narrator. "So much so that Giordano Bruno was burned at the stake for suggesting the Earth wasn't the center of the universe, and even Galileo was sentenced to house arrest for supporting the theory.
"Today, we see the rejection of scientific evidence for vaccinations leading to preventable diseases like Measles coming back after being wiped out in the year 2000. Or the rejection of the scientific evidence on climate change, despite the vast consensus among scientists."
Several of the top GOP presidential candidates, including Ted Cruz, Ben Carson and Donald Trump have all flat out denied man-made climate change. Ben Carson has even gone so far as to question the theory of evolution and says he just doesn't have "that much faith" to believe in the Big Bang theory, but says people "are welcome to believe whatever they want to believe. I'm welcome to believe what I want to believe." Carson, who is a retired neurosurgeon no less, is speaking as if science is "no more than a religious system he has the freedom to reject," as Rebecca Leber at New Republic puts it.
Watch The War on Science video here:
YOU MIGHT ALSO LIKE
John Oliver Rips Fracking Industry for its Deadly Bakken Boom, Killing One Person Every Six Weeks
2 More Fracking-Related Earthquakes Hit Oklahoma Despite New Rules Meant to Prevent Them
2.6 Billion Pounds of Monsanto's Glyphosate Sprayed on U.S. Farmland in Past Two Decades
Disturbing Images Expose the Horrific Impact of Plastic Trash on Marine Animals
EcoWatch Daily Newsletter
Recent Stories from EcoWatch