This website uses cookies to ensure you get the best experience while browsing it. By clicking 'Got It' you're accepting these terms.


The best of EcoWatch, right in your inbox. Sign up for our email newsletter!
Video Shows Relationship between Damming Rivers and Climate Change
Nov. 28, 2011 09:39AM EST
Climate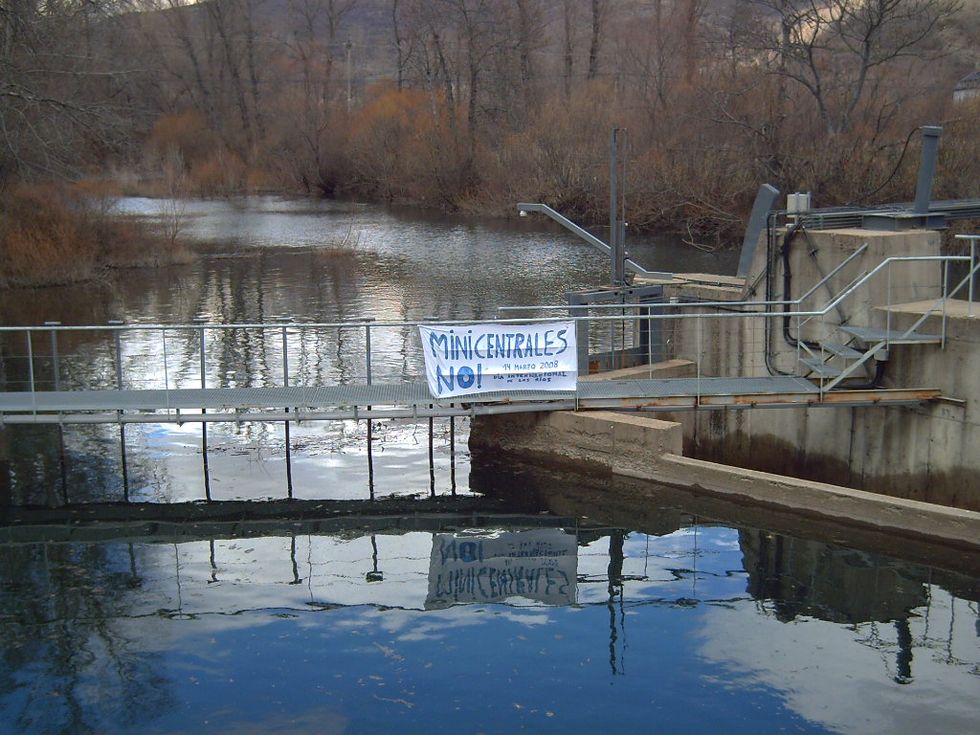 International Rivers and Friends of the Earth International have teamed up to create a state-of-the-art Google Earth 3-D tour and video narrated by Nigerian activist Nnimmo Bassey, winner of the prestigious Right Livelihood Award. The production was launched on the first day of the COP17 climate meeting in Durban, South Africa. The video and tour allow viewers to explore why dams are not the right answer to climate change by learning about topics such as reservoir emissions, dam safety and adaptation while visiting real case studies in Africa, the Himalayas and the Amazon.
The Durban climate meeting is themed "saving tomorrow today." Yet a global dam boom being promoted by dam proponents—including dozens of megadams proposed for Africa's major rivers—could make a mockery of this vision. "Healthy rivers are becoming an endangered species because of the impacts of large dams," said Jason Rainey, executive director of International Rivers. "There is no 'tomorrow' without rivers—we can't adapt to a changing climate without them."
"Many African nations are dangerously dependent on hydropower, yet new dams are being built without any analysis of how climate change could affect their economic viability or their safety," said Nnimmo Bassey, chair of Friends of the Earth International and narrator of the Google Earth video. "Africa cannot afford dried-up reservoirs or dam collapses on top of the already high costs of adapting to a changing climate. We must develop climate-safe energy systems that improve lives, share the development wealth and help us all weather the coming storm."
Watch the video below and take action to protect rivers from climate change and dams:
Download the Google Earth Tour by clicking here.
Using state of the art animation, the Google Earth production illustrates three key reasons that large dams are the wrong response to climate change:
River flows are increasingly unpredictable. Large dams have always been based on the assumption that future stream-flow patterns will mirror those of the past, but this is no longer true. Climate change has begun to significantly and unpredictably change precipitation patterns. More frequent droughts will make many hydropower projects uneconomic. More extreme rainfall will increase the risk of dam failures and catastrophic flood releases.
Healthy rivers are critical for supporting life on Earth. Big dams make it harder for people and ecosystems downstream of dams to adapt to climate change by reducing water quality and quantity, drying up forests and wetlands, flooding productive land and destroying fisheries.
Dam reservoirs emit greenhouse gases, especially in the tropics. Dam reservoirs are a globally significant source of one of the most potent gases, methane. Meanwhile, free-flowing rivers play a crucial role in helping trap carbon.
The tour illustrates how melting glaciers in the Himalayas—an effect of climate change—may lead to higher flood and safety risks for communities living downstream of dams. The tour plunges the viewer deep inside one of Brazil's dirtiest reservoirs, at the Tucuruí Dam, to visualize how rotting organic material creates methane gas, which bubbles up from dam reservoirs to emit greenhouse gases. The tour visualizes what smaller, decentralized projects would look like—an approach that could more efficiently meet energy and water needs in Africa, while also reducing the economic risks of drought-crippled dams and protecting life-giving rivers.
More information:
For more information, click here.
EcoWatch Daily Newsletter
A school in Queensland, Australia sent a note home to parents asking them to send their children with extra water bottles since its water supply has run dry, according to the Australian Broadcasting Corporation (ABC).
European Commission President Ursula von der Leyen delivers a press statement on the European Green Deal at the EU headquarters in Brussels, Belgium on Dec. 11, 2019. Xinhua / Zheng Huansong via Getty Images
The European Commission introduced a plan to overhaul the bloc's economy to more sustainable, climate-conscious policies and infrastructure, with the goal of being carbon-neutral by 2050, according to CNBC.
Young activists shout slogans on stage after Greta Thunberg (not in the picture) took part in the plenary session during the COP25 Climate Conference on Dec. 11 in Madrid, Spain. Pablo Blazquez Dominguez / Getty Images
By Andrea Germanos
Young activists took over and occupied the main stage at the COP25 climate conference in Madrid, Spain Wednesday and demanded world leaders commit to far more ambitious action to address the ecological emergency.
A NASA image showing the ozone hole at its maximum extent for 2015. NASA Goddard Space Flight Center
The Montreal Protocol, a 1987 international treaty prohibiting the production of chlorofluorocarbons (CFCs) to save the ozone layer, was the first successful multilateral agreement to successfully slow the rate of global warming, according to new research. Now, experts argue that similar measures may lend hope to the climate crisis.
Police in Wales are in the midst of an unusual investigation: the sudden death of more than 200 starlings.