This website uses cookies to ensure you get the best experience while browsing it. By clicking 'Got It' you're accepting these terms.
Video Shows Relationship between Damming Rivers and Climate Change
Nov. 28, 2011 09:39AM EST
Climate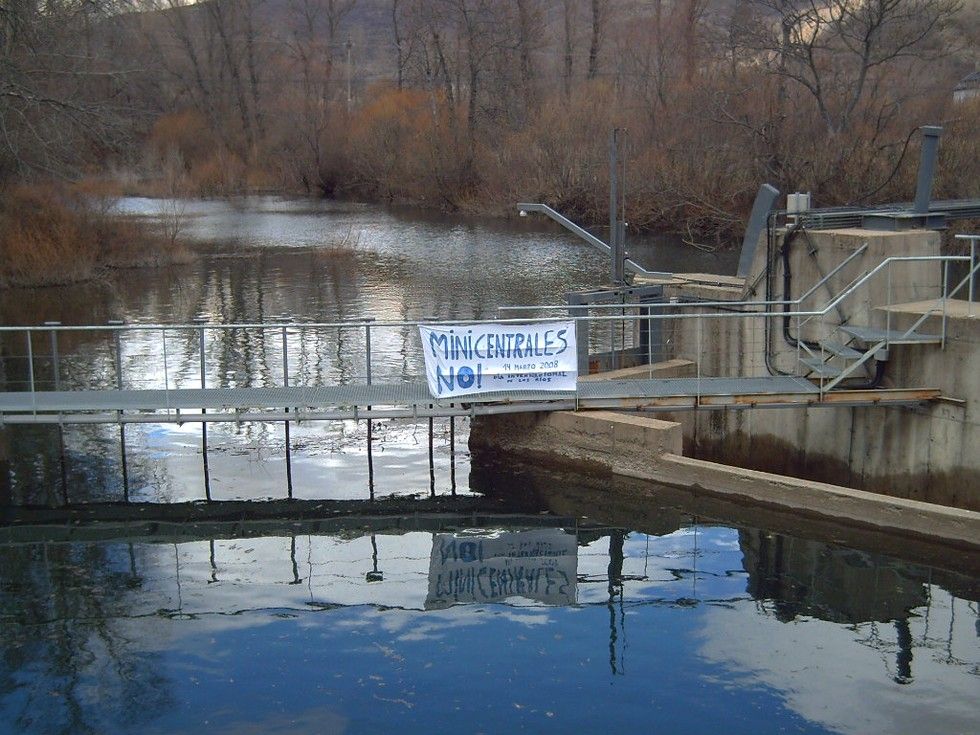 International Rivers and Friends of the Earth International have teamed up to create a state-of-the-art Google Earth 3-D tour and video narrated by Nigerian activist Nnimmo Bassey, winner of the prestigious Right Livelihood Award. The production was launched on the first day of the COP17 climate meeting in Durban, South Africa. The video and tour allow viewers to explore why dams are not the right answer to climate change by learning about topics such as reservoir emissions, dam safety and adaptation while visiting real case studies in Africa, the Himalayas and the Amazon.
The Durban climate meeting is themed "saving tomorrow today." Yet a global dam boom being promoted by dam proponents—including dozens of megadams proposed for Africa's major rivers—could make a mockery of this vision. "Healthy rivers are becoming an endangered species because of the impacts of large dams," said Jason Rainey, executive director of International Rivers. "There is no 'tomorrow' without rivers—we can't adapt to a changing climate without them."
"Many African nations are dangerously dependent on hydropower, yet new dams are being built without any analysis of how climate change could affect their economic viability or their safety," said Nnimmo Bassey, chair of Friends of the Earth International and narrator of the Google Earth video. "Africa cannot afford dried-up reservoirs or dam collapses on top of the already high costs of adapting to a changing climate. We must develop climate-safe energy systems that improve lives, share the development wealth and help us all weather the coming storm."
Watch the video below and take action to protect rivers from climate change and dams:
Download the Google Earth Tour by clicking here.
Using state of the art animation, the Google Earth production illustrates three key reasons that large dams are the wrong response to climate change:
River flows are increasingly unpredictable. Large dams have always been based on the assumption that future stream-flow patterns will mirror those of the past, but this is no longer true. Climate change has begun to significantly and unpredictably change precipitation patterns. More frequent droughts will make many hydropower projects uneconomic. More extreme rainfall will increase the risk of dam failures and catastrophic flood releases.
Healthy rivers are critical for supporting life on Earth. Big dams make it harder for people and ecosystems downstream of dams to adapt to climate change by reducing water quality and quantity, drying up forests and wetlands, flooding productive land and destroying fisheries.
Dam reservoirs emit greenhouse gases, especially in the tropics. Dam reservoirs are a globally significant source of one of the most potent gases, methane. Meanwhile, free-flowing rivers play a crucial role in helping trap carbon.
The tour illustrates how melting glaciers in the Himalayas—an effect of climate change—may lead to higher flood and safety risks for communities living downstream of dams. The tour plunges the viewer deep inside one of Brazil's dirtiest reservoirs, at the Tucuruí Dam, to visualize how rotting organic material creates methane gas, which bubbles up from dam reservoirs to emit greenhouse gases. The tour visualizes what smaller, decentralized projects would look like—an approach that could more efficiently meet energy and water needs in Africa, while also reducing the economic risks of drought-crippled dams and protecting life-giving rivers.
More information:
For more information, click here.
EcoWatch Daily Newsletter
A. Battenburg / Technical University of Munich
By Sarah Kennedy
Algae in a pond may look flimsy. But scientists are using algae to develop industrial-strength material that's as hard as steel but only a fraction of the weight.
Variety of fermented food korean traditional kimchi cabbage and radish salad. white and red sauerkraut in ceramic plates over grey spotted background. Natasha Breen / REDA&CO / Universal Images Group / Getty Image
Even if you've never taken probiotics, you've probably heard of them.
These supplements provide numerous benefits because they contain live microorganisms, such as bacteria or yeast, which support the healthy bacteria in your gut (1, 2, 3, 4).
Pexels
Singapore will become the first country in the world to place a ban on advertisements for carbonated drinks and juices with high sugar contents, its health ministry announced last week. The law is intended to curb sugar consumption since the country has some of the world's highest diabetes rates per capita, as Reuters reported.
A typical adult takes around 20,000 breaths per day. If you live in a megacity like Beijing, with many of those lungfuls you're likely to inhale a noxious mixture of chemicals and pollutants.
Fred Stone holds his brown swiss cow Lida Rose at his Arundel dairy farm on March 18 after a press conference where he spoke about PFAS chemical contamination in his fields. Gregory Rec / Portland Portland Press Herald via Getty Images
By Susan Cosier
First there was Fred Stone, the third-generation dairy farmer in Maine who discovered that the milk from his cows contained harmful chemicals. Then came Art Schaap, a second-generation dairy farmer in New Mexico, who had to dump 15,000 gallons of contaminated milk a day.
Protesters attend the 32nd annual Fur-Free Friday demonstration on Nov. 23, 2018 in Beverly Hills, California. Ella DeGea / Getty Images
California Governor Gavin Newsom signed into law a bill that that bans the sale and manufacture of fur products in the state. The fur ban, which he signed into law on Saturday, prohibits Californians from selling or making clothing, shoes or handbags with fur starting in 2023, according to the AP.
By Simon Evans
During the three months of July, August and September, renewables generated an estimated total of 29.5 terawatt hours (TWh), compared with just 29.1TWh from fossil fuels, the analysis shows.
A demonstrator waves an Ecuadorian flag during protests against the end of subsidies to gasoline and diesel on Oct. 9 in Quito, Ecuador. Jorge Ivan Castaneira Jaramillo / Getty Images