This website uses cookies to ensure you get the best experience while browsing it. By clicking 'Got It' you're accepting these terms.
Video: Less Ice Means a Much Hotter Earth By 2100
Aug. 05, 2013 08:42AM EST
Climate
By Roz Pidcock
The Arctic is intricately linked to Earth's climate. As Arctic sea ice declines, the effects are being felt far beyond the Arctic region. Now a new study shows how losing sea ice means the top of the planet is absorbing more heat than it did just three decades ago—and it makes for a sobering read.
Scientists have noticed big changes in the Arctic since satellites started observing earth from space, thirty years ago. The area covered by sea ice is getting smaller and the ice is getting  thinner, due largely to rising global temperature.
The loss is most noticeable at the end of summer, when sea ice shrinks to a minimum, as part of its seasonal cycle. In September 2012, Arctic sea ice reached its lowest extent since satellite records began.
Knock On Effects
Losing sea ice has knock on effects for climate. One of the most direct consequences is that losing sea ice changes something scientists call albedo. Albedo is a measure of how well the earth's surface reflects sunlight.
Snow-covered sea ice has a high albedo, reflecting up to 85 percent of sunlight. As the area covered by ice and snow gets smaller, sunlight that would have been reflected is absorbed by open water instead, warming it up.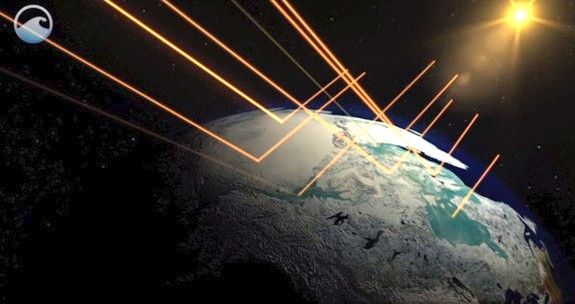 It's not only the ocean that warms. Heat from the warmer sea is released back into the air—raising atmospheric temperatures too. In turn, this melts more ice. It's largely for this reason that the Arctic region is warming twice as fast as the rest of the planet.
To find out how much Arctic ice loss is likely to influence and be influenced by warming in the coming century, scientists need a good understanding of how albedo has changed in response to recent temperature changes.
This is exactly what new research, published in Nature Climate Change, looks at. It examines how Arctic albedo has changed over almost three decades, between 1982 and 2009.
The team of scientists from Finland use new satellite measurements of reflectivity throughout the melt season, from May to August, to look for trends over time across the whole Arctic region.
Rapid Decline
Every month except May has seen a decline in sea ice albedo over the 28-year period, the research finds. The exception didn't come as a surprise, say the researchers. Other studies have shown thick snow cover in May means the albedo doesn't change much.
The most rapid drop in albedo is seen in the month of August, when snow and ice melt is highest. The data suggests a fall in albedo of about three per cent per decade over the study period.
The loss is pretty clear in the satellite images below, which show albedo for the month of August in 1985 on the left and in 2008 on the right. Marked in red, areas with an albedo of 75 percent or more have all but disappeared and have been replaced by green, which represents about 40 percent. There is quite a lot more light blue, up to 30 percent, and dark blue, which is 15 percent and under.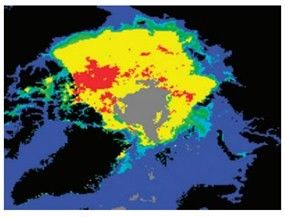 Albedo is also affected by changes in the condition of the ice that remains. For example, ice is getting darker as industrial soot—known as black carbon—is finding its way into the Arctic.
Data from other studies suggest the rate of Arctic ice melt has accelerated since the 1990s, which might imply the rate of albedo loss has accelerated too. The new paper looks at this possibility but concludes there is too much year-to-year variability in this short time frame to come to any firm conclusions.
While albedo loss is most pronounced in August, the paper points out the drop in early summer is most important for global temperature, as that's typically when solar output is at its highest.
A warming Arctic has implications for the neighboring Greenland ice sheet and Arctic wildlife—from the smallest algae to the biggest predators. On top of these more established impacts, scientists think sea ice loss might be disrupting winter weather in the northern hemisphere—another way that the impacts of change at the top of the planet might extend well beyond just the Arctic region.
Visit EcoWatch's CLIMATE CHANGE page for more related news on this topic.
——–
EcoWatch Daily Newsletter

georgeclerk / E+ / Getty Images
By Jennifer Molidor
One million species are at risk of extinction from human activity, warns a recent study by scientists with the United Nations. We need to cut greenhouse gas pollution across all sectors to avoid catastrophic climate change — and we need to do it fast, said the Intergovernmental Panel on Climate Change.
This research should serve as a rallying cry for polluting industries to make major changes now. Yet the agriculture industry continues to lag behind.
Edwin Remsburg / VW Pics / Getty Images
Botswana, home to one third of Africa's elephants, announced Wednesday that it was lifting its ban on the hunting of the large mammals.
"The Ministry of Environment, Natural Resources Conservation and Tourism wishes to inform the public that following extensive consultations with all stakeholders, the Government of Botswana has taken a decision to lift the hunting suspension," the government announced in a press release shared on social media.
Pxhere
By Richard Denison
Readers of this blog know how concerned EDF is over the Trump EPA's approval of many dozens of new chemicals based on its mere "expectation" that workers across supply chains will always employ personal protective equipment (PPE) just because it is recommended in the manufacturer's non-binding safety data sheet (SDS).
By Grant Smith
From 2009 to 2012, Gregory Jaczko was chairman of the Nuclear Regulatory Commission, which approves nuclear power plant designs and sets safety standards for plants. But he now says that nuclear power is too dangerous and expensive — and not part of the answer to the climate crisis.
A lake in Rocky Mountain National Park. Brett Walton / Circle of Blue
By Brett Walton
When Greg Wetherbee sat in front of the microscope recently, he was looking for fragments of metals or coal, particles that might indicate the source of airborne nitrogen pollution in Rocky Mountain National Park. What caught his eye, though, were the plastics.
Gabriele Holtermann Gorden / Pacific Press / LightRocket / Getty Images
In a big victory for animals, Prada has announced that it's ending its use of fur! It joins Coach, Jean Paul Gaultier, Giorgio Armani, Versace, Ralph Lauren, Vivienne Westwood, Michael Kors, Donna Karan and many others PETA has pushed toward a ban.
This is a victory more than a decade in the making. PETA and our international affiliates have crashed Prada's catwalks with anti-fur signs, held eye-catching demonstrations all around the world, and sent the company loads of information about the fur industry. In 2018, actor and animal rights advocate Pamela Anderson sent a letter on PETA's behalf urging Miuccia Prada to commit to leaving fur out of all future collections, and the iconic designer has finally listened.
Amer Ghazzal / Barcroft Media / Getty Images
If people in three European countries want to fight the climate crisis, they need to chill out more.
That's the conclusion of a new study from think tank Autonomy, which found that Germany, the UK and Sweden all needed to drastically reduce their workweeks to fight climate change.
Amazon Employees for Climate Justice held a press conference after the annual shareholder meeting on May 22. Amazon Employees for Climate Justice