This website uses cookies to ensure you get the best experience while browsing it. By clicking 'Got It' you're accepting these terms.
Video Highlights Consequences of Illegal Wildlife Trade for Military Personnel
Dec. 23, 2011 11:16AM EST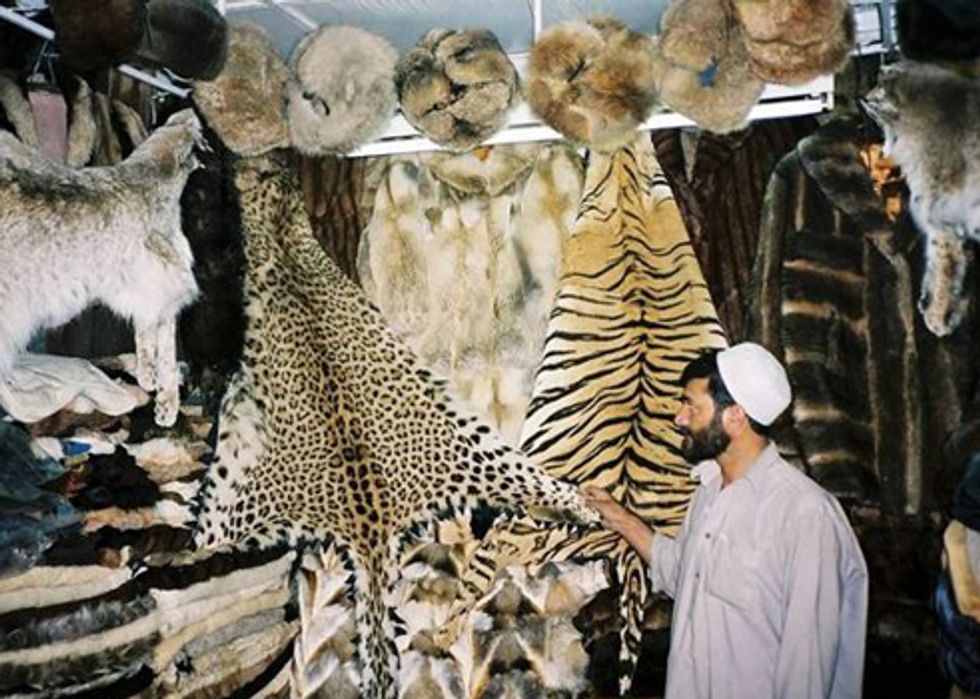 The Wildlife Conservation Society (WCS) announced on Dec. 22 the release of Caught in the Crosshairs: Combating the Illegal Wildlife Trade in Iraq and Afghanistan—a new video aimed at informing U.S. military personnel about the consequences of buying illegal wildlife products when deployed or stationed overseas.
The video, seen here, is the latest outreach tool in an ongoing initiative supported by the Department of Defense (DoD) Legacy Program that began in 2007 when WCS staff first noticed illegal items for sale on military bases near Kabul, Afghanistan. A subsequent survey of 395 soldiers at Fort Drum in June 2008 revealed that more than 40 percent of those surveyed had purchased or seen someone else in the military purchase products made from wildlife while stationed overseas.
Launched during the holiday season, it is hoped that the new video will educate and remind military personnel returning home to not purchase and transport these products as gifts for family and friends.
Many of the wildlife products available that end up on bases in Afghanistan and Iraq are from locally or globally threatened or endangered species such as snow leopard, Eurasian wolf, and Asiatic black bear. The purchase and transport of such products violates military regulations, U.S. laws such as the Endangered Species Act, national laws of Afghanistan, and obligations to international agreements such as the Convention on International Trade in Endangered Species of Wild Fauna and Flora (CITES).
"Only a small fraction of respondents to our 2008 survey knew about the various laws regulating trade in illegal wildlife," said WCS North America Program Livelihoods coordinator Dr. Heidi Kretser. "The video highlights the potential consequences for soldiers purchasing wildlife products and illustrates how demand for these items can put species at risk and contribute to local, regional, and global extinctions."
Caught in the Crosshairs from MP on Vimeo.
Military personnel and affiliates stationed overseas have significant buying power that influences local markets—including driving the demand for wildlife products. This is bad news for iconic wildlife such as snow leopards in Afghanistan that are endangered, yet are sometimes poached for their beautiful coat and other body parts. By demonstrating this cause and effect relationship to military personnel, the video looks to end demand for these products, and therefore, the incentive for dealers to carry them and support poaching.
The video, narrated by actor/director and United Nations Goodwill Ambassador for Biodiversity Edward Norton, also alerts the viewer to other dangers of purchasing and transporting illegal wildlife products. These include threats associated with zoonotic disease (pathogens that occur in wildlife that are potentially transmissible to people), the depletion of scarce and/or culturally significant natural resources, and the inadvertent support of organized crime.
The video notes that law enforcement authorities are finding that organized crime groups that smuggle weapons and drugs are increasingly involved with the trade of illegal wildlife—a trade estimated to reach into the billions of dollars.
"We believe the video helps the message resonate with military personnel on several levels, said Katherine Hammack, assistant secretary of the Army, Installations, Energy & Environment. "If something is seized and it is understood that it has been intentionally purchased with the intent of transporting it back to the United States, then they are subject to the Uniform Code of Military Justice and their command is notified. So it could jeopardize a soldier's entire career."
WCS Deputy Director of Asia Programs Peter Zahler said, "We are proud to be advising the DoD on this important project to reduce demand for wildlife products, protect military personnel from inadvertently breaking the law, and protect globally significant wildlife. This video will go a long way in helping both WCS and DoD achieve their missions."
For more information, click here.
—————
The Wildlife Conservation Society saves wildlife and wild places worldwide. We do so through science, global conservation, education and the management of the world's largest system of urban wildlife parks, led by the flagship Bronx Zoo. Together these activities change attitudes towards nature and help people imagine wildlife and humans living in harmony. WCS is committed to this mission because it is essential to the integrity of life on Earth.
EcoWatch Daily Newsletter
A new report spotlights a U.N. estimate that at least 275 million people rely on healthy coral reefs. A sea turtle near the Heron Island in the Great Barrier Reef is seen above. THE OCEAN AGENCY / XL CATLIN SEAVIEW SURVEY
In a new report about how the world's coral reefs face "the combined threats of climate change, pollution, and overfishing" — endangering the future of marine biodiversity — a London-based nonprofit calls for greater global efforts to end the climate crisis and ensure the survival of these vital underwater ecosystems.
Half of the extracted resources used were sand, clay, gravel and cement, seen above, for building, along with the other minerals that produce fertilizer. Cavan Images / Cavan / Getty Images
The world is using up more and more resources and global recycling is falling. That's the grim takeaway from a new report by the Circle Economy think tank, which found that the world used up more than 110 billion tons, or 100.6 billion metric tons, of natural resources, as Agence France-Presse (AFP) reported.
By Gero Rueter
Heating with coal, oil and natural gas accounts for around a quarter of global greenhouse gas emissions. But that's something we can change, says Wolfgang Feist, founder of the Passive House Institute in the western German city of Darmstadt.

By George Citroner
Recent research finds that official government figures may be underestimating drug deaths by half.
Researchers estimate that 142,000 people died due to drug use in 2016.
Drug use decreases life expectancy after age 15 by 1.4 years for men and by just under 1 year for women, on average.
Government records may be severely underreporting how many Americans die from drug use, according to a new study by researchers from the University of Pennsylvania and Georgetown University.
Water coolers in front of shut-off water fountains at Center School in Stow, MA on Sept. 4, 2019 after elevated levels of PFAS were found in the water. David L. Ryan / The Boston Globe via Getty Images
In a new nationwide assessment of drinking water systems, the Environmental Working Group found that toxic fluorinated chemicals known as PFAS are far more prevalent than previously thought.