This website uses cookies to ensure you get the best experience while browsing it. By clicking 'Got It' you're accepting these terms.
VIDEO: Fight Over Toxic Fracking Injection Wells Continues in Ohio
Dec. 11, 2012 07:44AM EST
Energy
On Nov. 28, more than 50 community members crowded inside the "open house" on fracking and toxic wastewater injection wells at the headquarters of the Ohio Department of Natural Resources in Athens, Ohio. They had requested a public hearing, but were denied. Watch this video to get a sense of the concerns these residents have as fracking injection wells are being permitted in their community.
Fight Over Toxic Fracking Injection Wells Continues in Ohio
Malvena Frost, who owns the property on which the Atha injection well is proposed in Rome Township in Athens County, Ohio, does not want an injection well on her land. She "fears her only source of drinking water, a private well ... will be contaminated," according to public comments submitted on her behalf to the Ohio Department of Natural Resources (ODNR) by her attorney, Mike Hollingsworth.
In her comments, Frost requested a public hearing on the Atha permit application. She was not the only one, approximately 100 Athens County residents submitted comments objecting to the Atha permit on grounds of health and safety and requesting a public hearing. This may be the largest number of comments ever submitted to the ODNR on an injection well permit application.
If members of the public raise relevant and valid concerns about health and safety, Ohio law requires that a public hearing be held. Frost and most of the 100 others received instead a form letter announcing that an "open house" would be held. With a week's notice, the event is Wednesday, Nov. 28, from 6 to 8 p.m. at the ODNR's 360 E. State St. headquarters in Athens. Phone conversations have elicited statements by ODNR officials that this open house is intended as a substitute for a public hearing.
"This is a clear abuse of discretion on the part of ODNR's Oil and Gas Chief. Ohio Administrative Code 1501:9 mandates a public hearing if valid objections are received," commented Roxanne Groff, a member of Athens County Fracking Action Network (ACFAN) and speaker at a recent public forum on the Atha permit. Groff stated, "It is indefensible for Chief Simmers to dismiss Malvena Frost's clearly valid and extensive concerns with a form letter. It is also clearly an abuse of discretionary power to categorically dismiss the rest of the 100 comments, which we know contain well substantiated public health and safety concerns."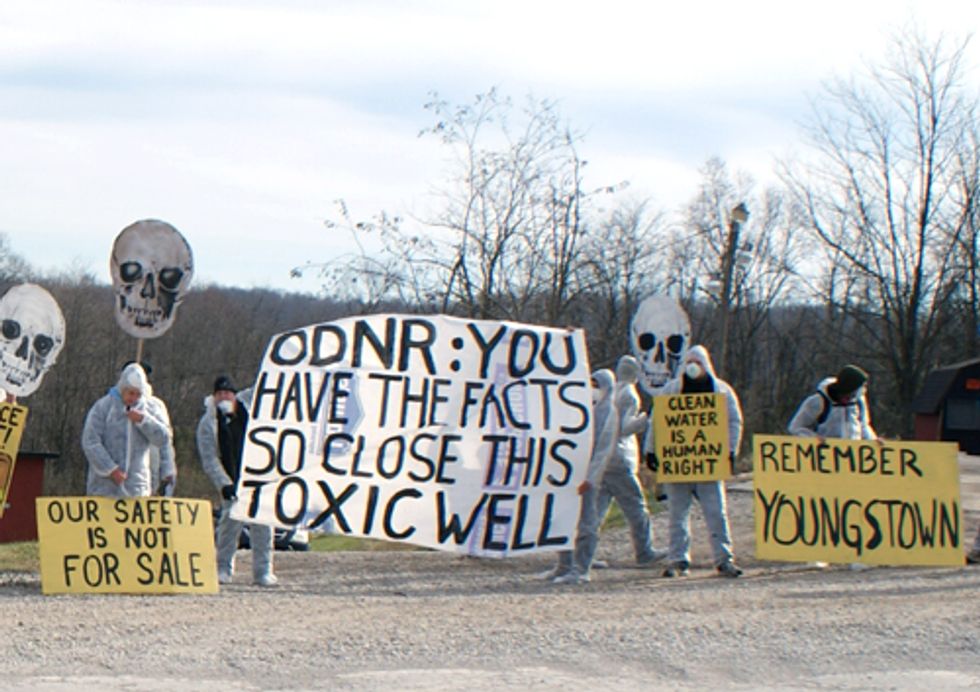 A public hearing is a legal forum in which citizens speak to the ODNR one at a time, allowing each statement to be heard by the entire group. More importantly, comments presented in a public hearing are entered into the legal record and can thus help hold ODNR accountable. Grace Hall, one of the 100 citizens who submitted comments on the Atha permit application, explained, "A public hearing allows us to hear what fellow citizens' concerns are and allows us to hear citizens' challenges to ODNR's rhetoric. A hearing provides an opportunity for citizens to broaden their understanding of the issue and brings a level of accountability to officials. An open house provides none of these things, because members of the public mill simply around the room, talking to various ODNR representatives in a casual one-on-one manner." 
Athens County Fracking Action Network and Appalachia Resist! object to ODNR's outright dismissal of public comments and denial of a public hearing as a clear breach of public trust. Madeline ffitch, of Appalachia Resist! added, "This 'open house' is simply a way for ODNR to avoid having to face tough questions in public."
One concern cited in letters to the ODNR is the content of the waste likely to be injected into the Atha well, as in all Class II wells. While ODNR claims that the Atha well will accept only local, conventional oil and gas waste, there is no legal restriction on waste accepted. Hundreds of millions of gallons of highly radioactive fracking waste have been injected in Ohio injection wells in the past year. Over half of waste injected in Ohio last year came from out of state.
Unlike Class I, Class II wells are not designed for hazardous waste. Due to exemptions from federal hazardous waste regulations, oil and gas waste is not legally classified as hazardous.
"Declaring it legally non-hazardous doesn't make it any less hazardous. The fracking waste being dumped into Class II wells contains highly toxic toluene, benzene, and other neurotoxic, carcinogenic, and radioactive substances, all of which are regulated as hazardous for all other industries under the Safe Drinking Water Act, Clean Water Act and hazardous waste regulations." said ACFAN member Nancy Pierce. "Ohio does not monitor drinking or groundwater around any Class II injection wells. I don't understand how Heidi Hetzel-Evans can repeatedly claim these wells haven't contaminated water when ODNR does not monitor water or soil to find out whether there's contamination from its wells."
The American Academy of Pediatrics "recommends that families with private drinking water wells in NGE/HF [natural gas extraction/hydraulic fracturing] areas should consider testing the wells before drilling begins and on a regular basis thereafter for chloride, sodium, barium, strontium and VOCs … " This is not surprising, given that industry admits that eventual well failure is inevitable. A recent Propublica series documents thousands of cases of well failure and fluid migration from Class I and II injection wells nationwide. In one Ohio case, "pollution had risen 1,400 feet through solid rock and was progressing toward surface aquifers" from a Class I well before the breach was discovered.
Athens County Fracking Action Network and Appalachia Resist are planning a coordinated response to this clear breach of the public trust. This response will include a march from the Athens Community Center, 701 E. State St., to ODNR offices, 360 E State St., where citizens who wish to address one another have been assigned to a "free speech zone" outside. Citizens who wish to participate in the march are asked to meet at 5:30 p.m. in the west foyer near the Athens Community Center meeting rooms. The march will begin at 6 p.m. People who plan to attend the march and rally are asked to dress warmly and bring a flashlight and a mug. Hot beverages will be provided.
Here's the language in Ohio law that requires a public hearing if the public raises relevant and valid concerns about health and safety:
OAC1501:9-3-06(E)(2)(c): If an objection is received, the chief shall rule upon the validity of the objection. If, in the opinion of the chief, such objection is not relevant to the issues of public health or safety, or to good conservation practices, or is without substance, a permit shall be issued. If the chief considers any objection to be relevant to the issues of public health or safety, or to good conservation practices, or to have substance, a hearing shall be called within thirty days of receipt of the objection. Such hearing shall be held at the central office of the division or other location designated by the chief. Notice of the hearing shall be sent by the chief to the applicant and to the person who has filed the objection.
Visit EcoWatch's FRACKING page for more related news on this topic.
EcoWatch Daily Newsletter
Heavy industry on the lower Mississippi helps to create dead zones.
AJ Wallace on Unsplash.
Cutting out coal-burning and other sources of nitrogen oxides (NOx) from heavy industry, electricity production and traffic will reduce the size of the world's dead zones along coasts where all fish life is vanishing because of a lack of oxygen.
Despite the ongoing coronavirus pandemic, which has restricted the ability to gather in peaceful assembly, a Canadian company has moved forward with construction of the controversial Keystone XL pipeline, according to the AP.
A gas flare from the Shell Chemical LP petroleum refinery illuminates the sky on August 21, 2019 in Norco, Louisiana. Drew Angerer / Getty Images.
Methane levels in the atmosphere experienced a dramatic rise in 2019, preliminary data released Sunday shows.
A retired West Virginia miner suffering from black lung visits a doctor for tests. Andrew Lichtenstein / Corbis via Getty Images
In some states like West Virginia, coal mines have been classified as essential services and are staying open during the COVID-19 pandemic, even though the close quarters miners work in and the known risks to respiratory health put miners in harm's way during the spread of the coronavirus.
Solar panel installations and a wind turbine at the Phu Lac wind farm in southern Vietnam's Binh Thuan province on April 23, 2019. MANAN VATSYAYANA / AFP via Getty Images