VIDEO: Facing Climate Change—How Ocean Acidification is Impacting Oyster Farmers
Feb. 26, 2013 11:44AM EST
Climate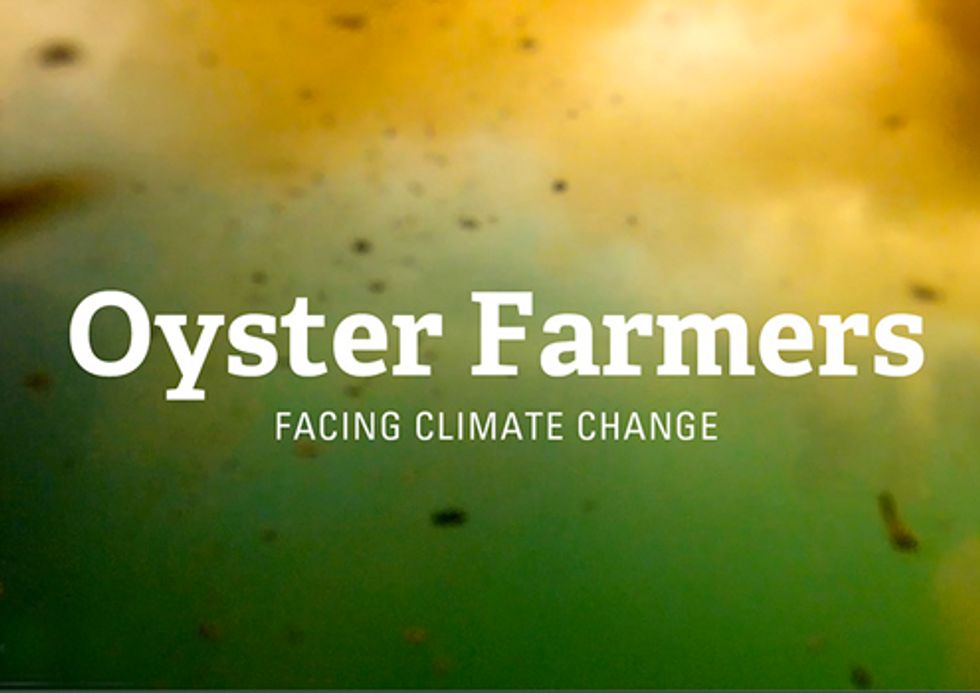 By Benjamin Drummond and Sara Joy Steele
Kathleen Nisbet and her father, Dave, farm oysters in Washington's Willapa Bay. They recently shifted some of their business to Hawai'i, after ocean acidification started killing baby oysters in local hatcheries.
Over the past 250 years, the world's oceans have absorbed about 25 percent of the carbon dioxide that humans have put into the air by burning fossil fuels. Carbon dioxide lowers the pH of oceans, turning waters more acidic. The Northwest is home to some of the most corrosive waters on earth. Washington State in particular is an ocean acidification hotspot due to coastal upwelling that delivers cold water, low in pH and rich in carbon dioxide, from the deep ocean to its coasts. In Hawai'i, where coastal upwelling does not occur, the water is warmer and acidity is increasing less rapidly.
Ocean acidification makes it more difficult for oyster larvae and young oysters to grow and maintain their protective shells. Shells may even dissolve in increasingly acidic waters, leading to higher mortality in young oysters. Dave finds success in shipping baby oysters from Hawai'i and maturing them in Willapa Bay.
The Nisbet's story may be unique, but they are not alone. Washington supports the most productive commercial shellfish operation on the West Coast, a multi-million dollar industry at risk. Yet the issue exceeds lost profits. Not all farmers can invest in warmer waters. Coastal tribes harvest wild shellfish for economic and subsistence uses. Healthy seas help build livelihoods in rural communities. So what next?
Under rising emissions scenarios, ocean acidity may increase 100 to 150 percent by the end of the century. In response, farmers are using new technologies to monitor the acidity levels of hatchery waters. Young scientists are devoting their careers to understanding risk and resilience. Former Washington Governor Gregoire formed a blue ribbon panel on ocean acidification and issued an Executive Order to implement key actions. Washington State is pioneering efforts to tackle ocean acidification so that its waters continue to serve as a source of prosperity and inspiration. We need all hands on deck.
Visit EcoWatch's CLIMATE CHANGE page for more related news on this topic.
——–
Click here to tell Congress to Expedite Renewable Energy.

EcoWatch Daily Newsletter
Related Articles from EcoWatch
Recent Stories from EcoWatch