Victory: Judge Rejects Livestock Label for Wild Bison in Montana
Efforts to conserve and restore wild bison won a victory Monday when a Montana judge rejected an effort by opponents of bison restoration to classify the iconic animals as livestock instead of wildlife under state law.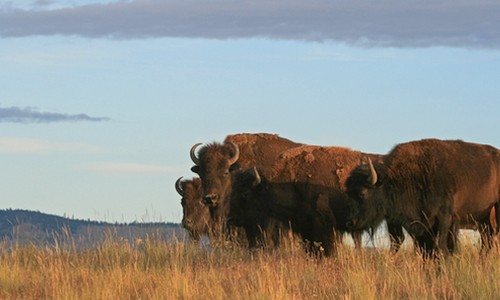 Photo courtesy of Shutterstock
If it had been accepted, the argument rejected by Montana District Judge John McKeon would have treated wild bison as livestock under Montana law once the animals were captured and held in quarantine as a prelude to wild bison restoration efforts. A legal classification as livestock, in turn, would have transferred jurisdiction over quarantined bison from the Montana Department of Fish, Wildlife and Parks to the Montana Department of Livestock—a move that threatened to impede any future efforts to restore native bison as a wildlife species in appropriate portions of their historic habitat.
However, Judge McKeon ruled that wild bison remain classified as wildlife under state law regardless of their confinement in quarantine.
"This ruling rightly discredits what amounted to a stealth attack on future efforts to restore wild bison in Montana," said Earthjustice attorney Tim Preso, who represented Defenders of Wildlife and the National Wildlife Federation in opposing Citizens for Balanced Use's argument. "Wild bison are classified as wildlife under Montana law. Now it is time to restore wild bison as wildlife on the Montana landscape."
Monday's ruling represents the latest chapter in a successful legal effort by the conservationists to support a plan by the Montana Department of Fish, Wildlife and Parks to transfer a group of disease-free wild bison from a quarantine facility near Yellowstone National Park to the Fort Peck and Fort Belknap Reservations in northeast and north central Montana.
Citizens for Balanced Use filed a lawsuit in 2012 to stop the transfer program, and the Montana district court responded by issuing a preliminary injunction that halted the planned bison transfer to Fort Belknap lands. But the conservationists appealed that injunction ruling to the Montana Supreme Court, which overturned the injunction in a decision issued in June 2013. The Fort Belknap transfer went forward later that summer.
"Judge McKeon has now validated the obvious," said Defenders of Wildlife program director Jonathan Proctor. "Just because wild Yellowstone bison were moved to a different location doesn't make them any less wild. These bison were moved specifically to start a new wild herd and are managed as wildlife. This victory will enable wild bison recovery to continue on willing locations in Montana—such as the Fort Peck and Fort Belknap Reservations."
Once numbering approximately 30 million across the Great Plains and Rocky Mountains, wild bison were almost driven to extinction by market hunters in the late nineteenth century. Montana was among their last strongholds, but the slaughter persisted until in 1903 only about 25 individuals remained in the wild, located in the Pelican Valley of Yellowstone National Park. Since then, Yellowstone's wild bison population has rebounded to approximately 4,000 animals, and Montana wildlife officials continue to consider plans to transplant some of these wild bison to the species' historic plains habitat.
--------
YOU ALSO MIGHT LIKE
Yellowstone Announces End to 2014 Bison Slaughter Following One-Man Blockade
Man Risks Arrest Blocking Road That Leads Yellowstone Bison to Slaughter
--------
A coalition of conservation groups and others announced Thursday that a historic number of comments and petitions of support have been submitted to the U.S. Department of the Interior in support of Bears Ears National Monument. Despite the entirely inadequate 15-day comment period ending on May 26, more than 685,000 comments in support of Bears Ears National Monument have been collected.
Keep reading...
Show less
Rink Glacier in western Greenland, with a meltwater lake visible center. NASA/OIB
Scientists have had their eyes on Greenland as its iconic glaciers have begun disappearing due to a warming climate. But, what they didn't expect to see was a whole new type of melting.
Keep reading...
Show less
Mountain View Fire
By Lena Moffitt
An oil tanker in Mead, Colorado exploded, killing one and injuring three on Thursday. Authorities are continuing to investigate the cause of the explosion.
Keep reading...
Show less
Banner created by Alliance for Climate Education
Keep reading...
Show less
Twenty-two GOP senators sent a letter Thursday urging Donald Trump to pull out of the Paris agreement. They argued remaining in the deal could "upend" the administration's ability "to fulfill its goal of rescinding the Clean Power Plan."
Keep reading...
Show less
By Cheryl Johncox
The Federal Energy Regulatory Commission (FERC) rejected on Thursday Energy Transfer Partners' request to resume horizontal directional drilling at two sites for its Rover fracked gas pipeline. This rejection comes after numerous leaks into Ohio's wetlands, and Clean Air and Clean Water act violations. FERC has halted the process at only eight locations of the 32 where drilling is taking place under Ohio's wetlands and streams.
Keep reading...
Show less
By Nadia Prupis
A majority of people in eight countries say they are ready to change their lifestyles if it would prevent climate catastrophe, a survey on global threats released Wednesday found.
Keep reading...
Show less
May. 25, 2017 01:55PM EST
Bill Maher is sick of billionaires' obsession with Mars, more like "Mars-a-Lago," he said.
In a new animation produced by ATTN:, the popular talk show host of Real Time, discusses the perils of our planet, including how "climate change is killing us."
Keep reading...
Show less