This website uses cookies to ensure you get the best experience while browsing it. By clicking 'Got It' you're accepting these terms.
Victory: Judge Rejects Livestock Label for Wild Bison in Montana
Apr. 09, 2014 08:13AM EST
Efforts to conserve and restore wild bison won a victory Monday when a Montana judge rejected an effort by opponents of bison restoration to classify the iconic animals as livestock instead of wildlife under state law.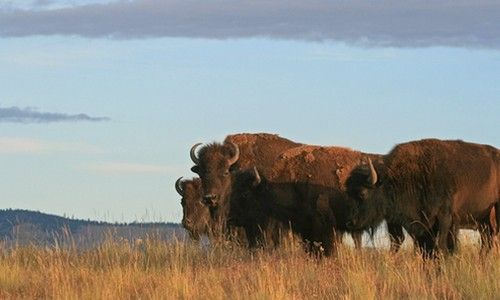 Photo courtesy of Shutterstock
If it had been accepted, the argument rejected by Montana District Judge John McKeon would have treated wild bison as livestock under Montana law once the animals were captured and held in quarantine as a prelude to wild bison restoration efforts. A legal classification as livestock, in turn, would have transferred jurisdiction over quarantined bison from the Montana Department of Fish, Wildlife and Parks to the Montana Department of Livestock—a move that threatened to impede any future efforts to restore native bison as a wildlife species in appropriate portions of their historic habitat.
However, Judge McKeon ruled that wild bison remain classified as wildlife under state law regardless of their confinement in quarantine.
"This ruling rightly discredits what amounted to a stealth attack on future efforts to restore wild bison in Montana," said Earthjustice attorney Tim Preso, who represented Defenders of Wildlife and the National Wildlife Federation in opposing Citizens for Balanced Use's argument. "Wild bison are classified as wildlife under Montana law. Now it is time to restore wild bison as wildlife on the Montana landscape."
Monday's ruling represents the latest chapter in a successful legal effort by the conservationists to support a plan by the Montana Department of Fish, Wildlife and Parks to transfer a group of disease-free wild bison from a quarantine facility near Yellowstone National Park to the Fort Peck and Fort Belknap Reservations in northeast and north central Montana.
Citizens for Balanced Use filed a lawsuit in 2012 to stop the transfer program, and the Montana district court responded by issuing a preliminary injunction that halted the planned bison transfer to Fort Belknap lands. But the conservationists appealed that injunction ruling to the Montana Supreme Court, which overturned the injunction in a decision issued in June 2013. The Fort Belknap transfer went forward later that summer.
"Judge McKeon has now validated the obvious," said Defenders of Wildlife program director Jonathan Proctor. "Just because wild Yellowstone bison were moved to a different location doesn't make them any less wild. These bison were moved specifically to start a new wild herd and are managed as wildlife. This victory will enable wild bison recovery to continue on willing locations in Montana—such as the Fort Peck and Fort Belknap Reservations."
Once numbering approximately 30 million across the Great Plains and Rocky Mountains, wild bison were almost driven to extinction by market hunters in the late nineteenth century. Montana was among their last strongholds, but the slaughter persisted until in 1903 only about 25 individuals remained in the wild, located in the Pelican Valley of Yellowstone National Park. Since then, Yellowstone's wild bison population has rebounded to approximately 4,000 animals, and Montana wildlife officials continue to consider plans to transplant some of these wild bison to the species' historic plains habitat.
--------
YOU ALSO MIGHT LIKE
Yellowstone Announces End to 2014 Bison Slaughter Following One-Man Blockade
Man Risks Arrest Blocking Road That Leads Yellowstone Bison to Slaughter
--------
EcoWatch Daily Newsletter
Tuna auctions are a tourist spectacle in Tokyo. Outside the city's most famous fish market, long queues of visitors hoping for a glimpse of the action begin to form at 5 a.m. The attraction is so popular that last October the Tsukiji fish market, in operation since 1935, moved out from the city center to the district of Toyosu to cope with the crowds.

gmnicholas / E+ / Getty Images
Kristan Porter grew up in a fishing family in the fishing community of Cutler, Maine, where he says all roads lead to one career path: fishing. (Porter's father was the family's lone exception. He suffered from terrible seasickness, and so became a carpenter.) The 49-year-old, who has been working on boats since he was a kid and fishing on his own since 1991, says that the recent warming of Maine's cool coastal waters has yielded unprecedented lobster landings.
Aerial view of lava flows from the eruption of volcano Kilauea on Hawaii, May 2018. Frizi / iStock / Getty Images
Hawaii's Kilauea volcano could be gearing up for an eruption after a pond of water was discovered inside its summit crater for the first time in recorded history, according to the AP.
The Eqip Sermia Glacier is seen behind a moraine left exposed by the glacier's retreat during unseasonably warm weather on Aug. 1 at Eqip Sermia, Greenland. Sean Gallup / Getty Images
hadynyah / E+ / Getty Images
By Johnny Wood
The Ganges is a lifeline for the people of India, spiritually and economically. On its journey from the Himalayas to the Bay of Bengal, it supports fishermen, farmers and an abundance of wildlife.
The river and its tributaries touch the lives of roughly 500 million people. But having flowed for millennia, today it is reaching its capacity for human and industrial waste, while simultaneously being drained for agriculture and municipal use.
Here are some of the challenges the river faces.
By Jake Johnson
As a growing number of states move to pass laws that would criminalize pipeline protests and hit demonstrators with years in prison, an audio recording obtained by The Intercept showed a representative of a powerful oil and gas lobbying group bragging about the industry's success in crafting anti-protest legislation behind closed doors.
Reposted with permission from our media associate Common Dreams.

DESIREE MARTIN / AFP / Getty Images
Wildfires raging on Gran Canaria, the second most populous of Spain's Canary Islands, have forced around 9,000 people to evacuate.