This website uses cookies to ensure you get the best experience while browsing it. By clicking 'Got It' you're accepting these terms.
Victory in Fracking Wastewater Fight in PA
Aug. 07, 2013 03:42PM EST
If not for the effort of Clean Water Action and Earthjustice, a wastewater treatment plant in southwestern Pennsylvania might have spent each day of the past three years dumping up to 500,000 gallons of untreated natural gas drilling wastewater into the Monongahela River.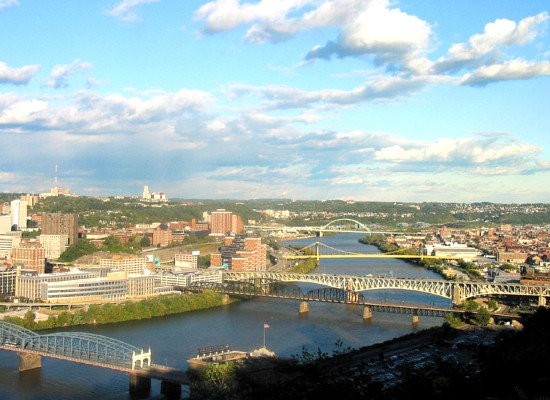 Instead, the plant has not discharged a drop of waste into the river—a drinking water source for 350,000 people. And under a new permit issued by the Pennsylvania Department of Environmental Protection (DEP), the plant will not be allowed to discharge anything, unless it proves it can comply with the law and treat all of the contaminants in fracking wastewater.
The DEP had initially tried to fast-track the planned wastewater plant in Masontown, PA, quietly allowing Shallenberger Construction Inc. to dump inadequately treated fracking wastewater directly into the Monongahela River until the company built all of the necessary treatment facilities at the plant.
"When fracking began in western Pennsylvania, the gas industry treated our rivers as a convenient place to dispose of their waste," stated Myron Arnowitt, PA state director for Clean Water Action. "We knew we had to act and we are glad to see that this agreement upholds the protection for our drinking water that every Pennsylvanian expects and deserves."
In 2008, pollution levels spiked so high in a 70-mile stretch of the Monongahela River that the entire city of Pittsburgh was urged to drink bottled water. The DEP acknowledged that the problem was due in large part to untreated fracking wastewater being discharged from sewage treatment plants. The Shallenberger plant would have added to the contamination.
But Clean Water Action discovered the backroom deal and challenged the illegal arrangement, which violated state and federal laws protecting drinking water. With the help of the nonprofit environmental law organization Earthjustice, DEP was forced to terminate its backroom deal with the plant owners and adopt a new pollution permit that complied with the law.
The groups expect today's settlement will help in the fights to protect other water bodies in the state from natural gas drilling wastewater.
"Until we went to court, the state was refusing to enforce basic standards for industrial wastewater treatment plants accepting fracking wastes," said Earthjustice Managing Attorney Deborah Goldberg. "This lawsuit helped to change the dynamic in Pennsylvania—away from dumping waste into clean streams and toward policies that encourage recycling.
"Still, we have a long way to go before the industry is held fully accountable for its pollution," concluded Goldberg.
DEP first issued an unlawfully lenient discharge permit to Shallenberger in September 2008. After pollution in the Monongahela River exceeded water quality standards, the state entered into negotiations with Shallenberger to amend the permit. DEP gave the company more than three years from the end of August 2009 to meet new limits, however, and even those were inadequate.
The negotiations were conducted behind closed doors, and the deal was never subject to public notice or review. Earthjustice challenged the permit on behalf of Clean Water Action, resulting in an amended draft permit in 2011. The amended draft permit in 2011 was also subject to toothless deadlines and other deficiencies. A coalition of groups across the state objected and the state eventually amended the permit to comply with the law, resulting in today's settlement.
Visit EcoWatch's FRACKING WASTEWATER page for more related news on this topic.
——–
KarinaKnyspel / iStock / Getty Images
2018 saw a number of studies pointing to the outsized climate impact of meat consumption. Beef has long been singled out as particularly unsustainable: Cows both release the greenhouse gas methane into the atmosphere because of their digestive processes and require a lot of land area to raise. But for those unwilling to give up the taste and texture of a steak or burger, could lab-grown meat be a climate-friendly alternative? In a first-of-its-kind study, researchers from the Oxford Martin School set out to answer that question.
Three scissor-tailed flycatcher fledglings in a mesquite tree in Texas. Texas Eagle / CC BY-NC 2.0
By Gary Paul Nabhan
President Trump has declared a national emergency to fund a wall along our nation's southern border. The border wall issue has bitterly divided people across the U.S., becoming a vivid symbol of political deadlock.
PeopleImages / E+ / Getty Images
By Daniel Ross
Hurricane Florence, which battered the U.S. East Coast last September, left a trail of ruin and destruction estimated to cost between $17 billion and $22 billion. Some of the damage was all too visible—smashed homes and livelihoods. But other damage was less so, like the long-term environmental impacts in North Carolina from hog waste that spilled out over large open-air lagoons saturated in the rains.
Hog waste can contain potentially dangerous pathogens, pharmaceuticals and chemicals. According to the state's Department of Environmental Quality, as of early October nearly 100 such lagoons were damaged, breached or were very close to being so, the effluent from which can seep into waterways and drinking water supplies.
This picture taken on May 21, 2018 shows discarded climbing equipment and rubbish scattered around Camp 4 of Mount Everest. Decades of commercial mountaineering have turned Mount Everest into the world's highest rubbish dump as an increasing number of big-spending climbers pay little attention to the ugly footprint they leave behind. DOMA SHERPA / AFP / Getty Images
China has closed its Everest base camp to tourists because of a buildup of trash on the world's tallest mountain.