This website uses cookies to ensure you get the best experience while browsing it. By clicking 'Got It' you're accepting these terms.
Victory for Marine Life as Deadly Driftnet Proposal Is Voted Down
Mar. 14, 2014 11:51AM EST
The Pacific Fishery Management Council—the 14 member voting body tasked with managing fisheries three to 200 miles off the coasts of California, Oregon and Washington—decided yesterday to cease consideration of a proposal to expand the use of deadly drift gillnets off California and instead requested extension of emergency regulations that went into effect last year to protect endangered sperm whales from entrapment in drift gillnets, until permanent protections are implemented.
The meeting in Sacramento, CA, drew unusually high numbers of public comments, including more than 40,000 written comments from Oceana supporters alone. Oceana provided testimony at the meeting and is co-sponsoring California state legislation, AB 2019, to eliminate these mile-long "walls of death" off California and replace them with cleaner and more selective gear types to ensure a vibrant, healthy, sustainable marine ecosystem and ocean-based economy into the future.
"The council took the right action by finally throwing out a proposal to expand the use of deadly drift gillnets into critical habitat for endangered Pacific leatherback sea turtles, a conservation area that is working," said Ben Enticknap, Oceana senior scientist. "However, the fact that these invisible nets still take these magnificent sea turtles—in addition to over a hundred marine mammals and thousands of other fish annually—means the real answer is getting these nets off the water altogether."
Drift gillnets, used to target swordfish and thresher sharks off California's coast, form dangerous underwater barriers that entangle a myriad of marine mammals, sea turtles, sharks and recreationally important fish. Once entangled in these nets, the animals become critically injured, often unable to surface for air, and most eventually drown. Between May 2007 to January 2012, the drift gillnet fishery discarded 63 percent of all marine animals it caught. Below, a Google map documents marine mammal, sea turtle, and seabird bycatch (click on image for interactive map):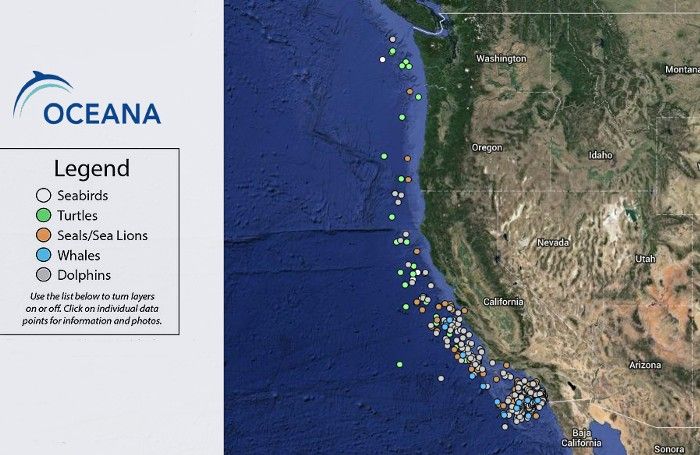 AB 2019 will prohibit the use of drift gillnets to take swordfish or sharks while allowing continued fishing for swordfish and sharks with hand-held hook and lines, harpoons and experimental gears. The bill also establishes a new state policy to support a federal prohibition on drift gillnets off the U.S. West Coast. This effort is long overdue. The legislation is joint-authored by Assemblymembers Paul Fong (D-San Jose) and Marc Levine (D-San Rafael), principle co-authored by Mark Stone (D-Monterey Bay), and co-authored by Anthony Rendon (D- Lakewood), Das Williams (D- Santa Barbara) and Lorena Gonzalez (D- San Diego).
Both Washington and Oregon have already prohibited their fishermen from using drift gillnets, and the U.S. has worked for more than two decades to eliminate drift gillnets from the high seas. Federal waters off California are the only place on the West Coast that drift gillnets can be used to catch swordfish and sharks.
"We are committed to ridding the California Current of this wasteful fishing gear that results in more marine animals being thrown overboard than fish retained," said Geoff Shester, California campaign director at Oceana. "The sooner these nets are off the water, the faster we can revitalize a sustainable swordfish fishery that is safe for California's treasured ocean wildlife."
In an effort to demonstrate the destructive nature of drift gillnet gear and to raise public awareness for the need to transition to cleaner alternatives, Oceana submitted a Freedom of Information Act Request to the National Marine Fisheries Service  requesting images of marine life injured and killed in drift gillnets off California. The slideshow included a sampling of some of these photos.
Visit EcoWatch's BIODIVERSITY page for more related news on this topic.

EcoWatch Daily Newsletter
Artist's conception of solar islands in the open ocean. PNAS
Millions of solar panels clustered together to form an island could convert carbon dioxide in seawater into methanol, which can fuel airplanes and trucks, according to new research from Norway and Switzerland and published in the Proceedings of the National Academy of Sciences journal, PNAS, as NBC News reported. The floating islands could drastically reduce greenhouse gas emissions and dependence on fossil fuels.
Marcos Alves / Moment Open / Getty Images
More than 40 percent of insects could go extinct globally in the next few decades. So why did the U.S. Environmental Protection Agency (EPA) last week OK the 'emergency' use of the bee-killing pesticide sulfoxaflor on 13.9 million acres?
EcoWatch teamed up with Center for Biological Diversity via EcoWatch Live on Facebook to find out why. Environmental Health Director and Senior Attorney Lori Ann Burd explained how there is a loophole in the The Federal Insecticide, Fungicide, and Rodenticide Act under section 18, "that allows for entities and states to request emergency exemptions to spraying pesticides where they otherwise wouldn't be allowed to spray."
Simple swaps that cut down on kitchen trash.
Sponsored
By Kayla Robbins
Along with the bathroom, the kitchen is one of the most daunting areas to try and make zero waste.
View of downtown Miami, Florida from Hobie Island on Feb. 2, 2019.
Michael Muraz / Flickr
The Democratic candidates for president descended upon Miami for a two-night debate on Wednesday and Thursday. Any candidate hoping to carry the state will have to make the climate crisis central to their campaign, as The New York Times reported.
By Sharon Kelly
On Monday, the Wall Street Journal featured a profile of Scott Sheffield, CEO of Pioneer Natural Resources, whose company is known among investors for its emphasis on drawing oil and gas from the Permian basin in Texas using horizontal drilling and hydraulic fracturing, or fracking.
Pexels
By Craig K. Chandler
The federal government has available to it, should it choose to use them, a wide range of potential climate change management tools, going well beyond the traditional pollution control regulatory options. And, in some cases (not all), without new legislative authorization.
Denis Poroy / Getty Images
By Dan Gray
Processed foods, in their many delicious forms, are an American favorite.
But new research shows that despite increasing evidence on just how unhealthy processed foods are, Americans have continued to eat the products at the same rate.
By Sarah Steffen
With a profound understanding of their environmental surroundings, indigenous communities around the world are often cited as being pivotal to tackling climate change.