Victory: Alaska's Polar Bears Win Their Day in Court
Polar bears, the Obama administration and conservationists scored a major victory on Monday, when a federal appeals court affirmed the boundaries of a 187,000-square-mile area in the Arctic that wildlife scientists deem crucial to saving the bear from extinction.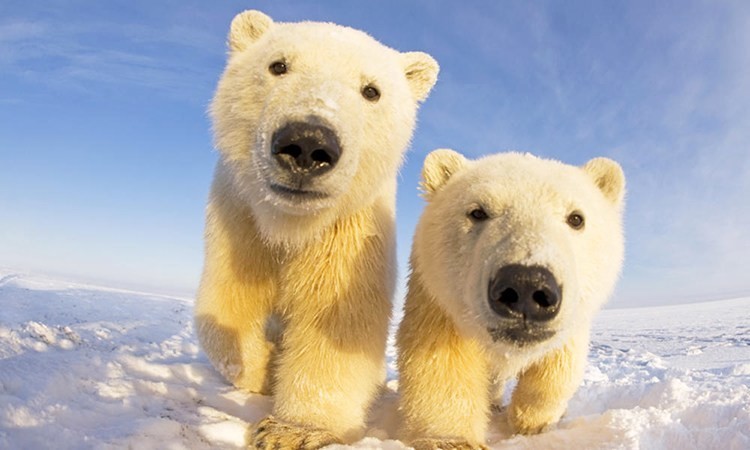 The decision by the U.S. Court of Appeals for the 9th Circuit struck down a lower court's ruling that sided with a coalition of petroleum industry groups, the state of Alaska and several far-northern Alaska Native corporations, which sued the Obama administration over its "critical habitat" designation for polar bears under the Endangered Species Act.
"The court soundly rejected the oil and gas industry's attempt to shrink critical habitat for the polar bear and that's a great thing," said Rebecca Riley, a senior attorney with the Natural Resources Defense Council, which was not involved in the lawsuit.
The area set aside for polar bears under the law "is enormous, in part because it covers these huge areas of sea ice," said Holly Doremus, director of the environmental law program at the University of California, Berkeley, School of Law.
"But that's not what's being argued about here—it's the denning habitat and the barrier islands, access to the sea," she said. "The parts of their lives that the polar bears spend off the sea ice and how they get back and forth."
The court found that the U.S. Fish and Wildlife Service used the best available science to set the land-based critical habitat boundaries, which include areas polar bears use now as well as places they will need as climate change continues to thaw the Arctic.
"The plaintiffs wanted them to draw a little dot around every known den," Doremus said, and set critical habitat boundaries based on those locations. But "that hasn't happened with past critical habitat designations, at least not the way the plaintiffs wanted here."
"We all know that's not a practical way to think about this," Riley said. "We have to look at what habitat is really valuable to polar bears and what they could use or might use and that's what the court upheld here."
Under the Endangered Species Act, any federally regulated activity within critical habitat boundaries, such as oil and gas development on federal lands or waters, needs to account for harm to endangered species in its planning.
The Alaska Oil and Gas Association and the Arctic Slope Regional Corporation, an Alaska Native company, did not respond to TakePart's requests for comment.
The American Petroleum Institute, which was among the lead plaintiffs in the lawsuit, declined an interview request. "We are reviewing the court's decision and considering all options," the group said in a statement.
The Alaska Department of Law called the decision "disappointing" in a statement, adding that it "will be reviewing the options for further judicial review."
This article was reposted with permission from our media associate TakePart.

YOU MIGHT ALSO LIKE
Arctic on Thin Ice as Extreme Heat Takes a Toll
12 Breathtaking Photos of Yellowstone National Park
Scientists Find Answer to Why Thousands of Sea Lion Pups Are Starving
David Suzuki: We Must Save the Honeybees and Here's How You Can Help
Bill Maher is sick of billionaires' obsession with Mars, more like "Mars-a-Lago," he said.
In a new animation produced by ATTN:, the popular talk show host of Real Time, discusses the perils of our planet, including how "climate change is killing us."
Keep reading...
Show less
Dr. Benjamin D. Santer, research scientist
A group of prominent climate scientists have written a study explicitly refuting statements made by the U.S. Environmental Protection Agency Administrator Scott Pruitt on climate data. During his Senate confirmation hearing, Pruitt claimed in a written response that satellite data shows a "leveling off" of warming over the past two decades.
Keep reading...
Show less
By David Pomerantz
The Nevada Assembly passed a bill Wednesday that would dramatically increase the growth of renewable energy in the state, but Sheldon Adelson, the casino magnate and major donor to Donald Trump, is attempting to prevent the bill from becoming law.
Keep reading...
Show less
Matt Crossick
By Yosola Olorunshola
Whether it's through fashion or protest, Vivienne Westwood is not a woman afraid of making a statement.
On May 23, she rocked up to the residence of the Archbishop of Canterbury in London with a special guest—the Grim Reaper—to issue a strong statement on the Church of England's position on fracking.
Keep reading...
Show less
By Paul Brown
The food industry and big agricultural concerns are driving climate change and at the same time threatening to undermine efforts to feed the world's growing population, according to GRAIN, an organization that supports small farmers.
Particularly singled out for criticism are the large chemical fertilizer producers that have gained access to the United Nations talks on climate change. GRAIN accuses them of behaving like the fossil fuel companies did in the 1990s, pushing false information in the hope of delaying real action on climate change.
Keep reading...
Show less
May. 24, 2017 06:55PM EST
By Sydney Robinson
President Trump has no doubt been given a long list of extravagant, elaborate gifts in his lifetime, but the gift given to him today by Pope Francis may not make it on his most favorite list.
Keep reading...
Show less
May. 24, 2017 07:17PM EST
By John Rogers
Maybe it's because I first started working on clean energy while serving in the Peace Corps he founded, or maybe it's my years of working on these issues from his home state. But I can't help thinking about the 100th anniversary of John F. Kennedy's birth, and connecting his stirring rhetoric to the energy challenges of our times.
Here's what our 35th president might have said about the challenges of energy transition and the opportunities in clean energy:
"Change is the law of life. And those who look only to the past or present are certain to miss the future."
Keep reading...
Show less
May. 24, 2017 01:47PM EST
Keep reading...
Show less


Get EcoWatch in your inbox