Victims of Contaminated Water from Fracking Receive Essential Holiday Gift
Jan. 02, 2012 12:10PM EST
Fracking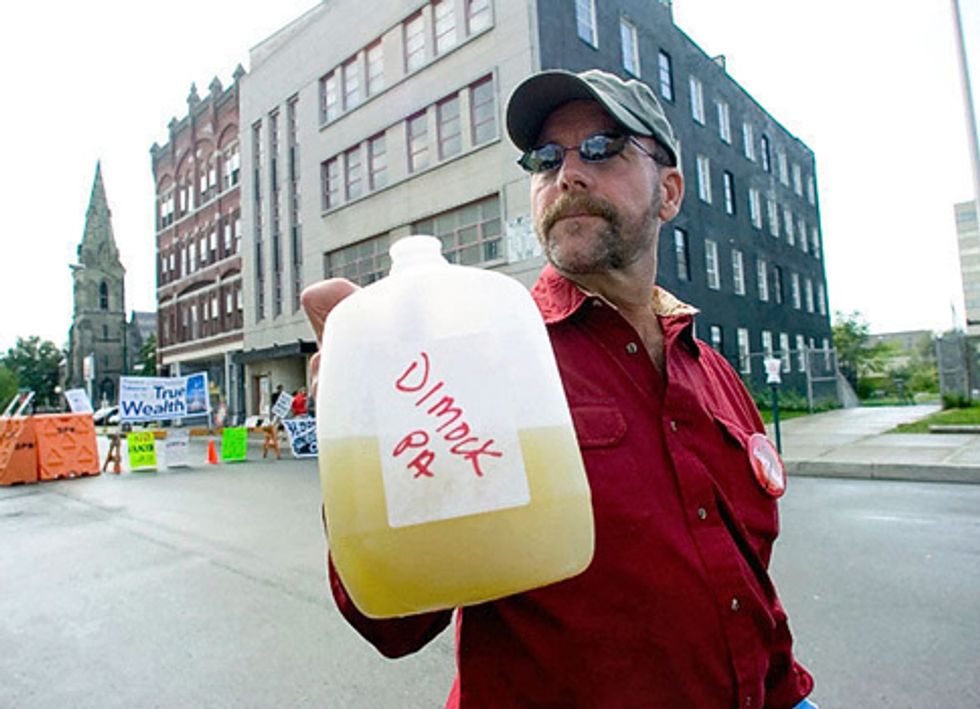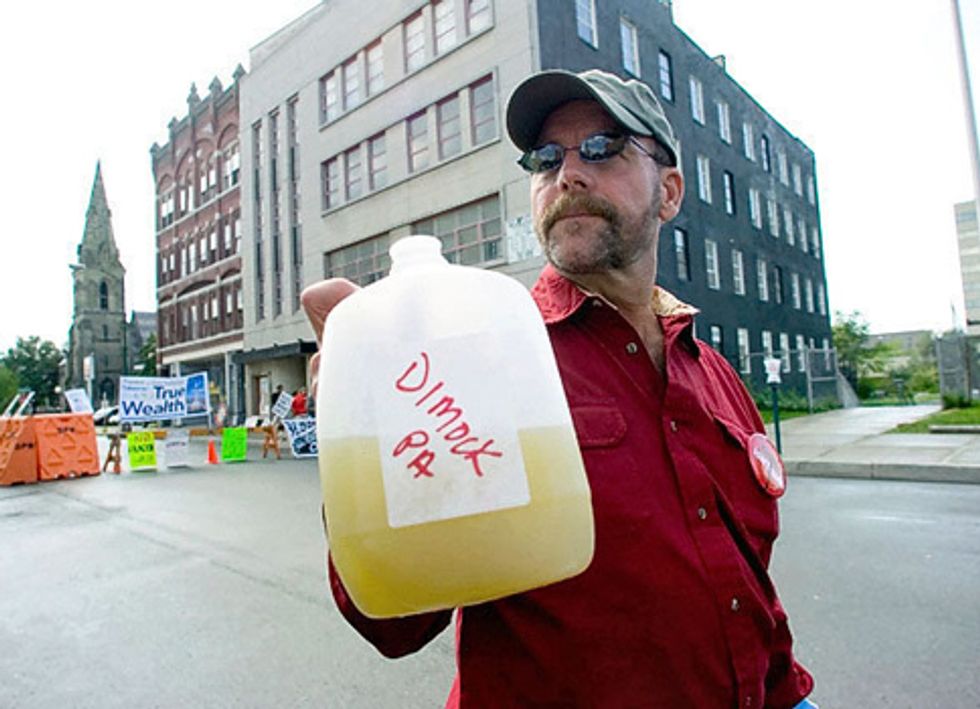 Eleven families in the tiny rural town of Dimock, Pa., 30 miles south of Binghamton, N.Y., have received the most basic of holiday gifts—clean drinking water.
Four pallet-loads of bottled water will provide some relief from the bleach-treated pond water the families have been using for drinking, cooking and bathing since natural gas leached into their wells and poisoned them—a result of hydrofracking.
The bottled water is from Keeper Springs Natural Spring Water, in partnership with Riverkeeper, the watchdog organization that protects the Hudson River and its tributaries.
"Dimock has become the template for the cataclysmic costs of hydrofracking to America's communities, our water supplies and our environment," said Robert F. Kennedy, Jr., founder of Riverkeeper and of Keeper Springs, which donates 100 percent of its profits to protecting America's waterways.
"Imagine turning on your faucet to find water so contaminated that you can light it on fire. This is the condition that the people of Dimock face every day," Kennedy said. "Their plight underscores the costs of hydraulic fracturing operations in communities across our country."
Paul Gallay, president and Hudson Riverkeeper, who appealed for help to Keeper Springs, said, "The balance between public good and private gain here is so out of whack as to be ludicrous. How can you deprive an entire community of what should be a basic right? We are grateful to the Keeper Springs people for their generosity, in making life a little better in Dimock, at least for the time being."
The water supply in Dimock was destroyed in 2008 when Cabot Oil & Gas began hydrofracking in search of natural gas. The water is now a toxic brew of methane gas, heavy metals, radioactive material and chemicals such as ethylene glycol, known as antifreeze.
Cabot, which the Pennsylvania Department of Environmental Protection had found at fault for the contamination, had been delivering clean water to the families but abruptly stopped on Nov. 30, with the department's approval.
For more information, click here.
—————

Riverkeeper is a member-supported, watchdog organization dedicated to defending the Hudson River and its tributaries and protecting the drinking water supply of nine million New York City and Hudson Valley residents. For more information, please visit www.riverkeeper.org.
Founded in 1999, Keeper Springs Natural Spring Water was launched by environmental lawyer and advocate, Robert F. Kennedy Jr., and two friends, John Hoving and Chris Bartle, with one mission: to help support, protect and restore our nation's waterways by donating 100 percent of profits to this cause. The brand Keeper Springs is named to honor the keepers of the Waterkeeper® Alliance, environmental heroes who fight to protect waterways all over the world from polluters and degradation. To date, Keeper Springs is proud to have raised more than $1 million to support America's waterways.
Keeper Springs uses only 100 percent natural and sustainable spring water, sourced and bottled locally, and keeps our carbon footprint to a minimum by using LEED-certified bottling plants and shipping our water no more than 500 miles from our springs. In addition, Keeper Springs uses bottles made from 50 percent recycled PET…and is working towards a 100 percent recycled PET bottle. Keeper Springs also supports the most comprehensive recycling legislation and has spent over a decade helping to fight for better regulation, tough penalties and solutions. Keeper Springs is available at beverage retailers in many of the Eastern states, and is expanding distribution on the West Coast. For more information, visit www.KeeperSprings.com.
EcoWatch Daily Newsletter
Related Articles from EcoWatch
Recent Stories from EcoWatch